Both Fender Play and Guitar Tricks are brilliant online guitar course programs, but with Fender Play arriving only recently to the scene, can it compete with the 2 decades Guitar Tricks has offered its customers?
We looked at each program's content, instructors, video quality, website interface, and of course, the price.
Which online guitar course suits you best? Read on to find out! Or click here to jump to the conclusion.
Interested in learning from our top-choice online guitar lesson platform? Begin your free trial with Guitar Tricks today!
Fender Play Overview
Fender Play was only recently launched back in 2017 and is a course provided by one of the largest guitar manufacturers worldwide.
One of the biggest advantages of Fender Play is the low price level that makes it appealing to all users. It's also most suited towards beginners, although it's rather limited to advanced level users.
What makes Fender Play unique is it provides Bass and Ukelele guitar lessons.
Guitar Tricks Overview
Guitar Tricks first launched its program in 1998 and is one of the most popular online guitar course programs currently.
Unlike Fender Play, Guitar Tricks provides both beginner and advanced guitar lessons and has an active online community that promotes engagement and interaction between students.
What makes Guitar Tricks stand out is its private one-on-one lessons offered to any student who prefers a more interpersonal approach or is struggling to meet the pace of the lessons.
Fender Play Vs Guitar Tricks: Price
When it comes to price, both course programs are substantially different. Guitar Tricks offers its program at $19.99, while Fender Play is only $9.99.
$10 is undoubtedly a sweet deal, and if you're still a beginner who's itching to learn the fundamentals and basics, Fender Play hits the right spot.
Winner: Fender Play.
We can't argue that $9.99 is an appealing offer. For beginners who aren't sure if they can make a serious financial commitment to the program, you can't go wrong with this price deal.
Fender Play Vs Guitar Tricks: Content
Guitar Tricks offers over 11,000 guitar lessons to choose from, making it clear how much Guitartricks has grown over the last 2 decades when it comes to providing guitar lesson services.
Fender Play doesn't come nearly as close to the massive amount of content Guitar Tricks offers. In fairness, Fender Play constantly updates its song library, and we're looking forward to seeing them expand their song lessons.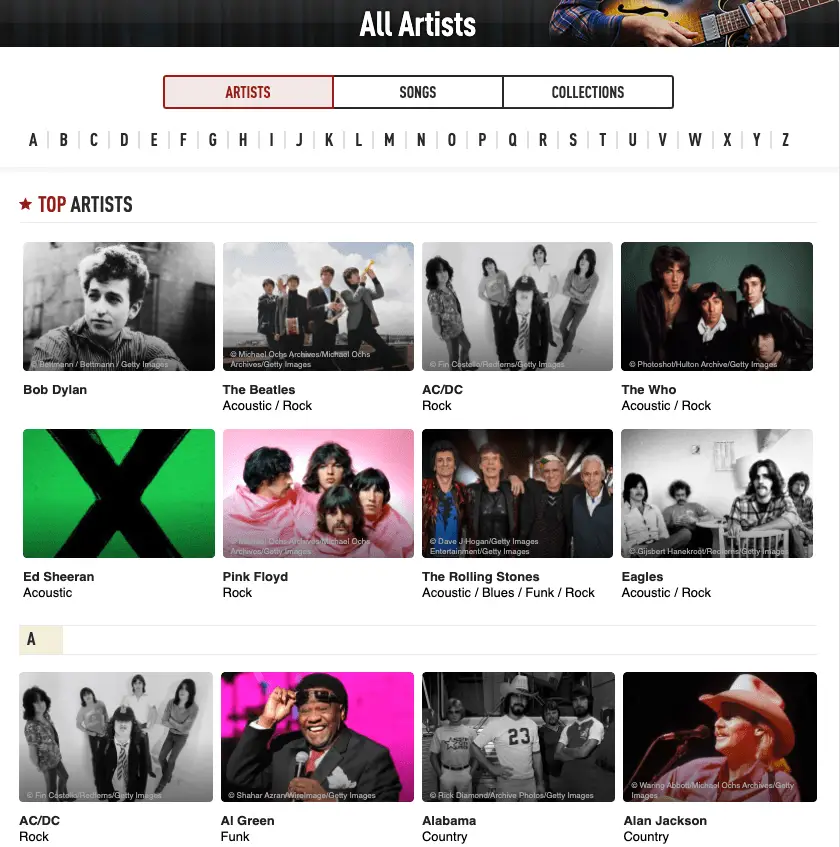 One reason for Guitar Tricks' massive song library and lessons are due to offering both beginner and advanced lessons, which Fender play is very limited in.
Winner: Guitar Tricks
Guitar Tricks is the clear winner in this category, providing users with a vast collection to choose from. Having a wider selection of song lessons to choose from adds variety and better personalization for each user to enjoy.
Fender Play Vs Guitar Tricks: Video Quality
Both platforms come with HD quality, and each has its own set of features to go along with the video player.
One drawback to Guitar Tricks is that some of the content is already outdated, so some of the video quality only reach 540p quality.
That aside, Guitar Tricks' video player has all the features that make it a great video player such as playback speed adjustment, fullscreen mode, looping, and even downloading videos for offline viewing.
Fender Play comes in strong with its minimalist and beautiful aesthetic features. The only downside is the lack of features the video player has.
Adjusting playback speed and looping the video are features unavailable to Fender Play's video player.
Winner: Guitar Tricks.
While Fender Play is more stunning to look at visually, adjusting the playback speed is a vital element in online course learning.
Some messages may be too fast or complicated for the user to understand, and the playback speed comes particularly handy in this scenario.
Fender Play Vs Guitar Tricks: Website Interface
Both guitar lesson course programs provide easy user navigation and a great interface overall. The drop-down menu for each program is easy to use and allows easy access to the lessons at hand.
Guitar Tricks takes their site further by allowing you to search instructors rather than browsing through the whole list.
You can also use their Toolbox feature, which has a chord finder, metronome, scale finder, tuner, and much more.
Fender Play doesn't have as many options as Guitar Tricks' Toolbox feature, but it wins the game of design and aesthetics, providing a much more modern and sleek appeal for its users.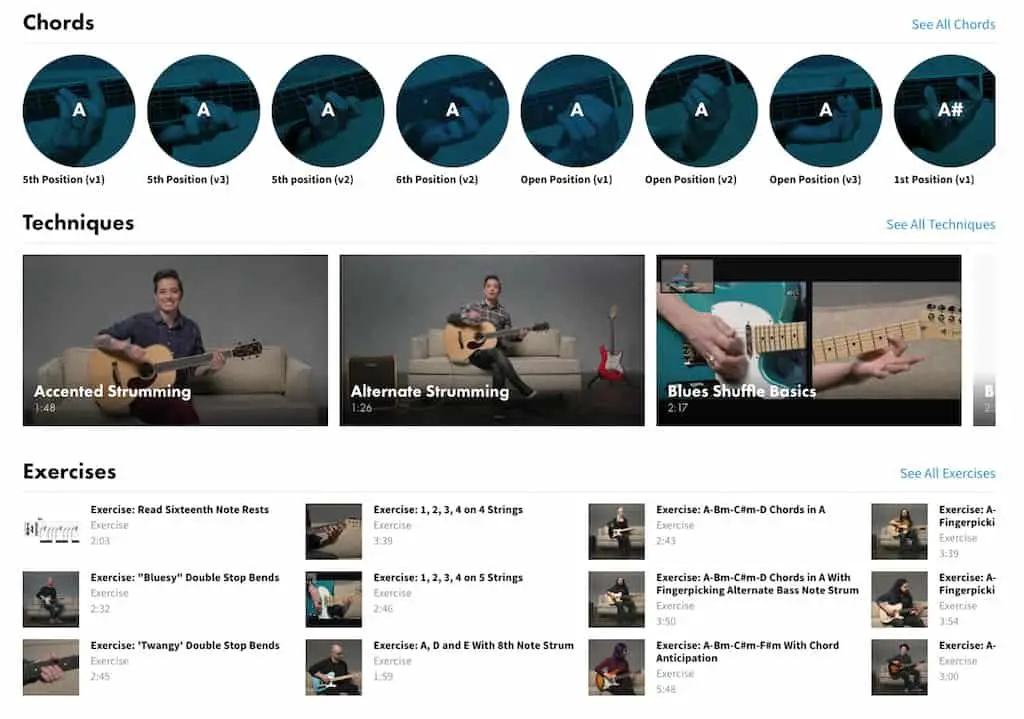 Finally, both guitar lesson course programs are also available on iOS and android. Now, here's where things get interesting.
Guitar Tricks' mobile app doesn't have the playback adjustment feature, which evens the playing field with Fender Play. Fender Play, on the other hand, maintains its consistency for the website and mobile version.
Winner: Fender Play
Although Guitar Tricks has the upper hand of time to constantly improve their site, Fender Play did a brilliant job designing their website and mobile app.
Most of all, we give credit to Fender Play for maintaining this consistency in design, user navigation, and usability.
Guitar Tricks Vs Fender Play: Lesson Structure
Currently, both platforms are at a tie score, with Guitar Tricks providing a more extensive song library and video quality and Fender Play as the more affordable, aesthetic option.
That's not all, though. We still have one more crucial element to look into, lesson structure.
The lesson structure will cover the instructors, lesson outline of each program, and the ease of the lessons. We'll also look at which program suits best for beginner guitar lessons and advanced guitar lessons.
Guitar Tricks Vs. Fender Play: Instructors
Guitar Tricks has 32 instructors on their platform. Although Guitar Tricks doesn't carry the shine of a modernized lesson outline or plan, Guitar Tricks' biggest advantage is that its a trusted and reliable source carrying 20 years of experience.
Considering how long Guitar Tricks has been teaching students, one can say that Guitar Tricks' methods and approaches are effective and have been proven over the years.
Fender Play does not fall short on its instructors and offers a variety of teachers coming from prestigious universities such as UCLA, USC, and Berklee College of Music.
What makes Fender Play's instructors unique is that each instructor thrives at more than one instrument, and with just 19 instructors total, we can say Fender Play doesn't shy away from offering great quality instruction.
Winner: Guitar Tricks.
We commend Fender Play's instructors, and just because Guitar Tricks wins this round doesn't mean Fender Play has poor teaching instruction.
Although both programs offer great instruction quality, we felt the depth of the lessons and experience Guitar Tricks offers was superior.
Guitar Tricks Vs. Fender Play: Lesson Outline
Both Guitar Tricks and Fender Play offer easy steps to learning guitar lessons.
To give you a better overview of each lesson plan, here's what each program offers:
Fender Play:
Choose the instrument of your choice
Choose the style you prefer to learning guitar (Blues, Rock, Country, etc.)
Follow the steps as instructed
Guitar Tricks:
Start at Guitar Fundaments Level 1
Progress to Guitar Fundamentals Level 2
Choose the style (Rock, Blues, Country, etc.)
Learn your preferred Style Level 1
Learn your preferred Style Level 2
Both platforms provide an easy-to-follow outline and lessons that any user will be able to understand and learn effectively.
One thing to note though, is Guitar Tricks' core learning program. Fender Play falls slightly short when it comes to this because what Guitar Tricks offers is a learning system that breeds familiarity, substance, and depth of material.
This is something Fender Play will undoubtedly acquire along the way as it continues to grow, however, Guitar Tricks shows a sense of mastery over what their learning program and lessons can provide for its students.
Winner: Guitar Tricks
Guitar Tricks has built its content and program over the years, giving it the edge over Fender Play.
Perhaps after a few more years, we might see even more significant changes to Fender Play's program, considering how fast it's growing too!1
Guitar Tricks Vs. Fender Play: Beginner Lessons
For this round, let's dive deeper into the course outline of each program.
Guitar Tricks
The first lessons you'll learn after signing in to your account at Guitar Tricks will be Fundamentals Level 1 and 2. Each Fundamental Level will have 7 chapters for you to go through.
Don't worry. Although a total of 14 chapters does sound like a lot, we assure you the lessons are easily digested and last between 3 to 5 minutes only.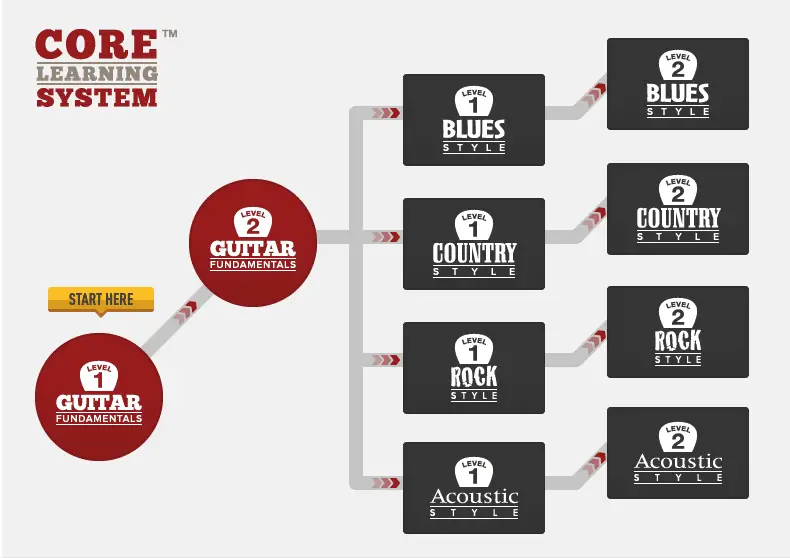 Each of the lessons will also come with a difficulty rating from 1 to 5, so you'll have a clear idea of what to expect.
The instructor for Fundamentals Level 1 and 2 is Lisa McCormick. Over the years, Lisa has consistently been the instructor at Guitar Tricks when it comes to teaching fundamentals.
How good is she? Really good, and the steps are also easy to follow along.
Fender Play
Fender Play has its own unique lesson outline called "My Path."
My Path is a unique curriculum or course that varies per user. This will depend on the instrument you want to learn – electric guitar, acoustic guitar, bass, and ukelele. You also have to pick your style – Blues, Country, Rock, Folk, and Pop.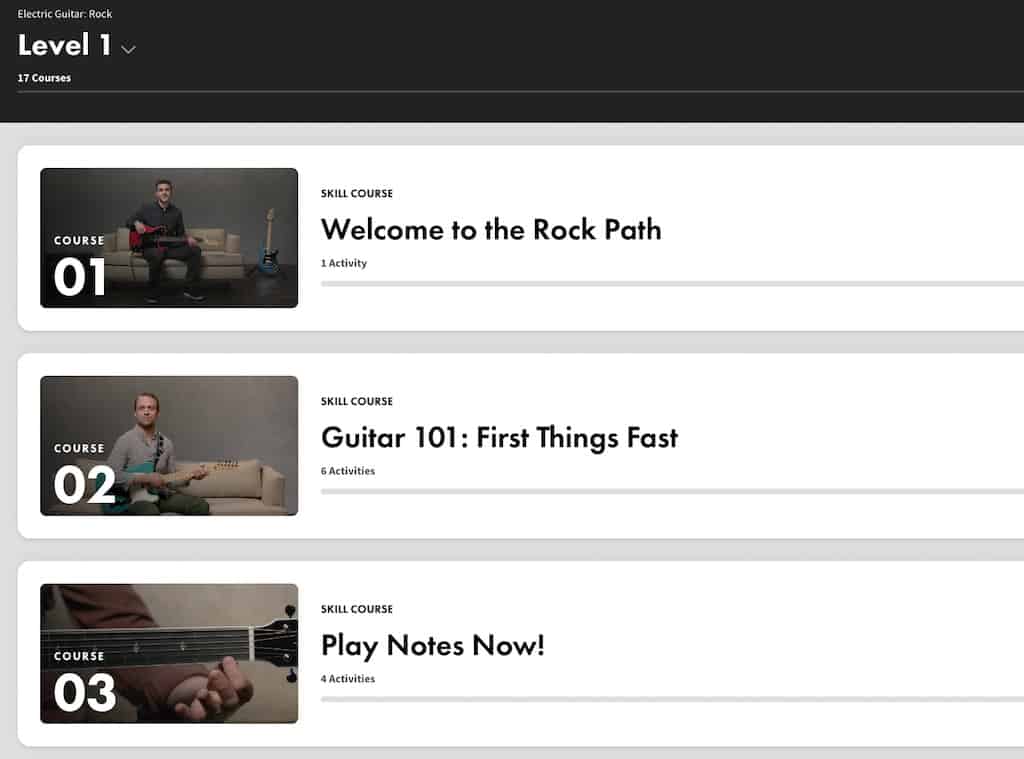 Once you've completed the selection process, you'll now have your "My Path."
What we love most about Fender Play's outline was how you could easily see all your lessons outlined in a timeline fashion.
After every completed lesson, you'll see a completed check mark highlighted in green.
You can also conveniently check each lesson's overview and duration before proceeding to the lesson itself, which we felt was brilliant compared to Guitar Tricks.
As for the instructors, Fender Play adopted a more modernized approach and regularly switches the instructors to give students a fresh take and to prevent a repetitive, rigid education.
While we do feel that this was great to have, this also might be a drawback for some.
Not all instructors will work as effectively for some students, so regularly switching may also result in a varied teaching style that may not be as beneficial.
Winner: Tie
Both platforms offer amazing beginner lessons for students to easily follow and digest. While Guitar Tricks holds consistency in its beginner lessons, Fender Play also offers a modern, clean, and polished outline.
We can say that both platforms really stood out with regard to uniqueness and brand voice. From here on, it becomes a matter of preference rather than a competition.
Guitar Tricks Vs. Fender Play: Advanced Lessons
Here's where Guitar Tricks really shines. Although both platforms are effective at instructing lessons for beginners, Guitartricks takes this further by adding intermediate content by the end of their core learning system.
Fender Play, in contrast, upon reaching Level 5, still teaches concepts that are quite basic.
It's also hard to compete with Guitartricks' massive song library, wide content catalog, and 12 musical genres for students to practice.
Fender Play might offer a few intermediate concepts and lessons, but it's hardly at the same level as Guitartricks.
Winner: Guitar Tricks
Fender Play lags behind when it comes to advanced lessons and has a lot of room to grow. On the other hand, Guitartricks showed their level of tenure, and when it came to teaching students intermediate and advanced guitar lessons.
Free Trial Offers
Both platforms offer a 14-day free trial, which we felt would really help if you feel undecided or unsure of which course program you want to commit to. Click here for the FREE trial of Guitar Tricks or click here for the FREE trial of Fender Play.
Trying out both platforms can give you a better perspective, especially since you'll be able to navigate through the course, website, features, and song lessons at your own pace.
Guitar Tricks Vs Fender Play: Which is Better?
Based on the scores, Guitar Tricks wins the competition by 3 points, giving Fender Play a total score of 4 points.
We can say that Fender really outshined Guitartricks when it came down to website interface, design, and price; however, Guitartricks offers double the value that Fender offers, not to mention the depth of its content material and extensive song library.
In fairness, Fender's song library is growing rapidly and even faster than we expected, giving users even more song lessons to practice, so there's no telling just how vast their catalog could grow to become in just a few months' time.
Now, you're probably wondering which platform suits you best?
Here's what we think:
Go for Fender Play If:
You're still starting out and want to learn the basics of guitar learning
You aren't ready to make a serious financial commitment and prefer to spend less or invest in a cheaper, yet effective option
Go for Guitar Tricks If:
You're still starting out but are ready to spend more than your budget.
You're an intermediate player who has a good background on the basics and fundamentals.
If you feel your fundamentals are rusty and want a refresher course since you'll eventually want to progress to advanced or intermediate lessons right after
We hope this article was able to help you decide which platform suits you best! If you want to know more about these two guitar learning programs, click here to read our in-depth review of Guitar Tricks and click here for our detailed review of Fender Play.
Remember, practicing daily can also make a significant difference!
If you have any questions or thoughts you want to share, feel free to leave them in the comments section below!