Do you have a guitar player in your life and want to find them the perfect gift? Even if your friend or family member already has several guitars, there are many other related gifts that he or she will love. There are many awesome gifts that your guitarists may find useful, or wouldn't buy for him or herself, but will enjoy all the same.
Below, we have a roundup of some of the best gifts for guitar players of all skill levels. Plus, they'll fit your budget, too, because each one is under $25!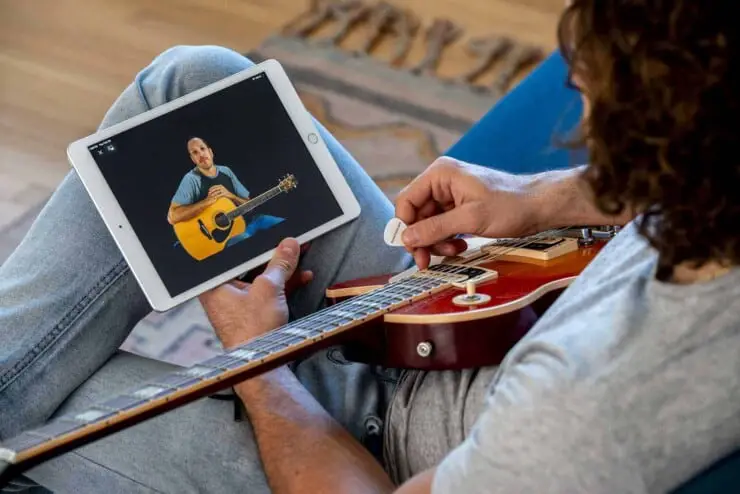 Thinking of the perfect gift for a guitar player? Look no further than Guitar Tricks! It's like giving them a super cool musical adventure. Here's why it's an outstanding gift:
Learn Anytime: With Guitar Tricks, they can learn guitar tricks whenever they want. It's like having a guitar teacher ready to help 24/7!
Easy Steps: They start with easy lessons and go up to more challenging ones. It's like leveling up in a video game, but with guitar skills!
Lots of Music: They can learn all sorts of music styles, like rock and blues. It's like having a magic key to unlock different music worlds.
Play Along: Guitar Tricks lets them play along with lessons using special pictures. It's like a fun guitar game!
Friends and Help: There are friendly guitar friends to chat with and get help from. It's like having a supportive guitar family.
Always Exciting: New things are added regularly, so they'll never run out of exciting guitar stuff to learn!
Ready to give the gift of musical awesomeness? Just click here, and they'll be on their way to becoming an even better guitarist!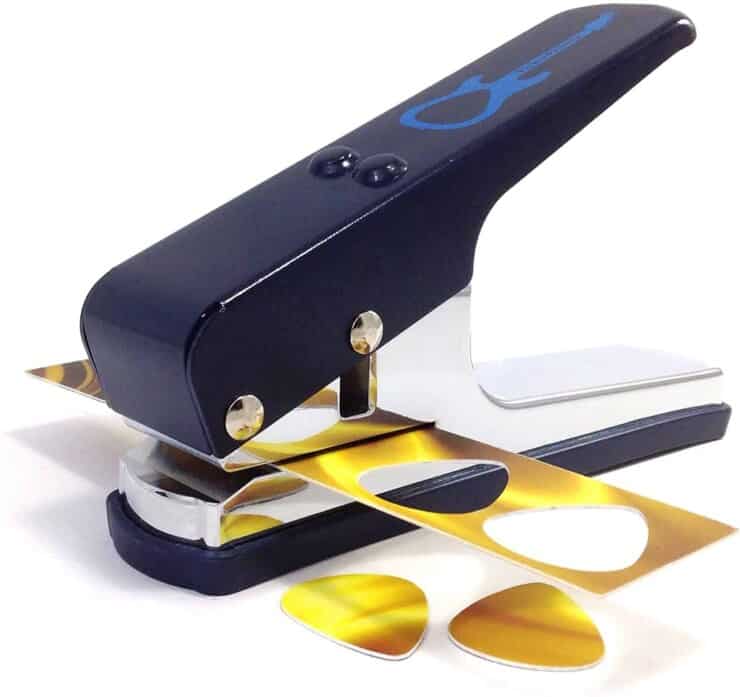 If your guitarist loves picks, then the Pick-a-Palooza DIY Guitar Pick Punch makes an excellent gift. The set includes a pick punch, four starter strips, and a leather pick-holder keychain. This gift is both fun and functional. It can be used to make guitar picks from just about any thin plastic material and is perfect for the guitarist that likes to make personalized picks.
If your guitarist always loses his or her picks, this gift can be beneficial. The pick-holder keychain holds up to ten picks so that your guitarist will never be without a pick.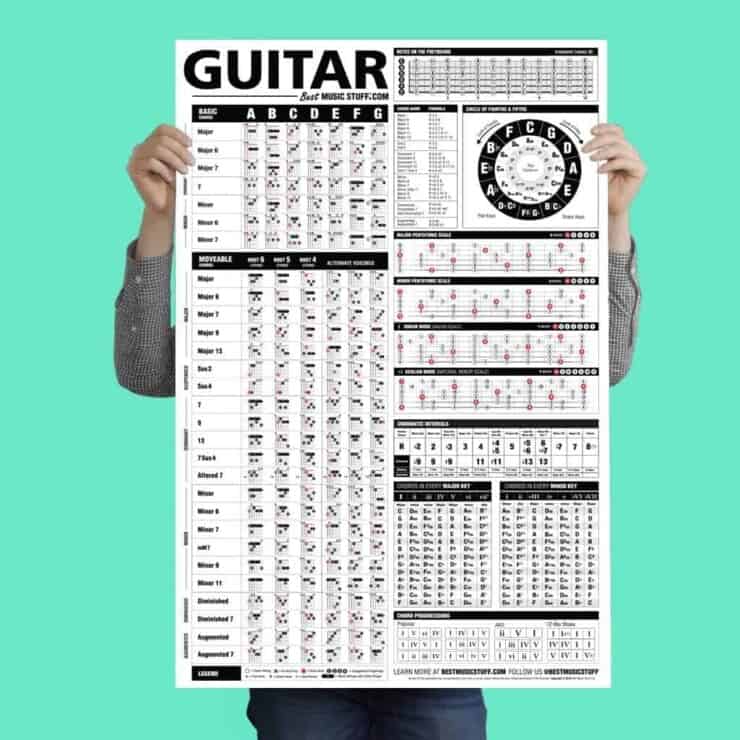 Whether your loved one is an amateur or advanced player, the Ultimate Guitar Reference Poster will come in handy. Even experienced players sometimes need a reference, and this chart is perfect for hanging in a music room. It is also a great gift if your friend teaches music.
The chart contains a guide to the notes on the fretboard, open chords, movable chords, chord progressions, major and minor scales, and more. The poster is 24″ by 36," making it large enough to use as a reference and still look good on a wall. Your guitarist will thank you for this gift to help improve his or her skills.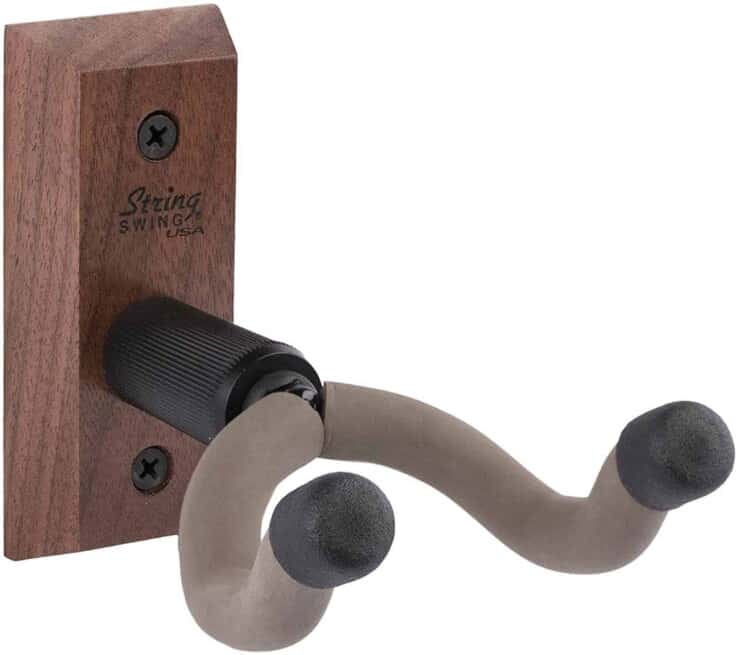 Most musicians have a passion not only for music but for the instruments themselves. If your guitarist has a collection of beautiful guitars that he or she loves to display, this String Swing Guitar Hanger and Wall Mount is a great gift idea. True guitar lovers know that guitars belong on display, not in a case.
This wooden wall mount is made to protect the guitar and prevent it from falling. The guitar has to be lifted to be removed. The yoke cradle can pivot so that most headstocks can fit in it. The mount is made of solid hardwood and looks beautiful even when the guitar is removed.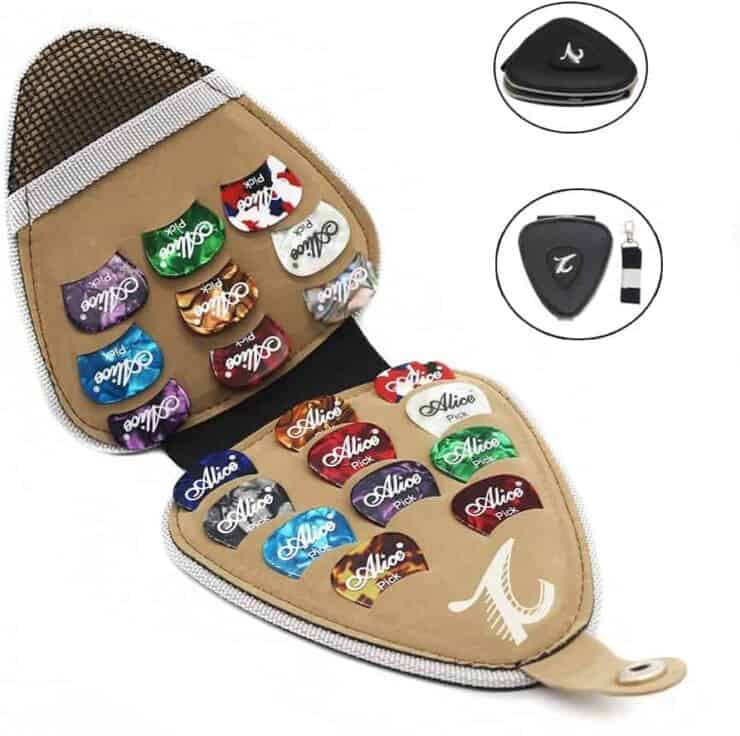 Many guitar players are notorious for losing their picks. Why not give your loved one an easy way to keep up with all of his or her many picks with this Guitar Picks Holder? The holder can hold up to 20 picks and comes with 20 picks of varying thickness.
It is made of durable polyurethane leather. This handy case snaps closed and can easily be stored in a guitar case. It also has a strap to make it easy to carry. Your guitarist will never have to hunt for his or her picks again, making this one of our favorite gifts for guitar players.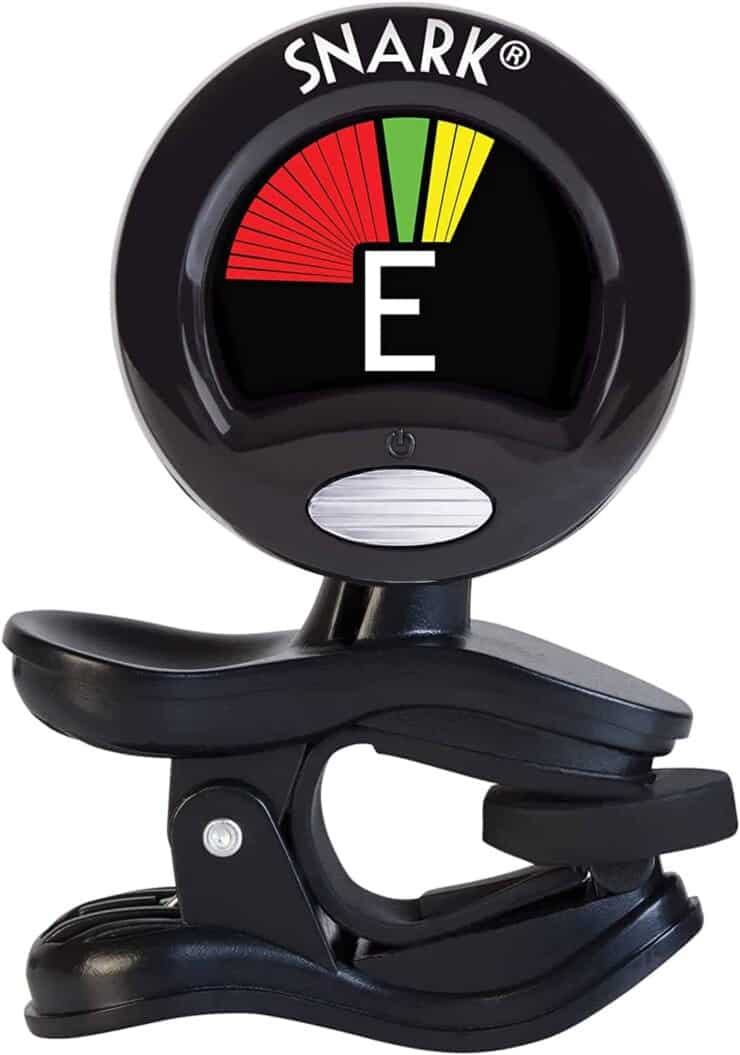 Unless someone can tune a guitar by ear, they have to keep a tuner with them. It can be frustrating always to have to grab a tuner to get a guitar in tune. The Snark Clip-On Tuner for Guitar, Bass, and Violin makes a great gift for intermediate and advanced players. It clips right onto the headstock so that your guitar player is always in tune.
This model is great for both guitar players and multi-instrument players. It has an updated chip and a high-definition display. The tuner also allows the user to tap in a tempo and then acts as a metronome. This handy device will be a gamechanger for many guitar players.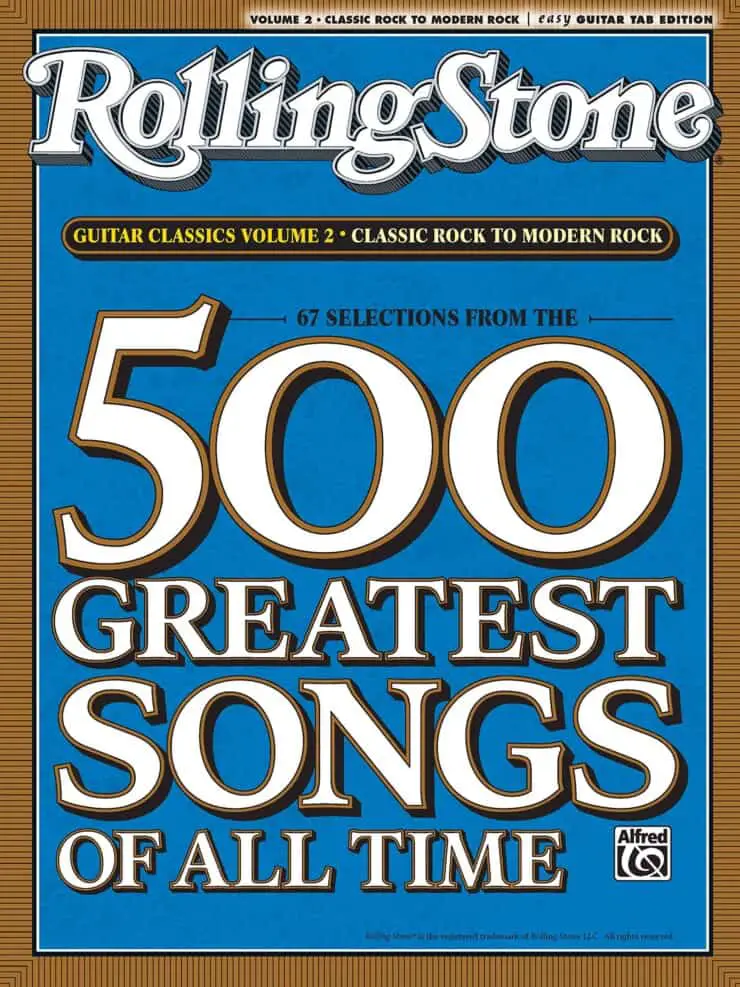 Most guitar players love to get their hands on some new music to learn. This book includes 67 song selections from Rolling Stone's 500 Greatest Songs of All Time. The songs in this book include some of the biggest songs from classic to modern rock.
This book is an excellent gift for new or casual guitar players because each piece has been arranged to make it easy to play. New guitar players love the satisfaction of getting to play popular and beloved songs.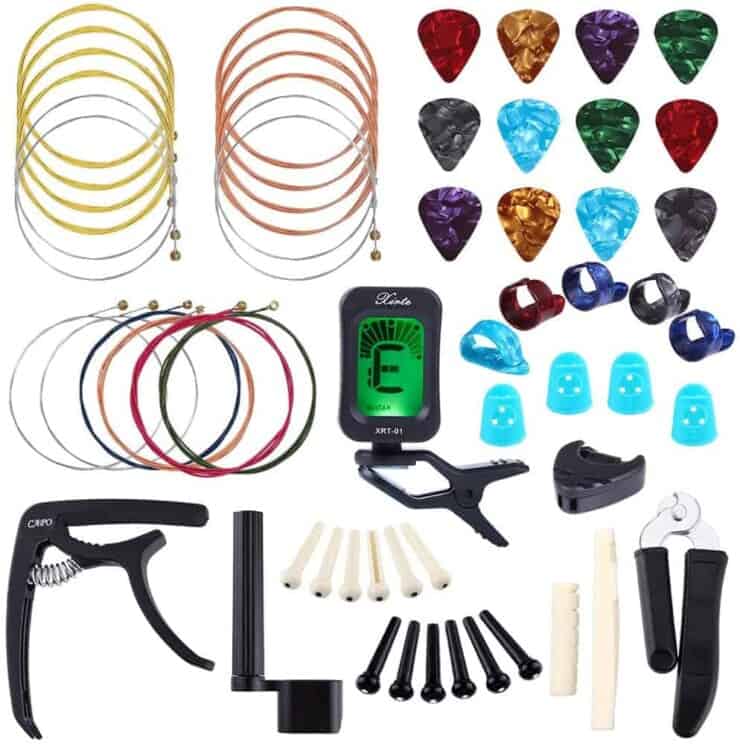 The Auihiay 58-Piece Guitar Accessories Kit is a multipurpose kit that is sure to be of use to any guitar player. Any musician will tell you that playing an instrument is about more than just creating a melody; it is also about maintaining your instrument to produce the best quality of sound. This kit is excellent for maintaining a guitar.
This set includes acoustic guitar strings, a string winder, a string cutter, and guitar pins for maintenance. The kit also comes with picks, thumb picks, a capo, tuner, a bone bridge saddle and nut, and more. These accessories are the perfect addition to any guitar player's case.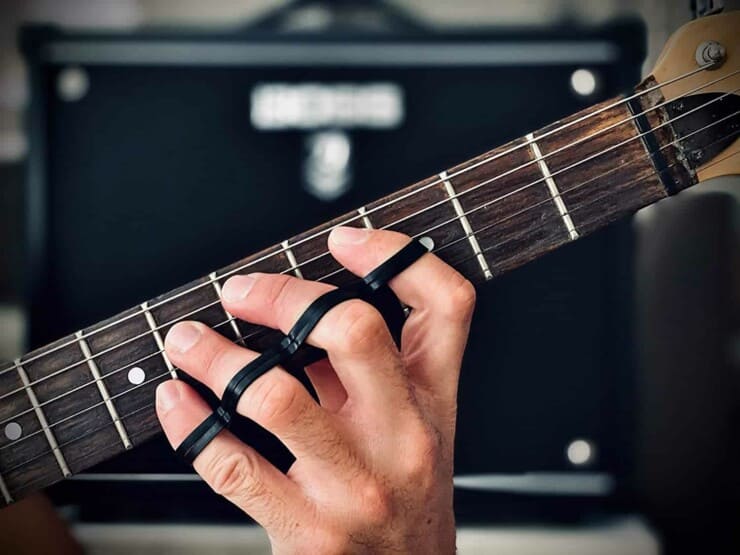 Many musicians who are new to playing guitar struggle to develop sufficient hand strength*. New players simply do not have the hand muscles to play for extended periods. Riff Bandz Resistance Training Bands can help to build up those muscles.
This set of training bands comes with three bands. Players can use one, two, or all three bands to increase resistance and build muscle. Many new players note that after training with the bands, removing the bands makes their hands move quickly and dexterously over the fret. Intermediate and advanced guitarists can also use resistance bands to develop more sophisticated fingering techniques.
Summary
No matter the holiday, there are many great gifts to show the guitar lover in your life that you care about them. You don't have to buy them a new guitar; instead, get them a great accessory that they may not otherwise own. Any of these gifts for guitar players is sure to delight your friend or family member and help them pursue music.