What do tomato plants and learning guitar have in common? Let me explain: I always like to see tomato plants while they are being cropped. The combination of their green and red colors of these crops is something so beautiful to see. These plants need support to grow, or they sprawl over the soil. Farmers use sticks to stake these plants. This simple stick method provides a cheap way to keep the tomato vine upright. Some varieties can reach 6 feet tall or more. It's very important for tomato plants to have a stick to grow tall, to have a guide.
So when I talk about learning guitar, I imagine the beginner guitar players as tomato plants that need a guide that help them grow up tall and healthy. This is why today I bring you a review of the best online guitar lessons out there. We all need help when we are acquiring something new. I think that taking one of these online lessons is a practical and effective way of learning guitar in this interconnected world we are living in today.
Interested in learning from our top-choice online guitar lesson platform? Begin your free trial with Guitar Tricks today!
Overview – Top Online Guitar Courses
Learning to play guitar can be an intimidating and challenging thing to do on your own. It will be better to have some guidance. A well-structured online guitar lesson will help you start to train with the tools you need. There are many options out there. So it's important that you know your options before choosing which online lesson is the best for you. With some of these best online lessons I'm reviewing here, you will make the best out of your instrument. You will learn a lot of guitar tricks and techniques that only someone with guitar experience can teach.
Top 11 Best Online Guitar Lessons Reviews
Now I'm going to review some of the most important guitar lessons that you can find online. So that you can choose one of them and start mastering guitar without getting discouraged. The idea is that you can start by putting the focus on the basics with some well-structured lessons that let you improve consistently.
#1 – Guitar Tricks
Guitar Tricks invented one of the best online guitar lessons in the market back then in 1998. It has grown its guitar lesson library to over 11,000 lessons and over 1,000 song lessons with recognized instructors from all over the world. There are very different ways when you want to learn guitar. Nowadays, YouTube seems like a great option at first, but it's a common thing that it usually leads to slow progress or to very poor results.
Check out this FREE video lesson from Guitar Tricks:
Easy Rock Riff Lesson – Guitar Tricks
Let's be realistic: Most YouTube pseudo instructors are just a bunch of wannabe celebrities that are not interested in that their viewers will achieve their own guitar goals. They just want you to subscribe, give likes, but commonly they aren't consistent and effective at providing real guitar guidance.
Guitar Tricks is born to provide online courses for those searching for an easy, fast, and fun way to learn guitar. They'll try to give you all the guitar knowledge you need to succeed with an award-winning step-by-step curriculum. They feel confident teaching with their easy-to-follow lessons that build on beginner's skill level.
Guitar Tricks has a program that will let you move on to the next level with ease. They have lessons for everyone, whether you're an absolute beginner or an advanced player looking to improve your technique. The program is formed by lessons that cover from the ground up, covering every genre of guitar. They are a good alternative to those repetitive lessons of the old conventional guitar training.
At Guitar Tricks, they said to be the best alternative for you to jump right into playing your favorite songs. They make it happen by a program that includes very famous artists like The Beatles, The Rolling Stones, Eagles, and many others. They work with knowledgeable and entertaining instructors that really care about the student and material.
At the official site of Guitar Tricks, you can read a lot of opinions of well-known musicians from all around the globe. They claim that the Guitar Tricks program will let you learn guitar in a short amount of time. You will be playing a song within a few minutes, lessons here are very clear, and it's almost like having a friend explain various tips to you.
Every aspect of this company is top-notch, from the lessons to the support. The instructors are very friendly, they'll treat you like old friends. It seems that Guitar Tricks's program is awesome for beginner, intermediate, and advanced players because they have so many options for mastering the guitar.
Click here to go to our full Guitar Tricks review and grab your discount code. Or click here to go to sign up for Guitar Tricks.
#2 – GuitarZoom
Welcome to GuitarZoom, the premier online platform for guitar enthusiasts of all levels. With GuitarZoom's extensive collection of online courses, you can unlock your guitar potential and take your playing to new heights. Whether you're a beginner picking up the guitar for the first time or an experienced player looking to refine your skills, GuitarZoom has the perfect course to suit your needs. Let's explore what makes GuitarZoom the go-to destination for online guitar education.

Comprehensive Course Selection
GuitarZoom offers a diverse range of courses covering various genres, techniques, and skill levels. From foundational courses that teach you the basics of guitar playing to advanced masterclasses that delve into intricate techniques and styles, you'll find a wealth of options to fuel your musical journey. Whether you're interested in mastering the art of soloing, diving into the world of blues guitar, or expanding your repertoire with catchy riffs, GuitarZoom has you covered.
World-Class Instructors
At GuitarZoom, you'll have the privilege of learning from some of the most renowned and accomplished guitar instructors in the industry. Led by the legendary Steve Stine, the instructors at GuitarZoom bring a wealth of experience, expertise, and passion to their teachings. With their guidance, you'll receive invaluable insights, tips, and personalized feedback to enhance your learning experience and accelerate your progress. Immerse yourself in the knowledge and expertise of these world-class instructors and watch your skills soar.
Engaging and Interactive Learning Experience
GuitarZoom understands that effective learning goes beyond watching videos. That's why their courses are designed to provide an engaging and interactive learning experience. Through a combination of video lessons, interactive exercises, downloadable materials, and backing tracks, you'll have a dynamic and immersive learning environment at your fingertips. GuitarZoom ensures that you not only learn the concepts but also apply them in practical ways, allowing you to see real progress and growth in your guitar playing.
Flexibility and Convenience
One of the significant advantages of GuitarZoom's online courses is the flexibility and convenience they offer. With 24/7 access to the course materials, you can learn at your own pace and fit your guitar education into your busy schedule. Whether you prefer practicing early in the morning or late at night, GuitarZoom is always there for you. Plus, with the ability to revisit lessons and replay videos as needed, you can reinforce your understanding and tackle challenging concepts at your own pace.
Supportive Community
When you join GuitarZoom, you become part of a vibrant and supportive community of guitar enthusiasts from around the world. Interact with fellow students, share your progress, and seek advice in dedicated forums and discussion boards. Connect with like-minded individuals who share your passion for the guitar and gain inspiration from their journeys. The GuitarZoom community is there to support and encourage you every step of the way.
Unlock Your Guitar Potential Today With GuitarZoom
Don't miss out on the opportunity to unleash your true guitar potential. Take your playing to new heights with GuitarZoom's comprehensive online courses, world-class instructors, and engaging learning experience.
Curious to learn more about what GuitarZoom has to offer? Dive deeper into our full in-depth review, where we break down the features, course selection, instructor expertise, and overall experience. Discover why GuitarZoom is the go-to platform for guitar enthusiasts seeking top-quality online education. Read the Full In-Depth Review
Ready to embark on your guitar journey? Sign up for GuitarZoom today and gain instant access to a world of knowledge and inspiration. Choose from a wide range of courses, learn from the industry's finest instructors, and experience an interactive and supportive learning environment. Whether you're a beginner or an advanced player, GuitarZoom has the resources to help you reach your musical goals.
#3 – JamPlay
JamPlay is a good place to start. This site has guitar lessons with world-class teachers that are part of the best guitar players out there. JamPlay claims itself to be the leader in online courses. And studying all the content that they provide, I think that this option can be one of the best if you are just getting started with the guitar and also if you are interested in improving your skill level. This place seems to be suitable for both, the beginner and the experienced guitarist.
JamPlay has guitar lessons trusted by guitarists all across the globe. They give service to 500,000+ subscribers in 220 different countries around the world. They are proud to be a leading provider of guitar education. And these are some of JamPlay numbers: 500,000+ customers, 1,000,000+ secure transactions, 304,000+ Facebook followers, 450+ on-demand courses library, and more than 6,000 lessons offered.
JamPlay has lessons for beginner and advanced players to play with acoustic or electric guitar and many different styles like rock, blues, and country. They have guitar lessons featuring over 110 guitar teachers spanning 20 different genres. JamPlay has been building during the last 14 years one of the largest guitar content resources of the world.
JamPlay has memberships that will give you access to the lessons from every guitar teacher they offer. They have a beginner level with 21 courses and 654 lessons. There are different levels with 128 genre courses and 3,174 Lessons. They cover over 20 genres from Rock, Blues, Country, Gospel, Funk, Metal, and R&B. The lessons are filmed in HD, and you can stream them to any kind of device.
JamPlay gives skill builder lessons with 54 skill courses and 1,035 lessons. So you can improve your playing with their skill-based lessons. There are dedicated courses of lead improvisation, ear training, music theory, and others. There is a learn song level with over 450 song lessons in various genres, from the Beatles to Megadeth. They have a great song catalog with tons of songs to learn in various styles and genres.
JamPlay has artist series masterclasses with 49 master courses and 915 lessons. They have spent years constructing their lessons to bring the best artists to you. They are proud to have such relevant rockstars like Billy Idol, Steve Stevens, Brent Mason, and Phil Keaggy. Among JamPlay's ever-growing library of courses, you can find an awesome roster of new guitar teachers, artists, and revered musicians.
At JamPlay you can find a complete guide for hybrid picking by Prashant Aswani, the master course of Mark Lettieri, tapping into creative fingerstyle by Amber Russell, learning to lead Blues & Rock by David Isaacs, secrets of Melodic Rock by Irene Ketikidi, rock tactics & pentatonic flavors by Tony Martinez, modern method for classical guitar by Evan Taucher, modern telecaster shred by Andy Wood, crafting fingerstyle melodies by Trevor Gordon Hall, and speaking with slide guitar with Ariel Posen.
In 2020 JamPlay has a guitarist toolkit gift included with their annual membership. This 2020 free guitar toolkit is available with an annual membership. This gives access to 42 individual courses, 553 lessons, 482 JamTracks, and 600 pages of tablatures. They have live guitar courses daily with real-time feedback and help from the teachers. JamPlay offers live guitar lessons, and weekly workshops live broadcasted in 1080p.
JamPlay seems to be a pretty good choice for those demanding good beginner's guitar learning. They can give you an online guitar lesson system that is well-structured, guided homework, interaction with the instructors, and instant access to pro-teacher daily streaming. JamPlay offers over 8 hours of live sessions daily, live help from pro instructors, regular open mic nights, and webcam-to-webcam capability. The lessons are filmed and produced in a professional 4k studio, and they have progress reports that let you update and build your reports for your progression.
Click here to go to our full JamPlay review. Or click here to go to sign up for JamPlay.
#4 – Rock Guitar Mastery
Paulie Z is the founder and head instructor at Rock Guitar Mastery. Paulie Z was born and raised in Brooklyn, NY. It was clear to him that music was his passions in life when he was very young. He studied for eight years in an art school. Paul was the lead singer and guitarist in various local rock bands till the power trio ZO2, co-founded with his brother David Z, brought him his first taste of success. In 2004 ZO2 toured the U.S.A. with KISS and Poison, and in 2008 the band has their own TV series called Z Rock. This was aired for two seasons and was based on their real-life story of being rock stars at night and kids' entertainers by day.

Paulie Z has been a guitar teacher for nearly 20 years, he has taught thousands of students of all ages. In the last years, Paulie Z has moved to LA and begun building his educational empire. He spent many years making reverse engineering in search of the secret guitar tricks and techniques that professionals use. He says that he achieved this goal and was shocked when he saw that the answer was in front of him all the time.
At Rock Guitar Mastery Paulie Z assures you that his teaching method can make you master your favorite songs in as little time as 60 days. In their testimonials, this method's students mention that it has no learning curve. That it's possible to actually be playing the guitar within just a few hours of instruction.
Years ago, if you wanted to learn to play an instrument, you had to study theory before you could practice on your guitar. But one day, a Japanese violin master called Shinichi Suzuki discovered an incredibly quick and easy way to train his new students. It was a way that did not require the traditional learning of music theory. This new method was called The Suzuki method.
More than 40 years ago, the Suzuki master realized the fact that children learn to speak their mother tongue with ease all over the world. He began to apply the principles of language acquisition to the field of music learning. He realized that if children were surrounded by musical sounds, they could develop musical skills in the same way they do with language acquisition.
Paulie Z has taken Shinichi Suzuki's method to build a modern guitar teaching method that includes new technology and can be followed from any device out there. By using this method, Rock Guitar Mastery assures that you'll learn much faster and retain the information for longer. You'll skip over all kinds of tedious works, and instead, you'll focus on just a single technique at a time.
Rock Guitar Mastery method includes over 130 high-quality instructional training videos and close to 20 hours of lessons step-by-step instructions. You're also going to receive an exclusive downloadable and printable Rock Guitar tabs and sheet music eBook. You'll have instant access to absolutely everything inside a private members-only website.
All of your training is fully compatible with any PC, Mac, Tablet, and smartphones. All you need is an internet connection, and you're set.
So, if you want to learn guitar, this method will bring you the most solid start possible so you can have an absolutely perfect grasp of the fundamentals of guitar. Nothing scapes to this inside, you will learn all about different parts of the guitar, tuning, strumming. The foundation's course concludes by showing you the techniques you'll need to play your very first song. This means you'll be jumping into playing real rock music right from the very beginning.
Click here to sign up for Rock Guitar Mastery.
#5 – Fender Play
Fender has been a worldwide guitar brand for decades. It had passed seven decades since Leo Fender built his first electric guitar. Fender was founded in southern California but has established a worldwide influence. Everyone in the world of guitar knows well this brand, from beginners to the most acclaimed artists use Fender instruments, amps, and gear.

In 1954, following the success of the Telecaster, Fender unveiled the Stratocaster. This guitar model has set the standard for future generations. Since then, the Stratocaster remains the most popular electric guitar ever made. All kinds of players across all genres keep it as a symbol within the musical world thanks to its sound, style, and versatility.
The 21st century brings digital innovation, and the company launched Fender Digital in 2015. This connected players all around the world inside a vast digital ecosystem developed to upgrade their musical experience. This was when Fender Play, a groundbreaking app-based learning guitar platform, began. This platform combines expert instruction with the latest technology and research.
It has revolutionized the experience of learning guitar, bass, and ukulele. By the hand of expert instructors from top music schools, with step-by-step song lessons based approach, Fender Play supports all styles of learning. By this, the platform takes the guitar learning to another level, where playing guitar is easier and a more achievable goal.
By starting your free trial, you get access to online guitar classes for your instrument of choice. Once you are inside the platform, you can work in your style, whether you prefer an acoustic or an electric guitar. You only need to start with online guitar classes for your instrument of choice. You will be learning strumming skills and songs based on your favorite genre choice, from rock, pop, blues, folk, or country.
You can learn to play guitar at home or on the road with the Fender Play app for desktop, iPhone, iPad, and Android. Fender Play is a portable online guitar school that helps you learn at your own pace and customize your guitar learning experience. It's reasonable to say that this core learning system has great value since it belongs to a trusted brand. When we read on the site that Fender Play's online guitar lesson system is led by world-class instructors and featuring top quality video lessons, we can be sure that this kind of company delivers what it promises.
The program has the following features: you can try it for free and cancel anytime. By starting a free trial, you have access to step-by-step learning, easy-to-follow lessons, and you can track your progress. All this is at your own pace, with experienced instructors, and with an easy play popular songs method.
Click here to go to our full Fender Play review, or click here to sign up for Fender Play.
#6 – ArtistWorks
A former AOL executive called David Butler wanted to master jazz guitar back in 2008. But he couldn't find any acceptable teachers near his area. Time after that happened, he built a revolutionary online platform and called it ArtistWorks. With this program, he made it possible for anyone with an internet connection to access the world of guitar learning.
ArtistWorks lets you make your own schedule at your own pace. Today this platform has over 50,000 video lessons, 35 teachers and has taught over 10,000 students from over 80 countries. In 2018 the new ArtistWorks School of Music launched its accredited music program online. ArtistWorks has the mission to provide affordable interactive access so that anyone and anywhere in the world have access to the greatest music teachers.
At ArtistWorks, you can learn guitar at your own pace on your own schedule. Whatever style you prefer, acoustic or electric guitar, there are hundreds of guitar lessons, for all levels, from beginner to advanced players. You'll have access to multiple popular genres to choose from. The videos have a slow-motion mode that you can use to review or to make video looping. You can choose other instruments than a guitar and the style you like as well. ArtistWorks will send you free lessons that are tailored to your musical goals. You'll also receive exclusive discounts, news about the platform's latest courses, and much more.
ArtistWorks has patented a Video Exchange Learning Platform. This connects master teachers with students all over the world in a social online learning environment where each interaction becomes a learning experience. ArtistWorks tries to provide the best music education available online. ArtistWorks provides members access to practice videos as they get personal video responses from their teacher.
These video exchanges create an online learning experience that is growing and changing all the time. The interaction between teacher and student is recorded and made available for all members of this community to learn from it. This creates a much better educational experience than in a real classroom and provides the most effective way to learn online.
All the teachers at ArtistWorks offer their experience to the platform students as they advance through the course levels. Across the Online Guitar Lessons, 9 guitar teachers will help you play as you want. These master guitarists deliver the best music courses on the internet. You can choose from rock, jazz, blues, country, bluegrass, classical, and other playing styles.
Click here to sign up for ArtistWorks.
#7 – TrueFire
TrueFire has over 40,000 video guitar lessons and over 900 interactive video guitar courses. Featuring multi-angle HD video lessons, slow motion, looping, synced tab, notation, jam tracks, and more. TrueFire claims to be a trusted online resource for guitar players of all skill levels. You can have access from anywhere, at anytime you want. TrueFire has interactive video guitar courses that are available on its website and apps for iPhone, iPad, Apple TV, Windows, Mac, and Android.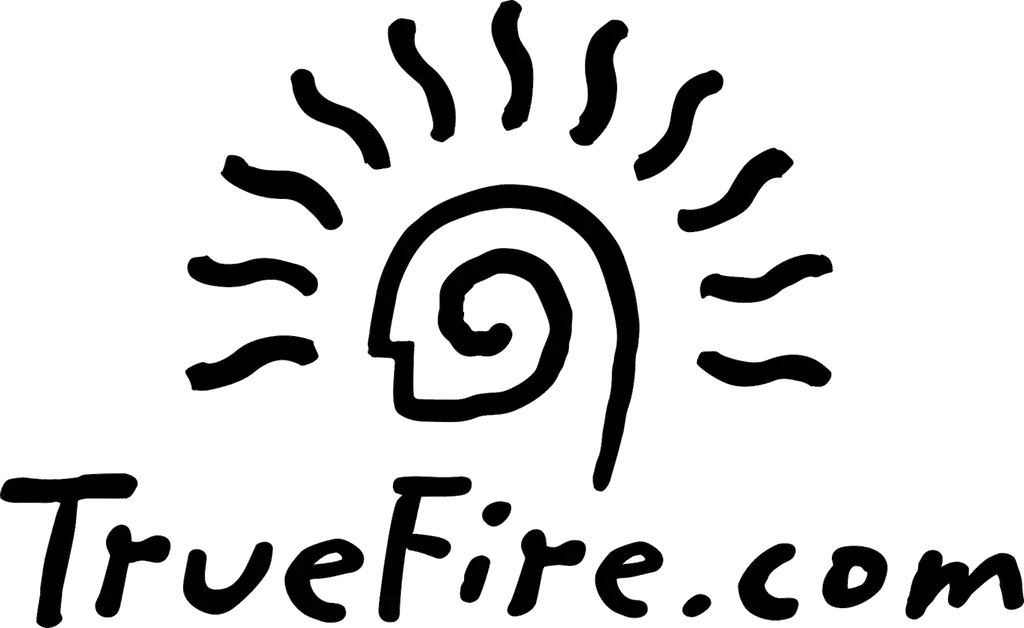 The TrueFire Guitar lessons app features top educators from Grammy Award winners to top session players. TrueFire has an interactive synced tab that helps to follow the lessons, and 1080p HD crystal clear multi-angle video lessons with high-quality audio.
You can track your way from a beginner to advanced by TrueFire's progress tracking method. You can slow it down to learn at your own pace and loop it until you nail it down. TrueFire Guitar has other learning tools available such as metronome, tuner, and charts. TrueFire covers different skill levels and styles. The beginner guitar lessons are oriented to learn how to play guitar the easy way.
The Blues guitar lessons will help you learn blues guitar rhythm and soloing skills. The Jazz guitar lessons will help you step up your jazz guitar playing with some of the best instructors. Rock guitar lessons are made to dig into the top rock guitar lessons online. There are acoustic guitar lessons oriented to music styles such as Country and Folk.
TrueFire's site gives a very good impression of what they offer. Their guitar lessons have good content and quality. There is a great variety of courses available. TrueFire has the best international instructors for all levels. The apps are top-notch and offer many great features for learning, visualizing, and jamming with the guitar lessons. Guitar Player Magazine says that "TrueFire is the world's most comprehensive library of online guitar lessons."
On the TrueFire website, there are 4 plans to start. You can begin with a 30 Day All Access Trial. You can choose the Monthly Plan paying by $29 per month and get all access streaming with 40,000+ online guitar lessons, 30,000+ tabs & notation, 20,000+ jam tracks, new courses weekly, free monthly download and, a 20% discount on purchases within the site.
With the Annual Plan, you save $99 per year, it has a price of $249, and you get the same features of the Monthly Plan. The last plan is the Lifetime Plan, which gives you a complete All Forever access. It has a price of $2499, and you get the same features as in the Monthly and Annual Plan.
Click here to sign up for TrueFire.
#8 – Jamorama
Jamorama is presented by Rock Star Recipes, this is an internet-based company located at Christchurch, New Zealand. Formed in 2003, they specialize in multimedia learn-to-play courses for musical instruments, with a passion for music and a focus on customer needs. They deliver products of exceptional quality while maintaining the highest level of one-on-one customer service.
Jamorama's teaching method consists of downloading books, audios, and videos to learn how to play the guitar. Its core learning system is divided into two levels and a set of extra contents. All the information provided by Jamorama is an invaluable source for your learning.
Level 1 consists of a book for beginners in PDF format. It also includes a jam track asset ZIP file that has all the jam tracks for Beginner's Book 1. With the Jam tracks, you can play at the end of each chapter what you have learned in the book. The ZIP file includes 32 files: 16 complete Jam tracks and 16 tracks without guitar, so you can play something on your own. It also includes a ZIP file with 54 video lessons. These videos are available in the MOV format.
Level 2 consists of a PDF book for intermediate and advanced guitar players. It also includes a jam track asset ZIP file with all the jam tracks for Book 2. The ZIP file includes 10 complete jam tracks and 10 tracks without guitar sound, in the same way, that on level 1. It also includes a ZIP file with 85 video lessons.
The extras level includes a chord book that has been designed so you can get the most knowledge of chords and progressions in the most common musical styles, such as Rock, Pop, Reggae, and Blues. Each chord is illustrated with a real high-quality photo as well as its tablature. It is a PDF file with more than 70 pages with high-quality pictures.
Since knowing how to tune your guitar is one of the most important things in your learning, there is also a tuning guide. Finally, there is another PDF file with some guitar tricks and techniques, which will be of great help for your guitar learning.
Click here to sign up for Jamorama.
#9 – Infinite Guitar
At Infinite Guitar, they believe that there is always more to learn and more creativity to discover. They claim that their guitar teachers build upon this core principle within their lessons. They can help you learn the technical aspect of playing the guitar. They can inspire you and open your eyes to how amazing the guitar world can be.

At Infinite Guitar, you can take advantage of accessing talented guitar teachers from all over the world. They have many useful lessons and cool features to improve your learning experience. This list of features includes interactive tablatures, guitar lesson tracking, bookmark lessons easily, the most advanced lesson search on the planet, backing tracks, download GP files with most lessons, an advanced metronome, a chord finder, and a left-handed players special program.
At Infinite Guitar, they want to help you be a good guitarist. Whether you're a total beginner, an intermediate, or a seasoned professional looking to be challenged. Infinite Guitar lessons can propel your skills well beyond their current level.
Infinite Guitar cost just $12 a month, you have 24/7 access wherever you are, guitar lesson info can be viewed unlimited times, and you learn from instructors all over the world. Their lessons are fun, applicable, and can be adjusted at your learning pace. It seems to be a pretty cheap option for the beginner guitar player.
Click here to sign up for Infinite Guitar.
#10 – Gibson's Learn and Master Guitar
We have seen Gibson's Learn and Master Guitar here at All Stringed in one of our reviews. I have said that it seems to be a good learning program for me. It contains a great amount of material to help you master the guitar. You'll have access to a pack of 20 DVDs, 5 audio jam-along CDs, and a lesson book. If Gibson makes a product like this, it has to be something good. Because a great major company like Gibson wouldn't do it for anything.
The set of 20 DVDs has 40 hours of instruction with high-quality audio. The lessons are divided into 3 parts: play along sections, video tips sections, and practice sections. The training in the DVDs is carried on by the instructor Steve Krenz. He'll help you train your guitar skills through step by step lessons. He knows how to teach through lessons, and his training method makes it easy to correct any mistake that you can make as you advance from lesson to lesson.
The guitar lesson book has at least a hundred pages, and this outlines each guitar lesson in full detail. This book will help you when you leave something without learning well. Thanks to this valuable written content, you can concentrate on the lesson you have trouble with. This book includes full tablatures, and you'll have access to an online student support site too. So you can reach on the site what isn't on the DVDs or in the lessons book. On the website, you can talk to other members, because there is a whole community they have created.
The jam CDs are a great tool to help you take your skills to the next level. You can learn master guitar techniques by listening to the audio jams. With it, you have a powerful weapon to be able to put these techniques to use. The five jam-along CDs will help you improvise, test your knowledge, and build further skills from it.
I really enjoy the essence of this core learning system because the lessons put the focus on guitar theory. But I would recommend you search into the rest of the more modern online guitar lessons that we have seen. Because they have a more up to date approach to the teaching method, they are more understandable and with better online resources that this out of date DVD set method.
Go to our review of Gibson's Learn and Master Guitar or buy it here.
#11 – Rocksmith
We have talked about Rocksmith here at All Stringed in this article. Rocksmith 2014 Edition Remastered is based on a very innovative idea that uses a real musical instrument for a guitar game. This makes Rocksmith 2014 to be a great and effective game because you only have to plug in your instrument to begin to perform the song you like on Rocksmith.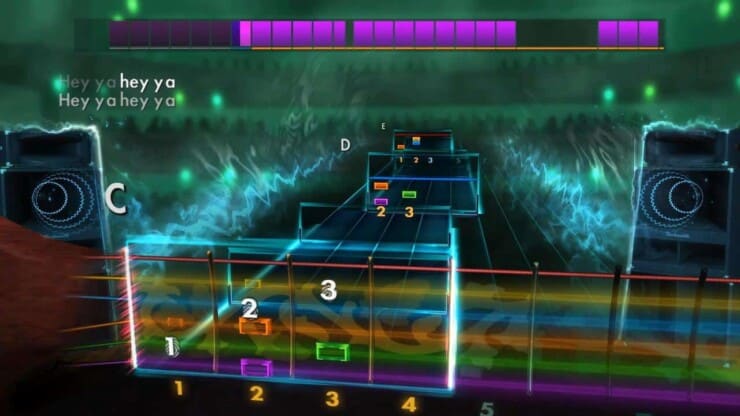 Electric guitars are easier to connect and more responsive because almost all of the songs are geared towards this type of guitar on Rocksmith 2014. Although you can play with an acoustic or an electric with Rocksmith, over your PC, Xbox, and PS4 Rocksmith versions.
Once you start Rocksmith 2014 Edition Remastered, you'll see a track scrolling on the screen. It will show you numbers and strings to guide you where to place your fingers. You must touch the notes and strum the strings that the screen shows on your instrument, so your score will increase as you keep playing the right notes.
Rocksmith 2014 Edition Remastered is said to encourage beginner guitar players to master the guitar in only 60 days. But it can be an unrealistic approach to the game. There are a lot of relevant points about the way this game can help you learn some tips about playing guitar, but you must keep in mind that it's only a game. It's very different from all the other online guitar lessons in this review because Rocksmith 2014 isn't an online guitar course indeed.
Rocksmith can be entertaining, engaging, and maybe it can help players to increase their skill levels. But I'll never recommend buying this game, thinking that it will teach you how to play guitar. It will be better for you to try a real online guitar course as a good alternative for learning. As I have said many times here at All Stringed, an online guitar course is the best way to start playing songs while you learn some theory, scales, and do some exercises.
Go to our full review of Rocksmith or buy it here.
Final Words
Having said all this, I hope you the best in this exciting world of online guitar courses and lessons. I wish you good luck in your future as a guitar player.