Hello aspiring guitar player, and welcome to my review of Guitar Tricks!
Guitar Tricks stands for outstanding online guitar lessons. This platform has taught guitar students for over twenty years. The site brings aspiring musicians the opportunity to delve into any style lessons for beginner and advanced courses. It includes chords, scales, and strumming patterns so that you can let out your inner guitarist and rock alongside your favorite artists.
Guitar Tricks stands out among many other sites that offer similar online music tutorials. With 11,000 video lessons spanning at least 1000 songs, it's no surprise that over three million users have signed up for their services.
In this in-depth Guitar Tricks review, I cover their unique format and examine its relevance to learn to play guitar online. If you have thought about guitar lessons online, here is everything you need to know about the Guitar Tricks learning platform before you buy it here.
Guitar Tricks Review: A Guitar Expert's Overview
Let's kick things off with something fantastic: a FREE guitar lesson from Guitar Tricks.
Easy Rock Riff Lesson
This article presents some more free video lessons, giving you a preview of what to expect from Guitar Tricks Courses. Simply continue scrolling to discover and access these free lessons.
As an advanced guitar player with insatiable curiosity, I have tested almost every online platform for courses that deliver genuine value. It has been a pleasant surprise to find a site that makes learning easy, fun, and interactive for me, which is why I have chosen to explore a few more details for this review of Guitar Tricks.
Guitar Tricks offers a plethora of online lessons and videos that cover every technique and level. Apart from Guitar World, this platform is an excellent resource for any guitarist looking to learn more about their instrument. Guitar Tricks' video lessons also seem to cover every genre imaginable, including the blues, country, metal, folk, rock, indie, surf, and soul.
The format is almost entirely video-based, with short instruction segments typically under ten minutes. These song lessons help beginners learn how to play the instrument quickly and easily while progressing in difficulty and style specialization. My favorite discovery by far was that this site keeps things interesting by providing online lessons with acoustic guitar and classical guitar pieces, too.
The Guitar Tricks website and app both offer content in small sections so that you can digest all the information at a pace that's comfortable for you. There is also an hour of free video tutorials waiting to help you through any techniques that you might be struggling to master.
The creators at Guitar Tricks are also constantly adding new song lessons and tutorials to keep up with the cravings of their guitar enthusiasts. Full course updates are available, and the site is open to suggestions if there's something specific you need. These constant updates give the platform high marks in this review.
Subscribers enjoy 60 days to cancel a membership, lending flexibility that enables you to try the course before deciding whether it is right for you. A handy 14-day FREE trial also allows you to test a few courses without any pressure to commit.
We will pick away at some of the low points later in this review of Guitar Tricks because no service platform is perfect. For instance, new players should stick to the Core Learning Program for basic skills before exploring different songs or guitar styles for advanced players. It is also notable that Guitar Tricks has no famous performing artists or instructors, unlike Jam Play.
Overall, I heartily recommend GuitarTricks.com as a beginner-friendly website that teaches you how to make the most of your guitar in any style.
Guitar Tricks Key Facts:
Lessons: 11,000+
Song Tutorials: 1,000+
Members: 3 million+
Memberships: Monthly and Annual
Free Trial: Yes (14 days)
Guaranteed Refund Period: Yes (60 days)
Exploring Guitar Tricks: How Do Online Guitar Lessons Work?
Guitar Tricks allows users to take guitar lessons online from anywhere with a Wi-Fi connection. You can learn how to play the guitar from wherever you are—at home, while taking care of the kids, or wherever you take a lunch break. This professional review has gone all out to provide accurate information, purchasing an actual paid subscription for a real sense of what the platform is like in practice.
When you sign up, you will find the Guitar Tricks dashboard organized into four sections:
Beginner Lessons
Experienced Lessons
Learn to Play Songs
Learn to Play Styles of Guitar
Each lesson begins with an intro video that explains more about what you will be learning. There are also two other sections in the membership section:
Extra Modules
Guitar Coaching Program (One-on-One Private Lessons)
This Guitar Tricks review unpacks more of the available content below by skill level.
1. Beginner Guitar Lessons
One of the most admirable things about the Guitar Tricks course is its comprehensive beginner lessons. The patented Core Learning System focuses on the fundamentals of guitar, emphasizing the foundational knowledge needed to tackle advanced lessons. The modules within the Core Learning System teach beginners how to hold the guitar, some music theory, and basic chords in specific styles of music, like blues and country.
Guitar Fundamentals I
Basic Knowledge
Chord Introduction
Full Chords
Playing Melodies
Proper Posture
Guitar Fundamentals II
Music Theory Introduction
Minor Chords Introduction
Barre Chords Introduction
Minor and Major Guitar Scales
More Guitar Song Chords
Reading Music Introduction
Scale Notes and Chords for Simple Songs
Triads, Chords, and Scales
Guitar Tricks' Core Learning System is ideal for complete beginners. It introduces guitar gradually and is easy to understand.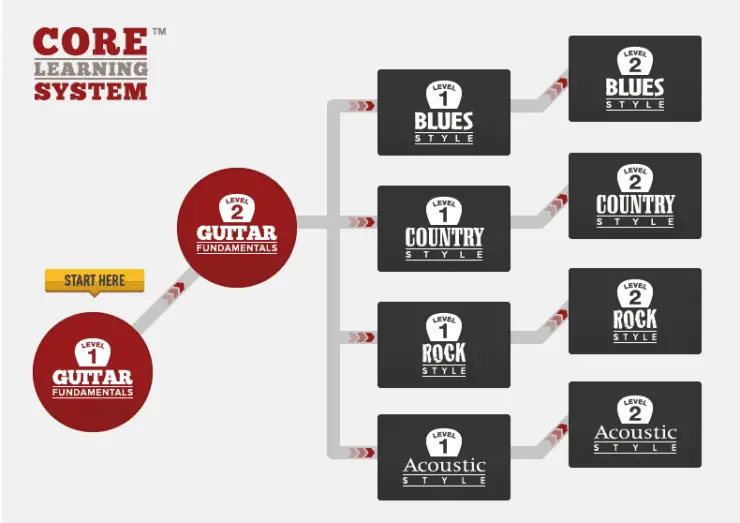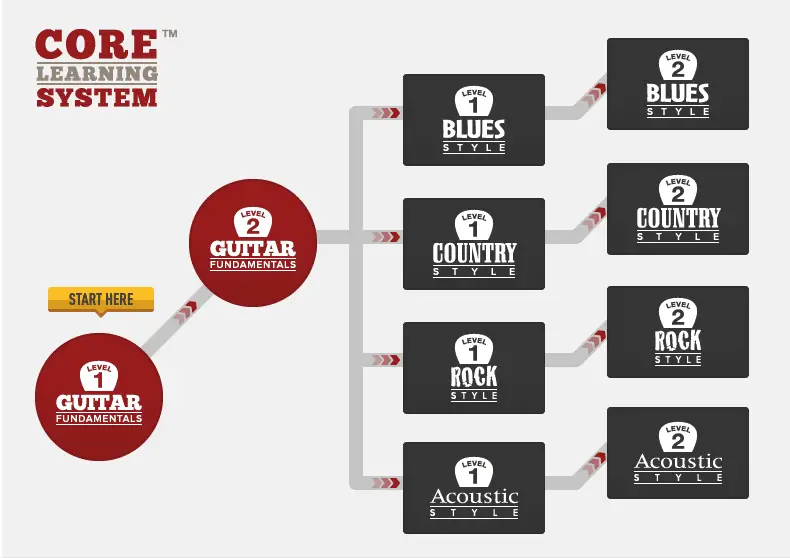 Three additional categories at this stage of the course include:
Practice for Beginners
Songs Made Easy
Tuning and Guitar Maintenance
These subcategories are incomplete courses but cover topic-specific beginner lessons to reinforce the learning process. Some of the extra learning material appears as a repeat of the Core Learning System but still offers value.
2. Intermediate Guitar Lessons
It was interesting to see how the material progresses for advanced players as the Core Learning System fades out. The intermediate section looks similar to the beginner course but with far more exciting guitar tricks to woo your inner performer. Lessons cover everything from mastering major and minor scales to acoustic fingerpicking and more challenging chord progressions.
Easy Blues Riff Lesson
Building on the Core Learning System fundamentals, this section's additional topics cover crucial aspects for upgrading the quality of your music, including gear setting and tone guides for different musical styles. It also teaches advanced players special techniques, like adding emotion through harmonics and bends.
Blues Level I
Bar Form Introduction
Blues Guitar Rhythm
Blues Guitar Tone and Equipment
Blues Lead Guitar
Guitar Barre Chords and Power Chords
Major and Minor Blues
Blues Level II
Additional Blues Lead Guitar
Alternative Forms, Turnarounds, and Rhythms
Blues Guitar Soloing
Creative Guitar Techniques (Bending, Phrasing, and Vibrato)
Regional Styles (Jazz, Texas, Delta, Chicago, British, New Orleans)
The Three Kings (Albert King, BB King, and Freddie King)
Rock Level I
Born From Blues
Guitar Amp Tone and Effects
Power Chords and Barre Chords
Rock Guitar Solo
Rock Rhythm
Themes, Licks, and Riffs
Rock Level II
Additional Rock Rhythm
Advanced Rock Guitar Techniques
Playing Like The Masters of Rock Music
Putting Everything Together
Rock Chords Two
Rock Lead Guitar Secrets
Country Level I
Country Rhythm
Barre Chords
Borrowing The Sound of The Blues
Chord Embellishment Lessons and Picking
Country Music Tone and Equipment
Country Strumming
Guitar Riffs
Country Level II
Chord Inversions and Country Guitar Theory
Guitar Strumming and Picking Patterns
Playing like the Masters of the Modern Country Style
Rhythm Guitar Techniques
CAGED System
Students can choose what seems interesting and explore at their own pace, which is a great way to motivate busy people to persevere with guitar when the pain in their fingertips casts doubt on their decision. Further subcategories at the bottom of the page include:
Artist Studies
Chords and Scales
Gear and Tone
Practice
Styles
Techniques
Before we venture into the loftier topics of our Guitar Tricks critique, I must advise caution. Guitar skills take time and practice, and even the intermediate level may overwhelm beginners who rush into it. Take your time—the music will come.
From here, the scope of learning increases dramatically, and players can narrow their focus into lessons based on the guitar style they prefer, songs they would love to learn, or techniques.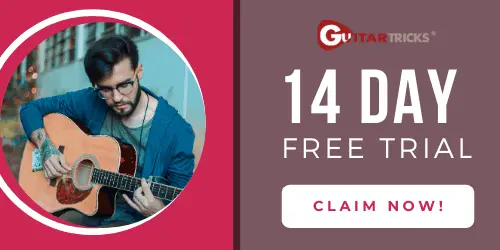 3. Learn to Play Styles of Guitar
Guitar playing styles differ widely among advanced players, and I commend Guitar Tricks on the diversity and scope they cover in this section. It is one of their most competitive features and adds so much enjoyment to what might otherwise be a tedious learning process.
You can let your fingers explore these genres:
Acoustic
Bluegrass
Blues
Classical
Country
Funk and Soul
Jazz
Metal
Rock
Rockability
Surf
World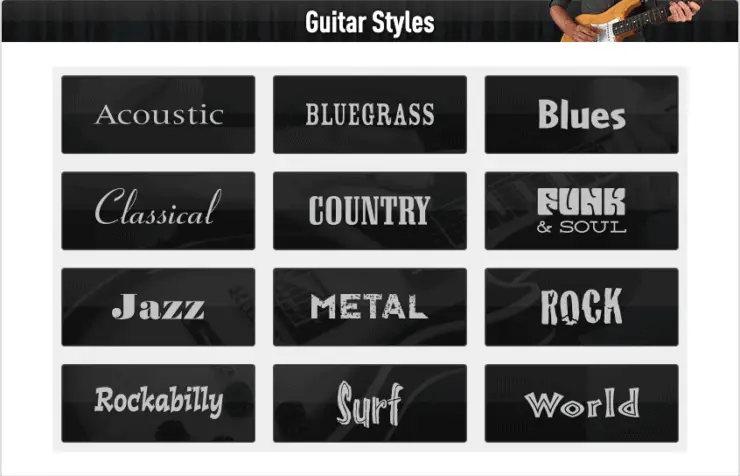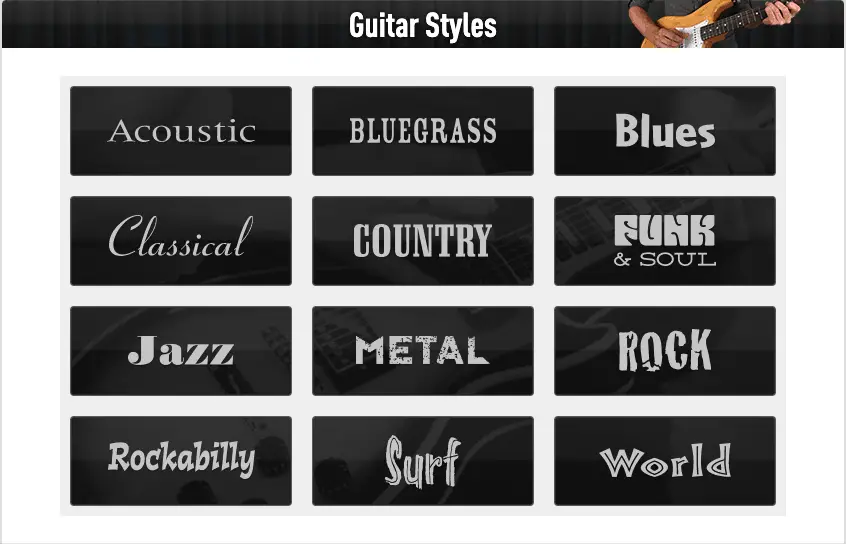 4. Learn to Play Songs
Another thing I loved for this review is the song section. It is easily the most comprehensive in the market, featuring fully licensed video lessons taught by highly skilled instructors. The graphic and sound detail is truly outstanding!
Over 1000 songs mean you will have no trouble finding your groove, and the site claims that you can master your chosen song in eight to fourteen lessons. Popular songs include:
Blue Suede Shoes by Carl Perkins
Let It Be by The Beatles
Purple Haze by Jimi Hendrix
SuperFreak by Rick James
Sympathy For The Devil by Rolling Stones
The Thrill Is Gone by BB King
Whiskey In The Jar by Metallica
The world's top artists feature here, spanning multiple music genres to help you improve your performance. Each song is fully licensed and comes with a complete demo that slows down to let you practice at your own pace.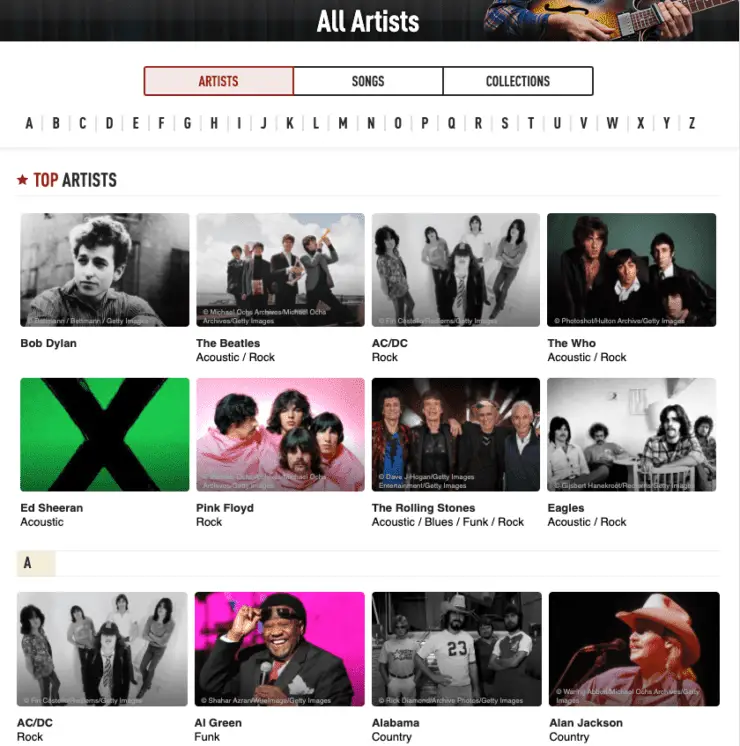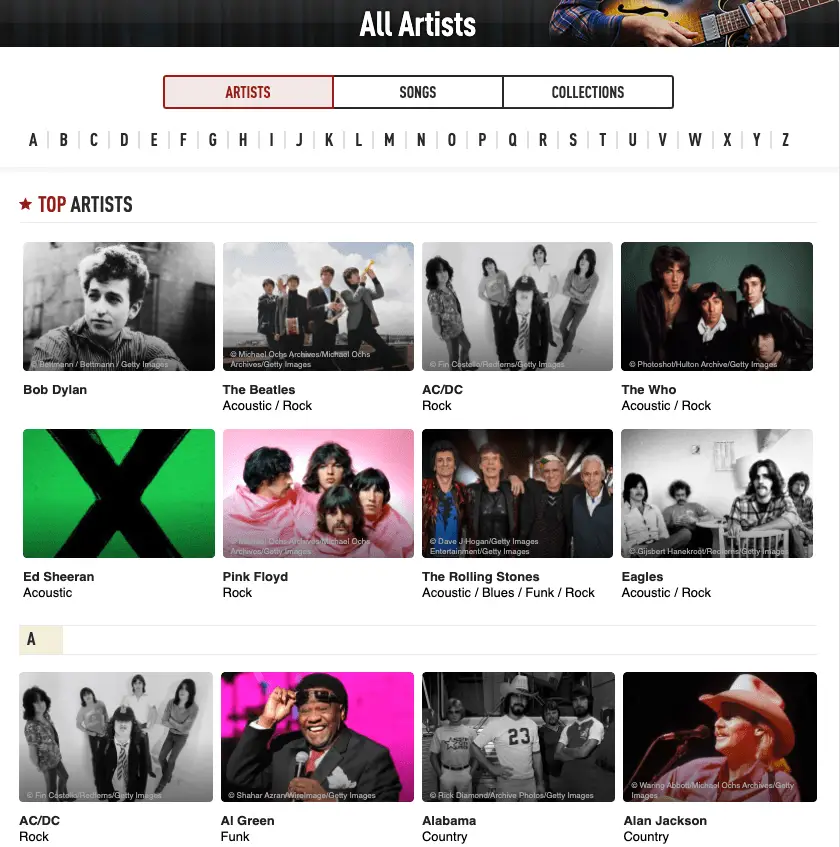 As an advanced guitarist, I feel this final section alone is worth its weight in gold. If all you take from this Guitar Tricks review is that, everybody wins.
5. Extra Modules
Outside of the structured learning programs, Guitar Tricks also provides extra lessons to help learners hone their playing skills, including:
Top 20 Guitar Techniques: Tips to expand your learning after completing the basic lessons.
Art of Practice: How to gain mastery of an instrument faster.
Artist Studies: The techniques exceptional guitarists use, including Angus Young, BB King, Bob Dylan, Al Green, The Who, or Keith Richards.
Pursuit of Tone: Exploring and creating your signature tone.
Scales, Chords, and Arpeggios: Extra modules focusing on three essential guitar playing skills.
The final section is Guitar Lessons and More. It features jam sessions and forums that bring guitarists together to exchange ideas. The Guitar Tricks valuation score benefits significantly from this awesome aspect of the learning platform because it grants students access to a supportive and fascinating learning community.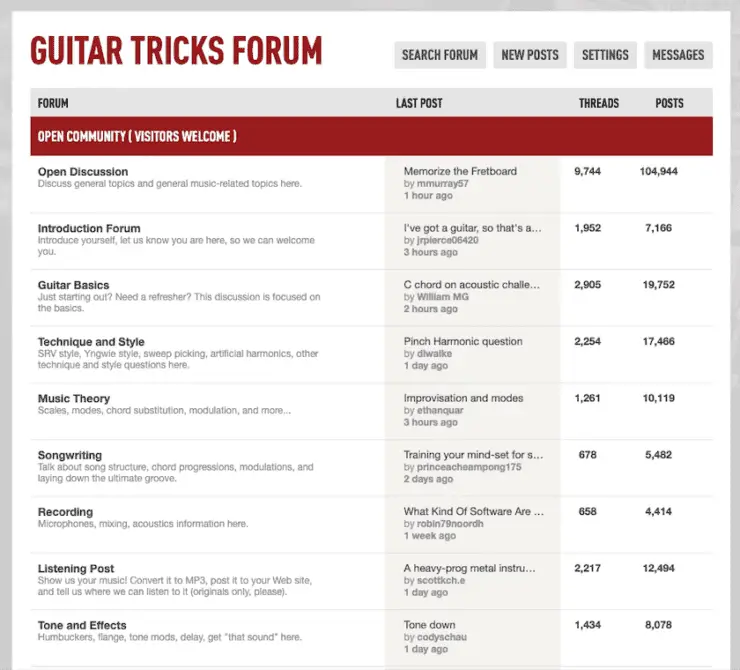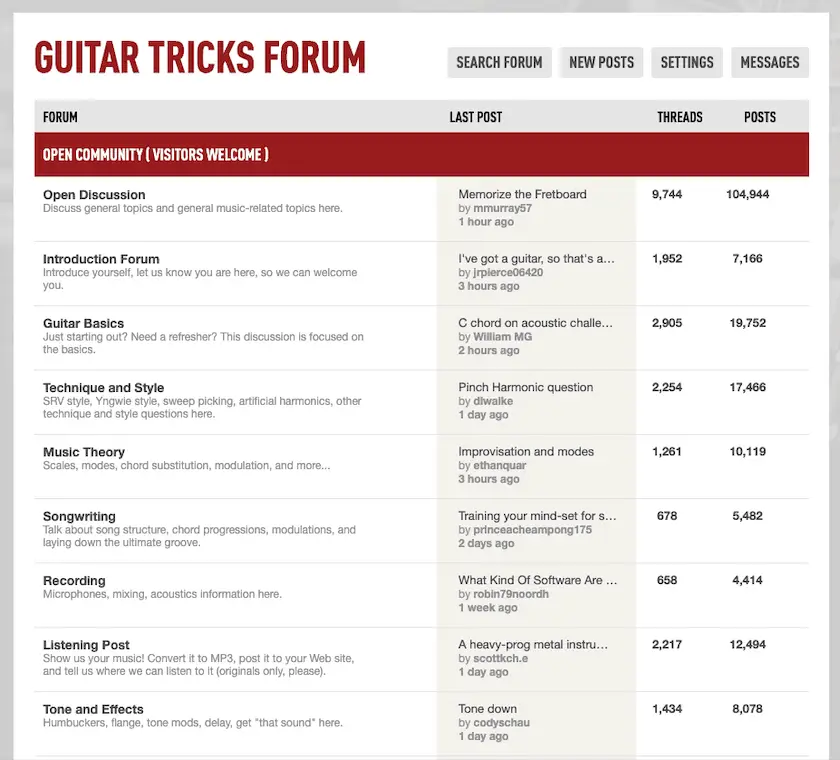 There is no better way to enjoy playing guitar than with friends. It is a huge benefit that online students can ask questions and post advice or concerns onto an interactive forum. If music is a universal language, this site is fluent.
6. Guitar Coaching Program
I delved into the Guitar Coaching Program section for the sake of a thorough Guitar Tricks review, and there were some surprising features. It teaches guitar one-on-one, and each session takes thirty to sixty minutes. You select an instructor, view the appointment calendar, and set a date for these private lessons.
Beginner Chords Lesson
The most disappointing but understandable feature was that the costs vary, depending on how much in-depth feedback you need from your chosen instructor. You'll also have to pay extra to access this section (on top of your membership fees). However, it is difficult to fault Guitar Tricks on this issue when similar learning programs do the same thing.
What Do You Get When You Join Guitar Tricks?
The Guitartricks.com platform charges for its services by level. For example, Basic Access will allow you to test the site before committing any time or money to it. If you are ready to dive into a Guitar Tricks program, then Full Access will do nicely (and it still gives you a 14-day trial period).
Basic Access Membership: Key Features
Free version
12 instructors
24 free lessons
Even with the free lesson plan, Guitar Tricks offers value. You learn guitar basics, like scales, power chords, simple melodies, and barre chords. If you are new, I would suggest starting with this GuitarTricks.com option.
Full Access Membership: Key Features
Paid monthly or annual membership
45 instructors
11,000+ guitar lessons
1000+ song tutorials
Core Learning System for fundamentals
Advanced video lessons for expert guitarists
4K HD video learning format
14-day free trial
60-day money-back guarantee
You can pay for a monthly membership if you're looking for flexibility, or save on the annual membership with a tidy 25% discount and four value-for-money bonus gifts:
Blues Jam Tracks (90 minutes' worth of blues music)
Chord Theory Magic – Just For Guitar
Rock Jam Tracks (90 minutes' worth of rock music)
Song Builder's Toolbox (a jam station, metronome, fretboard trainer, reference tuner, chord finder, and scale with additions like a tab guide, chord charts, and glossary)
So, is Guitar Tricks worth a look? In the mellow words of Elliot Smith, 'say Yes.' You might even be able to put together the few guitar chords needed to sing along after three or four lessons on Guitar Tricks.
The 14-day free trial is a crucial benefit in this Guitar Tricks review. You can easily cancel your membership after the 14-day free trial and safely request a refund for up to sixty days after joining the platform, no questions asked.
Guitar Tricks also offers 20% off your first subscription when you check out with the DISCOUNT CODE SAVE20, which seems like the perfect way to slide into life as a guitarist.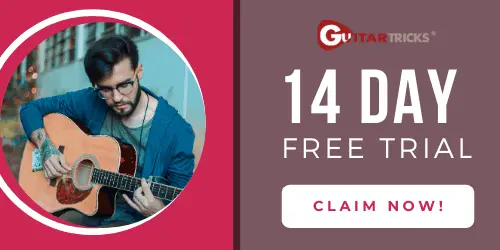 Six Things To Consider Before Joining This Guitar Playing Site
Mastering guitar basics offers hours of satisfaction, and there are several ways to learn. However, before signing up for online guitar lessons on GuitarTricks.com, consider exactly what you want out of the following six areas:
#1 What Are Your Personal Learning Goals?
Why are you learning guitar? Are advanced guitar lessons appealing, or is this only a hobby? You also need to look at the kind of music you like to see whether this platform will give you enough inspiration to enjoy your guitar journey.
#2 Does It Offer Enough Variety For You?
Guitar Tricks has lessons and songs in spades, but it also offers an excellent variety of instructors so that you can find someone who understands your style and preferences. If you only want a few lessons to test out your guitar-playing skills, you may want to try the Basic version as you explore the content. However, if you are hoping to advance, the vast catalog available on Guitar Tricks will keep you busy with new song lessons and masterclasses for a lifetime.
#3 Do You Feel Confident With The Course Structure?
As a beginner, agreeing to an online guitar lesson can be intimidating if you do not find the platform's course structure easy to navigate or understand. Experts may not need as much of a confidence boost in this area, but it is still important to know whether the site's organization will take you where you want to go.
Guitar Tricks is a superb learning platform with a clear, linear progression to higher levels. If you need simplicity, the material is far superior to amateur tutorials online or other guitar-teaching platforms featured on industry newsletters like Guitar World.
#4 Will You Take Advantage of The Instructors?
Self-learning isn't for everybody, and guitar lessons might be the spark you need. At Guitar Tricks, you will find 34 highly skilled and enthusiastic instructors, each specializing in different genres and styles. You may even have heard of some of these fantastic guitarists outside of the program, including:
Lisa McCormick (Guitar Fundamentals)
Anders Mourisden (Blues Country)
Andy Gurley (Country, Rock, Blues)
Dave Celentano (Rock, Blues, Acoustic)
Eric Barnett (Metal, Rock)
Henrik Linde (Rock, Surf, Country)
Lee Wanner (Rock, Metal, Funk)
Michael Elsner (Acoustic)
Ralph Spight (Rock)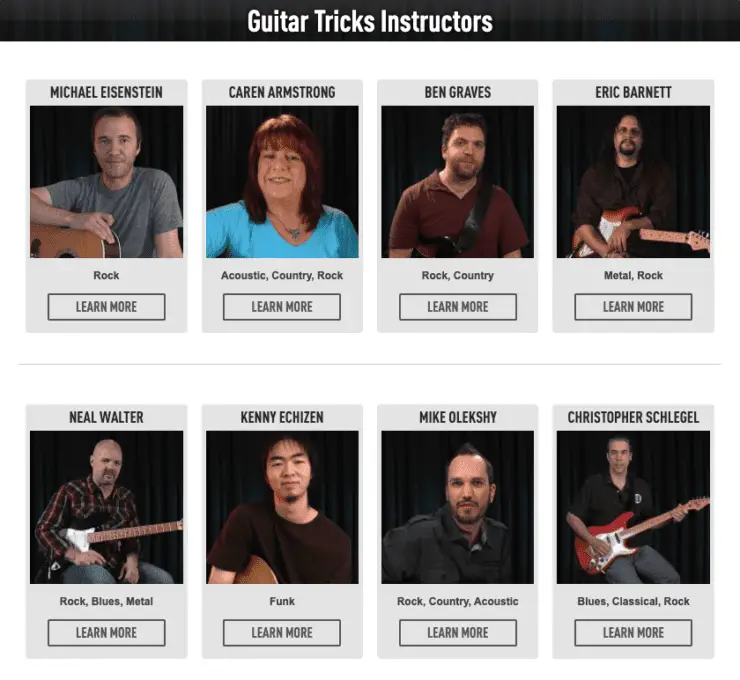 Do you prefer a personalized approach to trying to follow voice prompts? One-on-one lessons cost extra, but Guitar Tricks' instructors are well worth it. This great feature on the site provides an invaluable tool for broadening your grasp of the instrument and your preferred genre with a talented, passionate guitarist.
The friendly and relatable instructors seem very confident in their topics of specialization. If you sign up, you can connect with a teacher who makes the process fun and easy to understand, an essential ingredient for effective development. If you are like me, you will feel like you are learning from a professional right out of the pages of Guitar World.
#5 Does the Skill Focus Fit Your Expectations?
One of the platform's greatest assets is its ability to provide challenging enough material for varying skills and style lessons. For instance, beginner guitar lessons use beginner songs, melodies, and chord changes to help complete beginners learn the fundamentals of music. As they progress, intermediate classes target niche topics with more technique lessons, while advanced lessons stretch your hands and your brain simultaneously.
If you want a site that has years of experience taking players from zero to Guitar Hero, Guitar Tricks is it.
#6 Can You Take Advantage of the Convenient App Integration?
The Guitar Tricks learning platform has an app on both Android and iOS, with reasonable app integration. You can take guitar lessons on the go, which is extremely convenient if you are using it in between other tasks or on your work breaks. There is a free version with limited free lessons, but the paid app gives users full access to all learning materials.
The app is simple to use with a fantastic design element. I also found the videos of a similarly high resolution to those on the website for bonus points in this Guitar Tricks review.
Guitar Tricks: Pros and Cons
Let's list the pros and cons of the service platform before we conclude this review of Guitar Tricks:
Pros
14-day FREE trial (cancel at any time)
Basic training for beginner guitarists
Advanced skill training for seasoned guitarists
Compatible with up to seven devices
Skilled and enthusiastic instructors
Step-by-step Core Learning System perfect for beginners
Instant online access
Massive selection (over 11,000 videos)
Structured teaching methods
Cons
Coaching costs extra
No bass lessons
No playing-guitar-while-singing tutorials
No lead guitarist or performing artist instructors
The sheer volume of content could be overwhelming for beginners, but it seems like an amazing feature for someone who is exploring more advanced guitar music.
How Much Does Guitar Tricks Cost?
Guitar Tricks offers aspiring guitarists a comprehensive learning platform with a wealth of instructional content. Whether you're a beginner seeking to master the basics or an advanced player looking to expand your skills, Guitar Tricks provides a range of subscription options to suit your needs.
Guitar Tricks offers multiple subscription plans to accommodate different preferences and budgets. Let's take a look at the various membership options available:
Basic Membership (Free): Guitar Tricks provides a free Basic membership option, giving users access to a limited selection of content. While the Basic membership offers a glimpse into the platform's offerings, it's important to note that the available content is restricted compared to the paid membership plans.
Monthly Membership: For those who prefer a flexible payment option, Guitar Tricks offers a Monthly membership plan priced at $19.95 per month. This plan grants subscribers full access to the platform, allowing them to explore the vast library of guitar lessons, tutorials, and resources without a long-term commitment. Click here and save 20% on the monthly membership!
Annual Membership: Guitar Tricks also provides an Annual membership plan, which offers significant cost savings compared to the monthly option. The Annual membership costs $179 per year, which translates to approximately $14.91 per month. By opting for the annual plan, users can enjoy uninterrupted access to Guitar Tricks for a full year, making it a convenient choice for dedicated learners. Click here and save 20% on the monthly membership!
When considering the cost of a Guitar Tricks subscription, it's important to assess the value it offers in relation to the price. The platform's extensive library includes a wide range of lessons covering various genres, techniques, and skill levels. Guitar Tricks also provides high-quality video lessons, interactive tablature, backing tracks, and a vibrant community of fellow guitar enthusiasts.
One notable feature of Guitar Tricks is their 60-day money-back guarantee, which demonstrates their confidence in the platform. If you find that Guitar Tricks doesn't meet your expectations within the first 60 days of your subscription, you can request a refund. This guarantee provides users with the opportunity to explore the platform extensively and evaluate its suitability without any financial risk.
Beginner Fingerpicking Lesson
We here at All Stringed and many users find Guitar Tricks to be worth the price. Investing in a Guitar Tricks subscription provides access to a comprehensive range of lessons and resources that can significantly enhance your guitar skills. The expertise of the instructors, the supportive community, and the convenience of learning at your own pace make Guitar Tricks a valuable learning tool for guitarists at all levels.
Is Guitar Tricks Worth It?
Yes—Guitar Tricks has everything a beginner needs for learning guitar, and more than enough for experts to sail through years of practice sessions. The site has done an excellent job changing my mind about the efficacy of online guitar lessons. My initial feeling was that you could only learn the guitar through in-person instruction, as it is such a personal instrument, but GuitarTricks.com proves otherwise.
This platform has been an enormous help for my musical endeavors so far! After spending hours browsing all the incredible video learning formats and resources, my Guitar Tricks review has taken an about-turn. You are bound to feel the same way when you see how easy it is to follow the 4K HD videos or connect with masterful guitar instructors.
Thanks to my time on the site, I am confident to say that this represents an excellent way to learn guitar. If you do not feel ready to pay for one-on-one guitar lessons, the song tutorials and other classes are unique and easy to follow in your own time. The 14-day free trial and the 60-day money-back guarantee clinched the deal for me, and I heartily recommend signing up for Guitar Tricks.
What's incredibly impressive about GuitarTricks.com is over 11,000 guitar lessons that have the potential to teach anyone something new about this fascinating instrument. Whether you're a beginner guitarist or an advanced player who wants to upgrade your skills, a massive song library at your fingertips is a phenomenal motivator.
If this Guitar Tricks review convinces you to sign up for the show, why not try this online guitar course as an appetizer? Go ahead and drop any queries or comments below, and don't forget to take advantage of the discount code SAVE20 at the checkout. You will receive 20% off your first month's subscription to Guitar Tricks.
Happy strumming!
---
FAQs
Does Guitar Tricks really work?
Honestly, yes, Guitar Tricks really work. However, Guitar Tricks is not the perfect platform for everyone. As with all music learning programs, you cannot expect the results you desire if you do not practice independently. 
Guitar Tricks is an excellent learning platform for any beginner guitar player, and most experts will enjoy the variety it offers to branch into specializations.
Is Guitar Tricks any good as an online platform for learning guitar?
Guitar Tricks is a great way to learn how to play guitar without formal training. Experienced players may find it too easy unless you're using it as practice material rather than fresh songs or lessons. It also works well with other intermediate-level learners that can use Guitar Trick's offsite resources to their advantage.
If you already know a little about playing guitars, site membership provides a plethora of features in the handy song toolbox. It has a metronome, reference tuner, jam station, fretboard trainer, and chord finder to help with any Guitar Tricks program. 
Read our in-depth review of Guitar Tricks for more about whether this could be the right course for you.
What famous songs are available on Guitar Tricks?
There are plenty of songs available on the Guitar Tricks platform–too many to list here. However, some of the popular selections include:
– (I Can't Get No) Satisfaction by Rolling Stones, 
– Cocaine by Eric Clapton, 
– Hotel California by The Eagles, 
– Let it Be by The Beatles, 
– Perfect by Ed Sheeran, and 
– Sweet Home Alabama by Lynyrd Skynyrd.
Which famous artists feature on Guitar Tricks?
Guitar Tricks features several world-class artists on the platform. You'll find songs from top artists like AC/DC, Ed Sheeran, Eric Clapton, Godsmack, Pink Floyd, Rolling Stones, Tool, and The Edge (of U2).
How many songs does Guitar Tricks have?
Guitar Tricks has more than 1,000 popular songs on its platform, far beyond its near competitor.
Is GuitarTricks.com free?
GuitarTricks.com is not free, but they do offer a free 14-day trial membership after you sign up. You automatically receive a monthly membership after the trial if you do not cancel your preference before the fourteen days ends. However, there is also a 60-day, no-questions-asked money-back guarantee so that you can try GuitarTricks.com at absolutely no risk to you, even if you lapse into the membership period.
Where can I sign up for the Guitar Tricks course?
Click here to start your 14-day FREE TRIAL at GuitarTricks.com.
Is Guitar Tricks worth the money?
The impressive site delivers what you need to learn the guitar, and our Guitar Tricks review is certain that it is worth the money you pay for GuitarTricks.com membership. The 14-day free trial is risk-free, and you can cancel your membership on a whim. They also offer a money-back guarantee with no strings attached, even if you still want to carry on strumming your guitar strings in your own time.