Phaser pedals or phase shifters were created back then in the '60s to obtain a kind of swirling psychedelic sound. I always loved this fascinating effect; it generates a subtle but engaging sound that captures your ears.
Phasing effect is one of the most pioneering guitar effects pedals and was originally developed to recreate the sound of rotating organ speakers. Phaser effects were used later by Eddie Van Halen and remain as a commonly used effect today.
Below I review the most known models to help you find the best phaser pedal. So, you can learn about each one of them and make your own decision about which to buy.
Quick Overview
Our Top 3 Choices For Best Phaser Pedals
---
The 5 Best Phaser Pedals – Reviews:
Phaser pedals are used to add body to individual notes and to create that classic swirling, movement sound. These pedals are a terrific way to enhance a clean guitar tone.
Despite the reduced variety of analog Phaser pedals, many guitarists prefer that original warm sound compared to the most modern digital alternatives.
There is a group of phaser available that stand out above others. The following list is my selection of the best Phaser pedals on the market right now.
---
#1. BOSS PH 3 Phase Shifter Pedal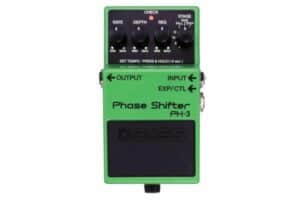 The Boss PH 3 Phase Shifter pedal is one of the best phaser pedals; it's modern and brings Tap Tempo Sync. This new phase model from BOSS has the new "Rise" and "Fall" modes that create unidirectional phasing, and it provides a wealth of a vintage phaser and more modern phasing effects.
PH 3 is easy to use. Syncing the phasing effects is a simple task; the same happens when you want to tap the effect to the desired tempo. BOSS has made an optional expression pedal that provides real-time control of the PH 3's Rate, Tempo, and Filter.
The Boss PH 3 phaser is versatile, it is suitable for most musical styles, and is an excellent choice from garage bands to professional guitarists. It is a good option for adding a bright effect layer to a guitar track in the studio, and the digital range of sounds doesn't seem overly digital.
The additional real-time expression pedal of the PH 3 makes it a better partner for session guitarists than other alternatives like the MXR Phase 90. It has seven modes, from classical to modern phaser sounds with tap tempo.
The original MXR Phase 90 has an extensive list of fans in the world of guitar pedals. It is a classic pedal and sounds great, but the Boss PH 3 can also do the hard work with the best results.
The PH 3 is a compact guitar effects pedal with a great versatility between vintage and modern phasing. It has Resonance, Rate, and Depth controls, and also includes a classic multi-stage phaser with selectable stages.
As is expected from Boss effect pedals, the build of the Boss PH 3 is solid. The accessibility of the battery compartment can't be beaten. If you appreciate versatility and comfort in a pedal, don't hesitate because the PH 3 is worth the investment, and it has the BOSS's five-year warranty.
You'll love this:
"Rise" and "Fall" Effects: the PH-3 phaser can produce entirely upward or downward moving sounds through its new Rise and Fall effects besides standard up and down cycles. It also has 4, 8, 10, and 12 stage phasers, plus a Step effect.
Total Control: Syncing the PH-3's phasing effects can be achieved by simply tapping the pedal to the tempo desired. Or, for maximum control, connect an optional expression pedal to control both rate and filter in real-time as you play.
A wide palette of sounds: A good effect pedal shouldn't be limited to give you only one option of a sound, a good one should facilitate creativity, and this pedal has a wide palette of sounds. It not only sounds juicy, but its versatility seals the deal.
You might not like this:
No true bypass: maybe the only low point of this very good Phaser pedal is its lack of this feature.
PROS
Has a very versatile control layout.
Boss five-year warranty.
Supports an Expression pedal.
Has multiple stage simulations.
CONS
Doesn't have a true bypass.
---
#2. Walrus Audio Lillian Phaser Pedal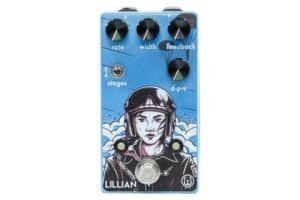 Seat into the co-pilot chair and join Lillian on a sonic flight. Lillian is a true bypass, multi-stage analog phaser pedal from Walrus Audio. It has Rate, Width, Feedback, and "Dry-Phase-Vibrato" blend controls.
Walrus Audio took from the Julia model its unique Blend between Dry, Phase Shifted, and Vibrato (labeled d-p-v on the pedal) and put all this in Lillian's box.
The "D-P-V" knob will let you control the intensity and type of effect blend and explores the range from a completely unaffected signal, through active phasing, to intense vibrato effects.
The "Stages" switch allows you to choose 4 or 6 stages and change the overall voice of the effect. Select either 4-stage for a classic warm phaser tone or 6-stage for a more pronounced, filtered sound.
The input, output, and power jacks are mounted at the top of the pedal. It is a reliable and strong pedal to fit well on your board and ensure continuous operation for long years. Its smooth and precise knobs make it clear as water the quality implied in Walrus Audio Lillian's construction.
It is needed to be said, some phaser pedals are foolishly simple. However, this is not the case with Lillian because this Walrus Audio device offers many more phase-crafting options than most of the rest. And it remains a simple, very intuitive, and responsive option.
Some guitarists probably might well ask what the point of such a subtle effect as a phaser is. But this is a clever effect when used in soft, not peak situations. This is a cool sound in some settings, but it can also sound superfluous if it doesn't fit in the right place of your song.
Who was Lillian Yonally?
Lillian was a World War II pilot. She served in the Women Airforce Service Pilots or WASP flying B-25 bombers. The WASP picked up the slack at home when all the male pilots went overseas. At age 98, Yonally is one of the few WASPs still alive.
You'll love this:
Tremendous sensitivity: The rate, width, and feedback controls have high sensitivity, precision, and range that make subtle adjustments easy to dial in and hold.
Exceptional versatility: The Lillian counts with great versatility thanks to its fourth knob and the "Dry-Phase-Vibrato" control.
High-quality construction: The Walrus Audio Lillian Phaser Pedal is a strong, precise, and longevous workpiece, which counts with exceptionally high-quality construction.
You might not like this:
Volume drop: This pedal sometimes suffers from some of the perceived sensations of volume drop that phaser users often complain about.
PROS
Has a three-band modulation control.
Easy controls of dry, phase, and vibrato with the D-P-V knob.
Selectable 4 and 6 stage phasing.
Analog circuits.
CONS
It experiences volume reduction sometimes.
---
#3. TC Electronic Helix Phaser Pedal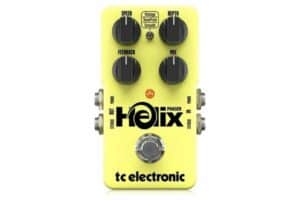 The Helix Phaser is an extremely versatile guitar effects pedal that gives you access to any phaser effect you can dream up. With its TonePrint technology-enabled, a tone adjustment paradise is waiting for you, and you only need to carry all the imagination you can in your suitcase.
TC Electronic's TonePrint technology lets you customize your sound. You can choose between a great amount of presets created by celebrity artists thanks to the library of TonePrints. You get full access to the parameters with the TonePrint Editor, allowing you to create unique phaser tones of your own on your Mac or Windows PC.
Unlike traditional phaser pedals, Helix comes loaded with a dedicated DSP to deliver a wide range of digital phaser effects. And it will enable you to access the sound of vibrant vintage sounds from guitarists like David Gilmour, Eddie Van Halen, Smashing Pumpkins' Billy Corgan, or Jonny Greenwood from Radiohead.
Helix has a highly intuitive four knob interface to let you focus on playing. Speed, Depth, Feedback, and Mix controls let you dial in your effect.
It allows you to make your sound as subtle as you like with its dedicated Mix and Feedback knobs. Depth and Speed control make it easy to find the best point between slow sweeps and psychedelic beats.
With Helix, TC Electronic achieves to join digital flexibility with analog phase fidelity. Even though the DSP may be the heart of the Helix Phaser, it doesn't sound like a digital stompbox. The Analog-Dry-Through function guarantees that your natural signal remains untouched.
With the Stereo I/O with Analog-Dry-Through, the Helix gives you 2 channels of stunning analog sound. Additionally, you can choose from buffered or true bypass via an internal switch. It's good to know that the bypass mode prevents high-frequency loss from long cable runs.
You'll love this:
Extremely versatile: Helix puts a mighty stock of high-quality phaser tones at your feet.
TonePrint enabled: This feature lets you put signature tones into your pedal with the free TonePrint App and the free TonePrint Editor for PC, Mac, and iPad.
True bypass: It provides you maximum clarity and zero high-end loss when the pedal is off.
You might not like this:
Very compact size: What can be a compact design for someone can seem a little pedal for some others. But it can be excellent to fit on any pedalboard.
PROS
Has the Toneprint cool feature.
Has true bypass.
Despite being digital, it has the feeling of an analog circuit.
Stereo I/O.
---
#4. Electro-Harmonix Small Stone Nano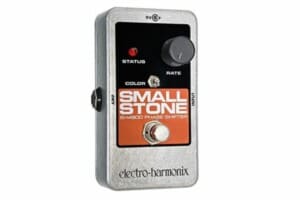 Electro-Harmonix took its original EHX Small Stone Phaser model, kept all the excellent features of that classic design, and made it smaller. Now you can buy the Nano version of EHX Small Stone and add full-bodied, three-dimensional phasing to your guitar tone.
No matter whatever is your musical style. From Country players to Metal headbangers, the Nano Small Stone Phase Shifter promises to enhance your tone and take it to the next level.
Guitarists have relied on Electro-Harmonix since the late '60s, from Jimi Hendrix and his legendary riffs, till Slipknot and Korn from the new Metal school.
Setting this pedal is simple. The Rate control adjusts the speed of the phasing sweep, and the Color switch controls the frequency spectrum, hollowing out the sound.
Just turn clockwise the speed knob of the phasing sweep for a faster rate. While the frequency gets higher, harmonics slide in and out for a notably pronounced shifting effect.
The two positions Color switch, or depth switch, controls how deep and intense the phase shift is. When you put the color in the up position, the phase becomes much more intense and a lot deeper.
One of the coolest things about the Small Stone is that it's not a genre-specific pedal, and it can work with any style of music.
The Small Stone is an organic and soulful sounding pedal. You can produce a really warm sound for styles like Blues. Since its introduction in the 70s, it has achieved legendary status and can be heard on countless epic albums.
You'll love this:
Extremely simple: It has just a Rate control to adjust the speed of the phasing sweep and a Color switch to control the frequency spectrum.
Color switch is a terrific addition: that allows you to control how deep and intense the phase shift is.
Outstanding quality: The Nano has to go through the EHX's rigorous testing process before packing.
You might not like this:
No innovation since the previous model: Nano version is the same EHX Small Stone Phaser model but in a tiny package.
PROS
Fine Ross/Dyna-Comp-style.
Added controls permit subtle settings.
Great price.
CONS
Don't have a great level of accuracy configuration.
---
#5. MXR Phase 95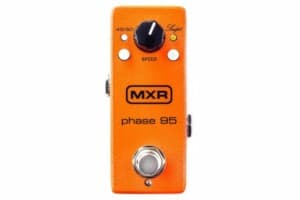 MXR set the standard for phase pedals with the launch of the MXR M101 Phase 90 in 1972. MXR released two years later the Phase 45, a more seasoned version of the original Phaser pedal.
Both effect pedals from MXR were a tremendous success. They have been used to record some of the most iconic songs from the world's greatest guitarists, such as David Gilmour, Jimmy Page, and Eddie Van Halen.
The original Phase 90 had defined the standard by which all other phasers are judged. Phase 95 is an update of the original iconic MXR Phase 90 that practically marked the phaser sound for electric guitar, and it was the favorite Phaser pedal of Eddie Van Halen.
What MXR has made with the Mini Phase 95 is to merge two of the most-used phaser pedals ever made by this guitar equipment company. They combine Phase 90, which was their original four-stage phaser pedal, and Phase 45 with a two-stage phaser that delivered a smoother sound.
It has a simple setup with a single Speed knob that will let you choose from a wide range of options, from vintage to more modern sounds, and the "45/90" and "Script" toggle switches.
With the "45/90" toggle switch, you have access to the Phase 45 mode's subtle two-stage phasing, and the Phase 90 mode's more pronounced four-stage phasing.
But you have the "Script" toggle switch that puts feedback in effect, providing a notable sweep when on and a more elaborate, more subdued sound when off.
By default, the setting of Phase 95 comes configured to modern style phasing. This way, the effect relies on feedback to create light harmonic distortion and gives the effect a more accentuated spurt.
Many guitarists choose MXR phasers for their pedalboards, and the MXR Mini Phase 95 offers two iconic phaser guitar effects in a single small and strong stompbox.
You'll love this:
The best of two worlds: The MXR Mini Phase 95 is based on two classic phaser pedals from MXR, Phase 90 and Phase 45.
A toggle switch to rule them all: Toggle between two-stage phasing and four-stage phasing with the 45/90 switch.
The best Script ever made: "Script" switch toggles feedback for a more pronounced "swoosh" or a more subdued effect.
You might not like this:
Nothing bad to say: This little orange stompbox seems to have no defects. But maybe you won't like its color.
PROS
Delivers a great analog sound.
Handles Script sounds and 45/95 phaser effect.
Has a remarkable simplicity.
CONS
Script modes can sound overly filtered with clean tones.
---
Most Asked Questions About Phaser Pedal
What does a phaser pedal do?
Basically, a phaser takes an input signal sine wave, duplicates it, and moves it out of phase. The phaser then recombines the sine waves, and the difference between their peaks and troughs creates that noted phased sound.
There isn't a better way to understand what a phaser can do than hear some songs where these effects boxes were better used. These are some of the most known songs that use a phaser pedal:
Shattered – The Rolling Stones
Little Wing – Jimi Hendrix
Eruption – Van Halen
Paranoid Android – Radiohead
Soma – Smashing Pumpkins
Something particularly important about phaser pedals is that different numbers of phase shift stages create a varying phased sound. There are digital phaser pedals that usually have 4,8, 10, or 12 stages recreating a variety of phased sounds.
Where should I put my phaser pedal?
Setting up your effect signal chain may not be a simple thing to do. There can be confusion with how to set up this with all the distinct types of guitar pedals available.
There is no wrong way to connect your signal chain; each method can provide different sonic results. I'll give you common effect placement suggestions for pedalboard setups:
It's better to put this one at the beginning of the signal chain: Dynamics (compressors), filters (wah), pitch shifters, and Volume pedals typically go.
Next, gain-based effects such as overdrive/distortion pedals.
Modulation effects such as Chorus, Flangers, Phasers commonly come next in the chain.
Delays and Reverbs work best at the end of the signal chain.
Volume pedals can go at the beginning or end of your signal chain.
What is the difference between a flanger and a phaser?
Both a flanger and a phaser create a short delay effect in your audio. Both add just a couple of milliseconds, which then gets mixed in with the original signal, but phasing is often more subtle.
A phaser uses all-pass filters to achieve a delay-like effect. But a flanger repeats the audio back onto itself, creating a chorus-like effect. They sound similar, and both are useful but only with moderation.
Do I need a phaser?
A phaser creates a subtle and short delay effect of just a couple of milliseconds in your audio, which then gets mixed in with the original signal.
You need a phaser when you want to obtain a certain sound that only a vintage phaser can obtain. They're called sometimes a "once in a while" effect because it isn't an effect to use in most of your songs.
---
Top Picks
In this series of articles about the best effect pedals for electric guitars, I always select my Top Picks at the end.
It's worth trying all these Phases pedals I reviewed here. I'm sure that you will be happy with any of them. But in this section, I have to select the best three of all of them. Below is my selection of the best phaser pedals.
3rd Place: Walrus Audio Lillian Phaser Pedal
Walrus Audio Lillian
Walrus Audio did a wonderful job taking the Blend between Dry, Phase Shifted, and Vibrato from the Julia model to make this true bypass, analog, multi-stage phaser. It has a tremendous sensitivity with its rate, width, and feedback controls.
The Lillian's also counts with an exceptional versatility thanks to its fourth knob and the "Dry-Phase-Vibrato" control. Because of all this, I named the Walrus Audio Lillian Phaser Pedal my Second Runner-up.
2nd Place: MXR Phase 95
MXR Phase 95
The MXR Mini Phase 95 brings the best of two worlds thanks to the mix of two classic phaser pedals from MXR, Phase 45 and Phase 90, which was the favorite of Eddie Van Halen.
It has two major advantages. The "45/90" switch to have control between the two-stage and the four-stage phasing. And the "Script" switch toggles feedback for a more pronounced "swoosh" or a more subdued effect. Thus, I will name the MXR Phase 95 my Runner-up.
Winner: Tc Electronic Helix Phaser Pedal
Tc Electronic Helix
Tc Electronic made the Helix extremely versatile, and it puts a mighty stock of high-quality phaser tones within your reach.
Thanks to Tc Electronic's TonePrint enabled, you can perform cool signature tones into your pedal. Not to mention great included tools such as the free TonePrint App and the free TonePrint Editor for PC, Mac, and iPad.
Helix is the perfect blend of digital flexibility with analog fidelity thanks to its DSP that is the heart of the Helix Phaser without making it sound too digital.
And finally, the Analog-Dry-Through function ensures that your natural signal remains intact. Thanks to all these qualities, I will name the Fulltone OCD V2 as The Winner of this review.
---
Conclusion
In this group of articles, I always try to select what I consider the best effects pedals available in the market. I did that same today in this selection of the best phaser pedals.
Models such as Joyo JF 06 Vintage Phase, Source Audio Lunar phaser pedal, Fender Lost Highway phaser pedal, or Red Witch Analog Deluxe Moon were unfortunately kept out of this list despite being good options for other tastes.
The best option is a short but well-researched list of the best units in the effect pedals world. A selection of models you can count with the fingers of one hand.
Finally, but not less important, I always remember to help you find the most proper option for your taste. I hope you have enjoyed the article and expect this will help you select the best phaser pedal to fill your needs.