Do you look up to John Mayer for inspiration and want to play guitar like him? If yes, then you are definitely in the right place.
John Mayer learned guitar when he was just 13 years old after getting inspired by Marty McFly's "Johnny B. Goode" performance in the film Back to the Future. His guitar teacher was Al Ferrante while his biggest mentor was Tomo Fujita.
In this article, you'll get to know all about how did John Mayer learn guitar, who taught him to play guitar, who inspired him, how many hours did he practice, and how you can emulate John Mayer among others. Continue reading to get all the answers you're looking for.
How did John Mayer learn guitar?
John Mayer began playing guitar when he was just 13 years old. Eventually, he got introduced to the music of the legendary Stevie Ray Vaughan. He was given a cassette by a neighbor, and it turned out to be the origin story of a legend. From then on, John Mayer became obsessed with Vaughan's music. A large part of Mayer's blues guitar playing has been attributed to inspiration from Vaughan. After a couple of years of guitar lessons and practicing, Mayer started performing at local bars and clubs. Although he was still in high school at the time, he developed the reputation of a stage performer.
After graduating from high school, he enrolled in the Berklee College of Music. It was here that he worked on his craft under the prestigious tutelage of Tomo Fujita. During that time, he developed a unique songwriting style. He also picked up important tips and tricks from Pat Pattison and other professors. After two semesters at Berklee, he dropped out of school and shifted to Atlanta with Clay Cook, his college friend.
The duo decided to form a group named LoFi Masters and started playing in bars and clubs around Atlanta. The two eventually fell out because of musical differences, and he then recorded his first musical projects. He came out with his first EP titled "Inside Wants Out". The EP featured eight tracks on it while having many songs that made it to his first full-length major-label album, "Room For Squares".
READ MORE: Review of the Best Online Guitar Learning Courses
When did John Mayer begin his guitar journey?
John Mayer began his journey as a guitarist in 1990 when he was just 13 years old. He was inspired by Marty McFly's "Johnny B. Goode" performance, and he decided to start playing the guitar. He felt an instant relationship with the guitar as soon as he picked up the guitar. In fact, he wished to play the guitar full-time instantly after he started playing. In his high school yearbook, he had written that he wished to be a full-time musician.
He has become one of the most skillful and gifted guitarists of the modern era. Mayer has dominated the pop world and introduced the blues-rock genre to an entirely new generation. John Mayer's origin story isn't too different from most other guitarists. He used to pick up his guitar from time to time at his friend's house and felt intrigued by it. However, it wasn't until he turned 13 that his dad rented John and his brother an acoustic guitar.
Moreover, his father also got him guitar lessons. In 1991, he started taking lessons every Monday from his teacher Al Ferrante who taught at Fairfield's Professional Music Center. Although these lessons did not last long, and he only took them for 1-2 years.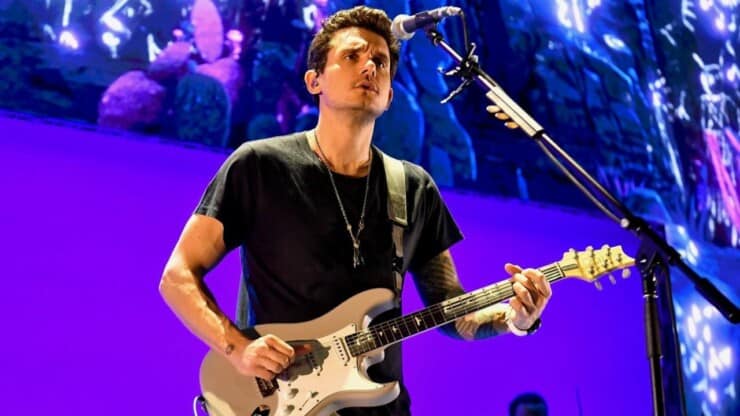 After he spent time with his acoustic guitar, his interest in electric guitar started flourishing. He began discovering more and more guitarists. With the money that he was making working at a gas station, he traded in his Takamine 12-string and a Mesa Boogie distortion pedal. He bought an SRV Fender Stratocaster model for around $900. This is where his major progression period started. He eventually came across the music of Stevie Ray Vaughan. Stevie was the star of the 80s, not too long before the time when John started honing his craft.
At the same time, he also discovered Jimi Hendrix. Mayer thought that he had stumbled upon something that would change his music forever.
He used to spend 5-6 hours per day being online with many blues records. He used to learn the ins and outs of every song that he listened to.
In addition to playing in his bedroom, he also started a band named Villanova Junction. His musical talent really started taking off as he started adding more elements to his music. Playing with his friends forced him to think outside the box and add more creativity to his music. He had a highly intuitive feel as well as a great ear for music. This allowed him to dissect tracks and make them play faster than average guitar players. It was evident as his band covered Texas Flood in 1994, just 4 years after he picked up the guitar.
After he graduated from college, he headed to the prestigious Berklee College of Music. However, his time at Berklee did not last as long as he expected. He quickly realized that he did not want to be yet another guitar player learning the trade. He was more interested in creating his own tunes and writing his own music. John Mayer has been fortunate enough to have an amazing musical aptitude. He is naturally talented, and he is extremely passionate and hardworking when it comes to playing guitar.
What was the inspiration behind John Mayer picking up the guitar?
The biggest influence in his initial guitar-learning days was the legendary Stevie Ray Vaughan. One of his friends gave him an SRV mixtape, and this is how Mayer ended up discovering the legendary Vaughan. John Mayer is a product of the 80s. It was a time when flipping the channel meant seeing well-composed and well-performed music on TV.
Being a white kid in a well-off family from the suburbs, SRV gave Mayer a glimpse into an entry into the blues music world. John Mayer became obsessed with trying to emulate the guitar abilities of Stevie Ray Vaughan. In fact, he ended up buying the SRV Fender Strat model and started covering songs with his band, Villanova Junction.
His other notable influences included Jimi Hendrix, Eric Clapton, Albert King, and Buddy Guy. As you'd have noticed, his influences were largely blues artists. He also looked up to B.B. King for inspiration. Not only was King exceptional at playing the guitar, but he was also an amazing singer. B.B. King played his guitar as if the guitar were singing. John Mayer noticed and strived to have this type of feeling in his music. An album that had a major influence on John Mayer was "Live at The Regal" by B.B. King.
John Mayer isn't someone to be kept inside a genre box when it comes to his playing style. He often talks about how despite having a stellar career, he is still inspired by new artists. He never hesitates in taking inspiration from the new guitarists who are learning their trade currently. This is evident when considering his playing style before and after he joined Dead and Company. John Mayer has always tried to create his own style of music, and he has been quite successful at it. It was obvious from the start that he tried too hard to sound like SRV mixed with Hendrix and King.
Of course, these names are untouchable in the music industry, and they belong in the pantheon of greats. Mayer was bound to fail if he tried to recreate their sound. This is why he ended up creating his own unique style, and it brought him tremendous success and appreciation.
READ MORE: Guitar Tricks Online Lessons – [Review]
How many hours did John Mayer practice guitar every day?
Growing up, John Mayer used to practice around 5-6 hours a day. He didn't take part in any sports or extracurricular activities. Instead, he used to go home and play guitar the whole day after school. Having 5-6 hours of guitar time every day helped lay the foundation for him to becoming a skillful guitarist.
On weekends, he would play 8-10 hours per day, often barricading himself in his room. He has occasionally mentioned that he did not really see the sun very much when he was growing up. This was the case because he used to spend every hour he was not in school playing the guitar. His friends were regularly out at parties and had a social life. Meanwhile, Mayer was in his bedroom listening to the likes of B.B. King and Stevie Ray Vaughan.
He wasn't really a popular guy during his high school days. This gave him more than enough time to play the guitar with fewer distractions. In fact, he has mentioned that his guitar would father dust if he had dates during his high school days. Due to his incessant playing, his mother ended up putting a guitar curfew on him.
Each night, he had to stop playing by 9:30 PM and go to bed. As John Mayer started getting better and his success began hitting its peak, he wasn't practicing quite as much. He was unable to practice as much as he used to. Instead, he had to spend time writing songs and learning new melodic patterns. It wasn't until he joined Dead and Company that he was able to return to his old guitar practicing habits.
How to play like John Mayer and emulate his guitar skills?
Emulating your favorite artists and their guitar-playing style can be tricky but beneficial at the same time. It will help you improve your technique and tone while increasing your repertoire of songs. When you're trying to emulate John Mayer, here are some of the things that you should work on.
Tone
It can be hard to deny that John Mayer has one of the cleanest Stratocaster tunes in the industry. For years after releasing "Continuum", people are looking for the sound that he had on the intro of "Gravity" and "Slow Dancing in a Burning Room". You can spend hours studying his gear like pedals, amps, and guitars, and you still might not find the answers.
However, this process of studying will eventually help you find your own unique tone with your setup. This is the more important thing here. The key to knowing your own sound will lie in knowing how your gear is affecting the tone. Reading about John Mayer's tone will certainly give you fundamental ideas on how different equipment affects sound.
Technique
John Mayer always displays a high level of blues guitar proficiency. If you study his techniques, it'll allow you to apply those techniques to your own skillset. It is quite obvious how learning new techniques help improve your own guitar playing. Moreover, it'll also help you learn about Mayer and the artists that influenced him and his techniques.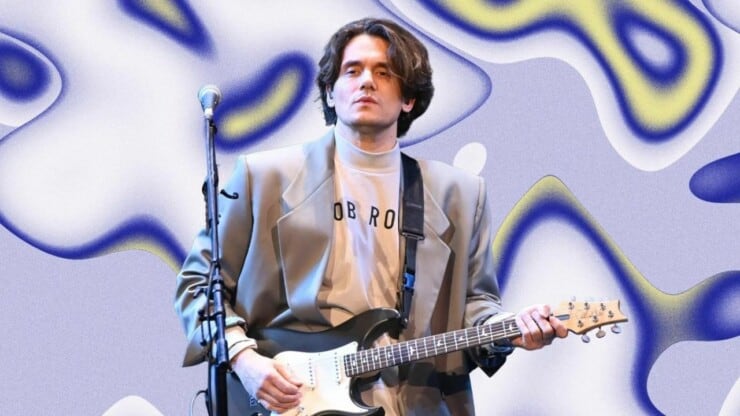 Going down the rabbit hole of learning how the legendary guitarist plays will expose you to different techniques. You can then study them and apply them to your own guitar skillset. For instance, while Mayer has admitted to being heavily influenced by B.B. King, he doesn't have the signature King vibrato. This may be something that you might be interested in, and the only way to discover Mayer's techniques is to spend time learning and practicing his influences.
Songs
Only learning Mayer's techniques might be quite boring. This is why you need to learn how to play songs using those techniques used by John Mayer. Luckily for guitarists of all skill levels, John Mayer's songs span from beginner to advanced levels. Aside from learning new techniques, learning new songs will help you greatly increase your repertoire. You'll find that a lot of these techniques apply to other songs from other artists too. This will make it significantly easier to learn songs in the future.
Conclusion
Thank you for reading. Hopefully, now you know a lot more about John Mayer, how did John Mayer learn guitar, who was his inspiration, how many hours did he spend practicing, and how to emulate Mayer as a guitarist. John Mayer has always been a prodigy as a guitarist. He started playing the guitar when he was just 13 years old. His love affair with his guitar started after he was inspired by Marty McFly's "Johnny B. Goode" in the movie Back to the Future. John Mayer was taught by his guitar teacher Al Ferrante, but he only had classes for 2 years. He was then taught the tools of the trade by his mentor Tomo Fujita.
---
Image Credit:
Images: Music Radar, GQ