Are you a beginner guitarist who wants to learn more about what is a practice amp? If so, then this article is just what you need to read!
A practice amp is essentially a low-powered, compact and lightweight combo amp perfect for practicing at home. They range in power from 5-40W and come with a speaker of 6-10" in size.
In this article, you'll get to know a lot more about practice amps, what is a practice amp, different types of amps, how to choose a practice amp, the best practice amps in the market, and more. Continue reading to get all the answers you're looking for.
What is a practice amp?
Beginners often have the same question – what is a practice amp? It is a low-powered, compact, lightweight combo amp. It'll be perfect for practicing at home or for use in small venues. They normally range between 5 and 40 watts and come with a speaker of 6 to 10 inches in size. "Combo" or combination means that the amplifier and speakers are present in the same cabinet. A combo amp with less than 40W is generally referred to as a practice amp.
What amps qualify as practice amps?
There is a wide range of guitar amps that can be considered a practice amp. Here are some of the different types of amps that qualify as practice amps –
Battery amps
Battery amps are normally powered by either batteries or AC adaptors. These can be roughly split into three distinct categories – mini amps, portable amps, and headphone amps.
Mini amps – These amps are smaller, low-powered versions of the larger classics by the likes of Vox, Marshall, and Fender among others. They often run off batteries or mains electricity while being extremely portable and lightweight. The low-power means that these aren't that suitable for gigging.
Headphone amps/guitar plug – Unlike mini amps, headphone amps don't come with built-in speakers. It means that you can listen to the amplified sound with a pair of headphones. Of course, these aren't that good to perform live, but ideal to play if you don't want to disturb others. You can simply clip one to your belt and then practice wherever you like.
Portable amps – All the amps can get classed as portable, but there are a few bigger ones available that are more powerful and come with more features, making them ideal for buskers. A small mains-powered combo amp can be portable, but some people define portable amps as battery-operated.
Mains-powered amps
There are many mains-powered combo amps available today. However, to be considered practice amps, they should generally be lower powered and not be too bulky or big. One of the considerations is whether the amp is using tubes or solid-state technology. If you're purchasing a practice amp, you'll likely end up going for a solid-state. If you're unsure of the difference, you'll want to clear it up and then take your pick. 
ALSO READ: Best Practice Amp: Top 7 Picks to Play Anywhere!
How to pick a practice amp for your practice sessions?
If you're wondering how to choose a practice amp, start off by considering the type of music you usually play. There are different types of practice amps and each one of them will offer a different sound and other features. Guitarists who regularly play in a band might need a different type of amp than a solo player. You'll even want to consider your budget and size constraints. Many experts state that you should choose an amp that matches the guitar you're using.
For instance, a vintage electric guitar might sound better on a tube amp instead of a solid-state amp. Consider taking your guitar to the local music retail store and sales representatives will help you pick the perfect amp.
Online community forums will also be a great option for choosing the perfect practice amp. Many guitarists are gearheads who love to talk about music equipment. You'll find someone else who is using the same guitar as you, and they'll be eager to offer you advice. In general, there are as many amps as there are guitars. Choosing a guitar amp might be slightly overwhelming at the start. However, if you know what you're looking for, you'll get to choose the best option for your needs.
Important tips for beginners looking for their first practice amp
Consider the type of music you're making
First, you should consider the type of music you'll be playing. Is there a particular genre that you love more than others? Do you play as a solo artist or as a part of a band? Do you play electric guitar or use an amplified acoustic model? These factors will help you influence your practice guitar choice.
Believe it or not, a guitar amp can make a massive impact on your instrument's sound. Some amps produce clean, smooth sounds which are preferred by jazz guitarists and players who focus on indie and pop-rock.
Meanwhile, other amps create more texture like buzzing and distortion. This is the favored sound of guitarists in classic rock, metal, and punk genres. Just like guitars, every amp has its own personality. You should choose wisely and ensure that you buy a practice amp that fits you and your sound. If you're trying out new amps at a store, you should pick the first model that you love. Instead, take your time and ensure that the amp's sound fits your music.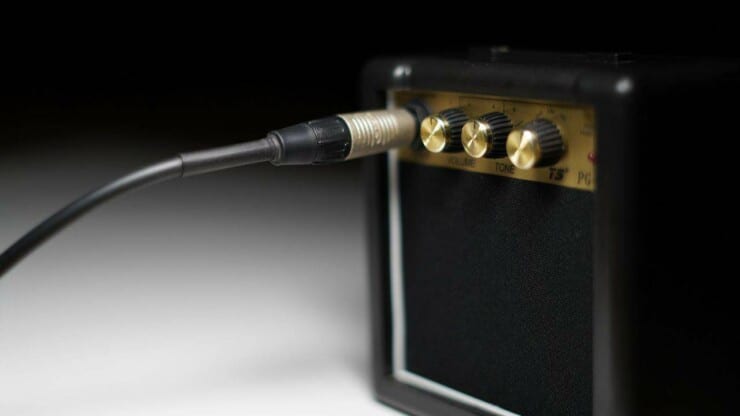 New guitarists might be hesitant to commit to an amp before they've even managed to discover their signature style. If you aren't certain, you should choose an amp that offers a versatile sound profile. Many newer models in the market offer a wide range of tones that work well with multiple music genres.
Consider the volume, size, and material
Next up, you should address the physical aspects of your guitar-playing. The first one will be volume. On average, how loud will you be playing? Are you looking for a practice amp to use at home or a practice amp to practice with your band? With amps, the sound volume will be measured by power in the form of watts and speaker sizes. A smaller amp will use 10-30W of power and features speakers that range from 8" to 10". Such amps will be a great choice for playing alone at home or in classroom settings.
For rehearsals with your band or shows in a small capacity venue, most players prefer going for a medium-sized amp with 50W and 12" speakers. Large amps will start at 100W and 12" speakers and are perfect for big venues where you've to be loud.
The next practical aspect that needs to be considered will be the size and weight of the amp. How often do you have to travel with your amp? If it's difficult to lug around heavy equipment, you should choose a smaller or medium-sized amp. Then, you should consider the materials that are used in the amp's construction. The case containing the amp's electric parts and the speakers is known as the "cabinet". These are normally made using wood. The thickness and type of wood used will also affect how the sound resonates with the speaker.
Consider the effects and other special features
Lastly, when considering how to choose a practice amp, you should think of special effects and other options you'd want. Man practice amps come with digital effects like tremolo, reverb, and effect loops. You can even find amps that offer channel switching, allowing players to switch from a clean sound to a distorted sound. You can do it by just flipping a switch or pressing the foot pedal.
Some amps will include separate EQ controls for each channel. This will allow you to easily adjust volume and distortion more specifically. Other special features will include outputs for digital recording. You should remember to choose the effects that you'll actually be using. Some beginners will spend too much time and money on fancy digital amps with features that they don't need. Consider the type of music you're playing and then let it influence your decision.
Best practice guitar amps for beginners
Fender Mustang LT 25
Over a decade of innovation and production is packed into this wonderful series. The Fender's Mustang Series packs a serious wallop into a portable unit that is geared towards beginners looking for a quality practice amp.
The Fender Mustang LT 25 Combo Amp is a tremendous practice amp, and it acts as the "greatest hits" in the Mustang family. It features 30hand-selected presets that channel many of rock history's coveted tunes. There is a single 8" speaker that pumps out more than enough power. It'll be great for practicing, busking, or even gigging with its handy AUX-In and Headphone Out features.
Vox Pathfinder 10
Great for plugging in and playing, despite the low price, the Vox Pathfinder 10 will be a great purchase. It features several classic rock tones within a compact combo amp. Moreover, it'll be easy to dial in a great tone with a clean and overdrive switch. It is capable of taking the sound from clean to mean within an instant. Moreover, there will be no built-in effects to distract you from your practice. There is only a headphone output option for silent sessions. If you're in the market for a great-sounding, no-frills practice amp, it'll be hard to beat the Vox Pathfinder 10.
Fender Acoustasonic 15
When you're practicing on an acoustic guitar, it can be easy to forget about amplification. This is a major mistake. An acoustic combo amp like the Fender Acoustasonic 15 will not take much space, and it'll put your playing under a microscope. This amp will help you better judge your progress as a guitarist. Even better, the Fender Acoustasonic 15 also comes with a microphone input, so you'll get to sing along when playing. While it isn't intended to fill a venue, you'll still be able to practice and perform for small groups.
Marshall Code 25
It'll be one thing to have the ideal combo amp for practicing, it'll be another thing entirely to get access to a wealth of inspirational sounds in a wallet-friendly package. The Marshall Code 25 is a digital combo amp that perfectly fits this description. It boasts more than 100 high-quality presets to supercharge your creations at home and in the studio.
You'll get to mix and match digitally modeled preamps, power amps, and speaker-cab emulations according to your needs. The 25W and a full-bodied 10" speaker are guaranteed to share the sounds at bar shows and small club gigs with amazing results. Throw in a silent headphone amp to keep your neighbors happy. It should come as no surprise that the Marshall Code 25 graces most lists of the best practice amps.
Yamaha THR5
Yamaha's THR series of modeling amps have been a massive hit among guitarists all over the world. It combines convenient form factor with amazing, vibrant sound quality. This modeling amp will pack a pair of 3" speakers for your practice sessions and an entire range of amp models and effects suited for a wide range of musical styles. Like many other amps here, you'll find an AUX input for your music player, a built-in tuner, and a headphone output for silent practice. There's even a USB port for direct computer recording featured on the amp.
Blackstar ID: Core 20 V3
A sleeker editor, a new cab simulator, and immersive stereo effects will make the 3rd generation of Blackstar's ID: Core 20 combo an amazing option when you want a top-notch practice amp. If you're someone looking to dabble in many genres and playing styles, the ID: Core 20 will be a one-stop-shop for your needs. It features six unique amp voices for different needs, from molten-hot high gain to sparkling cleans.
Once you've dialed in your tone, you can experiment by adding depth and dimension to your sound. Blackstar's Super Wide Stereo Technology with built-in modulation, reverb, and delay effects will help you in times of need. There's also an onboard TRRS Line in/Streaming jack such that you can film covers and capture performances directly to your phone using sounds from the amp.
Marshall Code 50
Looking to find out more about what makes famous guitar amps sound the way they do? If so, then the Marshall Code 50 combo amp will be a great amp to start. Not only will it pack the classic Marshall growl, but it'll also feature fourteen different preamp models.
Meanwhile, there are fourteen power amp models that you can combine in any way that you like. If you want to find out what a vintage Fender amp's preamp will sound like through a Marshall amp's power section, that is possible too. Find out about it using the Marshall Gateway software. You will get to control the functions on the Code 50 Combo via Bluetooth on your smartphone. The best thing is that you will not even need to get off your couch for that.
Boss Katana 50 MkII
With the Boss Katana 50 MkII, enjoy a lot of headroom and built-in attenuation for the bedroom. This one takes everything that made the original amp exceptional while adding new features and sounds that cater to guitarists. Its adjustable wattage control will allow you to easily choose between 50W, 25W, or 1W of power. This makes it capable of full-tilt, cranked amp sounds at volumes that are perfect for practicing in apartments. One of the best new features includes a Power Amp In. It'll be perfect for plugging your floor unit or preamp directly into the power amp.
There are new variations on the classic model's 5 different amp models, which make it more versatile than ever. There is also an updated Boss Tone Studio to get a quick, easy solution for customizing your sound.
Fender Champion 20
Classic Fender, a wide range of amp tones, built-in effects, AUX input for the music player, and headphone output for silent practice. These are some of the best bits about the amazing Fender Champion 20.
The single-channel Fender Champion20 combo amp's beauty lies in its simplicity. It isn't a great starting tone with the knobs at noon. You will find a lot of great, wide range of sounds that you can explore once you start to dig in. You'll be prepared for playing through almost anything after you've spent some time polishing your technique with this amp.
Fender Pro Junior IV
Sometimes, all that it takes is a Volume and Tone knob to get you to where you want to be. With a simple layout and pint size, the Fender Pro Junior IV will be ready to transport your playing to the Tweed era. You'll get to enjoy the tonal versatility that can withstand the needs of modern guitarists. A single 10" speaker and a 15W tube quartet will deliver a phenomenal blend of dynamics, punch, and sparkle. This tonal combo is very responsive to your playing in ways that'll shape your style.
Moreover, it'll also make your practice sessions far more impactful. This tube combo amp is truly a cut above others in its class.
Boss Katana Air
As the guitar world's first fully wireless guitar amp, the Katana Air has many expectations to live up to. This extremely portable amp delivers on this promise with battery operation and a wireless transmitter that works flawlessly with most guitars. You have to plug the transmitter into the ax, turn on the amp, and you will be good to go. Moreover, the transmitter will dock right in the Katana Air for recharging between uses.
The motion-activated operation will kick in once you pick up your instrument. Its stereo speaker system will deliver amazing guitar tones despite its small size. It will run at 20W of power on batteries or 30W when plugged into the wall socket. Either will be more than enough to fill the room with sound, whether you're playing the guitar or using it as a home playback system.
Conclusion
Thank you for reading. Hopefully, now you know a lot more about practice amps, what is a practice amp, different types of amps, how to choose a practice amp, the best practice amps in the market, and more. A practice guitar amp is a low-powered, compact and lightweight combo amp, which makes it perfect for practicing at home. Practice amps normally range in power from 5W to 40W while coming with a speaker of 6-10" in size. A combo amp that has less than 40W power is referred to as a practice amp.