A lot of musicians can't get around the fact that Taylor Swift is primarily a songwriter and a performer. Actually, Swift has never proclaimed she's a professional guitarist. I'd say she's proven brilliance in amassing popularity via her narrative songwriting, which focuses on the setbacks and affection stories she's stumbled upon.
She ingeniously pairs her teen-targeting lyrics with clean arpeggios played on a red Gibson Les Paul during a 2012 live performance in NYC, which indeed isn't the norm with Swift. Usually, she likes to glide through the strings of an acoustic guitar, hence the steel-string sound in most of her tracks.
Fans always ask, "what kind of guitar does Taylor Swift play?" For a pop star like our artist, investigating a rig is a tough chore since guitars don't always shine as the pivotal instruments in her tracks. However, we managed to catch them all in her concerts!
ALSO READ: How Much Does Guitar Tricks Cost? [Complete Guitar Tricks Review]
Taylor Swift's Guitars: How Does She Pluck These Strings?
While Taylor Swift may not be a guitar master, she definitely adopts a mindset behind her guitar playing style.
Swift uses a plectrum to strum her acoustic guitars with open chord voicings. She alters the pitch for these voicing to comply with how low or high her voice is using a capo. You can learn more about this on Guitar Tricks here—they've got some lessons on that.
Her music relies on the default, bright country tone that acoustic guitars typically generate. Most of the guitars she appears with on stage are plugged for amplification. However, the type of preamps or piezo pickups she uses to turn acoustic guitars into acoustic-electric ones remains unknown.
Taylor GS6: The Resonant Jewel
There's a misconception about Taylor Guitars being associated with Taylor Swift. Now that you've drawn the distinction between the manufacturer and our songwriter, we're ready to address this ear-filling guitar, which is molded into the Grand Symphony acoustic shape that allows any chord voicing to reverberate, even if the GS6 isn't plugged.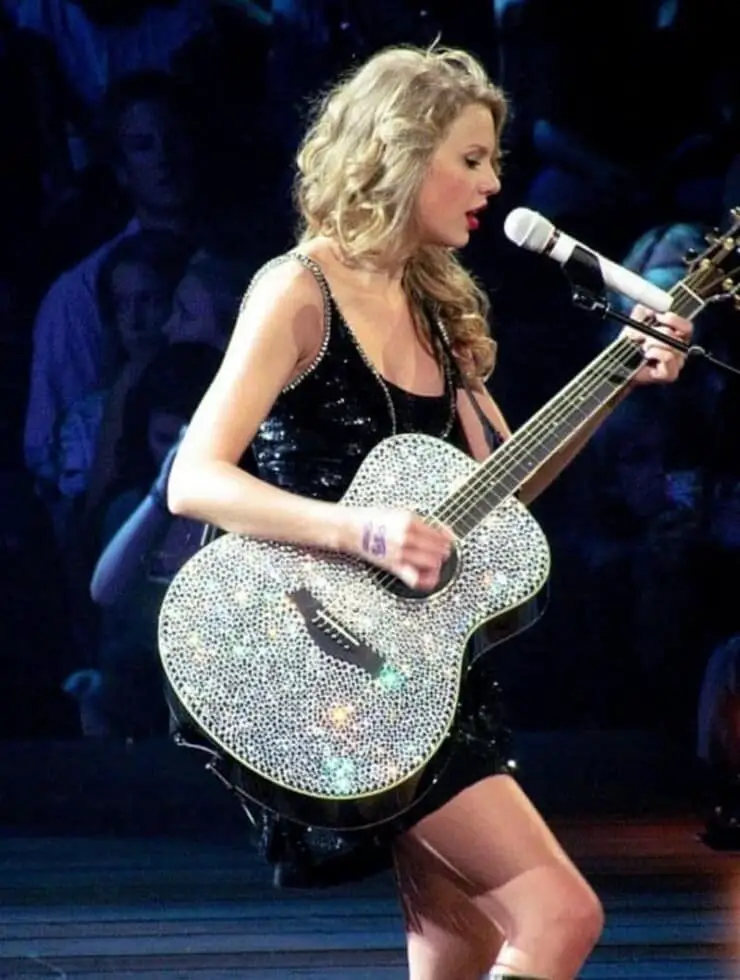 I'd consider the GS6 to be the most distinctive in Swift's collection owing to the aesthetic embellishments she embroiders this guitar with. During her debut concert tour, we could easily recognize this guitar. It got the audience mesmerized because of its Swarovski-adorned finish that replaces the standard glossy one.
Despite being acoustic, Swift plugs this guitar into an amplifier using a pickup system. She outright calls this guitar a "strummer" since it has no cutaways that restrict the full-bodied sound of the Sitka Spruce soundboards. Spruce tops give a wide array of timbres with every strum that Swift strikes, thus the crescendos and decrescendos in her tracks.
RELATED: What kind of guitar did B.B. King play?
The Spruce top joins the thin maple neck roughly at the 14th fret so that Swift can reach the higher register in case she needs to move the capo down the fretboard.
The GS6 is regarded as Swift's main guitar. If you're a Taylor-insider, you'll notice that they attach a video of Swift performing Fearless using the GS6.
Taylor K24ce: A Guitar for Grand Auditoriums
After rocking the GS6 during her Fearless tour, Swift made an appearance with the Taylor K24ce while performing Untouchable during the Speak Now world tour in Sacramento, California.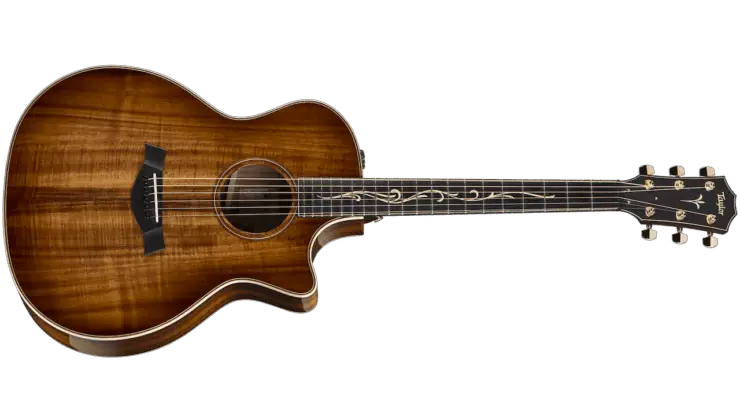 The K24ce is an all-Koa acoustic guitar. If you're not familiar with rare tonewoods, Hawaiian Koa is excellent at triggering a pronounced tone that focuses on both the treble and mid ranges. Thus, this guitar further proves the mindset behind Swift's bright tone.
Unlike the GS6, the K24ce has a cutaway, which doesn't hinder reverberation since this guitar is constructed to fit Taylor's Grand Auditorium acoustic shape that's made for strumming in the first place.
The tonewood blend deserves a round of applause because Taylor chose to connect a mahogany neck to the soundboard. Hawaiian Koa has almost the same tonal qualities as mahogany when used to construct the top, which is the case here. The dark fretboard hints at ebony, enhancing the high-end tone profile while Koa gives a midrange boost.
RELATED: What guitar does Eric Clapton play?
Taylor incorporates its proprietary ES2 piezo system to make this guitar viable for stage performance. It works through three piezo pickup sensors placed under the saddle that capture string vibrations for amplification.
Gibson J-180: Look at These Star Inlays!
We've got an outsider here among the Taylor guitars, the Gibson J-180. What caught my eyes about this guitar was the star inlays along the fretboard.
You can see Swift holding this guitar during her 2018 Chicago concert to play Gorgeous and Delicate, giving off the same bright acoustic sound as the GS6 since they both feature the same Sitka Spruce top. Luckily, Gibson didn't slice a cutaway through the soundboard to keep Spruce's tonal qualities intact. Similarly, the neck joins the body at the 14th fret.
The department of this guitar that doesn't serve Swift's timbre is the fretboard since it's made from rosewood. Unlike ebony ones, rosewood fretboards offer a subdued, warm sound. However, that's a subtlety that Swift doesn't even give attention to while playing. So, you'll notice that she moves the capo down the fretboard to obtain the richer bright tone.
I like that this J-180 comes equipped with a preamp and piezo pickup sensors from Fishman, contributing to the plug-and-play capability of this guitar—Swift doesn't need a tech to have it plugged!
Conclusion
Swift is all about acoustic guitars. In fact, she's so obsessed with them that she collaborates with Taylor to build the TSBT (Taylor Swift Baby Taylor) guitar with a downsized ¾ dreadnought shape to encourage children to pick up the guitar at an early age! Isn't it amazing to have a signature model targeted at fans, but not at the artist?
Frequently Asked Questions
Is Taylor Swift a Good Guitar Player?
Taylor Swift isn't planning to be the next Eddie Van Halen or Stevie Ray Vaughan, meaning she's not a virtuoso. However, you can notice that Swift implements musical ornamentations between chords in a single progression while maintaining the same tempo as she sings, something that requires tons of practice.
When Did Taylor Swift Learn Guitar?
Taylor Swift got her first guitar at the age of 8. Yet, she started learning the instrument through personalized lessons when she was 12 years old. Hilariously, her instructor was a computer technician!
---
Image Credit:
Featured Image: dephisticate, CC BY 2.0, via Wikimedia Commons
Images: Guitar.com, Taylor Guitars