Guitar players, have you been wondering what size practice amp you should buy? Look no further. In this article, we'll discuss the various sizes available and why one might be better than the other. Whether you're just starting out or a seasoned pro, we've got you covered. So sit back, relax, and let's dive into the details of what size practice amp is best for you.
What is a practice amp?
Guitarists of different backgrounds must take their time to practice and improve their skills. From beginners through to the legends of the game, there is always room for improvement no matter your experience level. Many guitarists play many different styles, which need a broad range of guitar tones that you need to practice for. A good practice amp can make all the difference in inspiring you to put in the hours needed to master guitar. If you are a beginner, a practice amp can bring monotonous exercises to life. If you are a pro looking for a quieter home solution, they can be fun and rewarding.
Definition of practice amps
A practice amp is a small guitar amp capable of being played quietly and with headphones. Some of them are tiny amps that you can fit in your backpack, such as the Blackstar Fly or the Marshall MS-2. The others are the size of regular studio-sized valve amps.
If you're looking for a wide variety of tones and effects, the Boss Katarina, Blackstar ID Core, and Fender Mustang ranges are wonderful options. These modern, all-singing, all-dancing amps have every sound you can possibly imagine at your fingertips. Navigating the sounds will be a breeze as they'll integrate easily with laptops, smartphones, and tablets. These could also be home recording solutions with the ability to record through a built-in USB port.
Benefits of practice amps
Aspiring guitarists often start their musical journey with an acoustic guitar, but ultimately, they want to explore the world of electric guitars. To truly master an electric guitar, it'll be important to have a proper amplifier. For beginners, a practice amp will be an excellent starting point. Here are some of the primary benefits of practice amps for your guitar-playing practice sessions –
#1. The portability factor
One of the primary benefits of using a practice amp is its portability. Practice amps tend to be smaller and more lightweight compared to full-sized amps, making them quite easy to transport. This makes it convenient to bring your amp to lessons, rehearsals, or gigs.
#2. A highly affordable option
Another major benefit of using a practice amp is its affordability. Practice amps are typically less expensive than larger amps, making them an excellent choice for beginners or those on a budget. You can get a quality practice amp for a reasonable price, which means you don't have to break the bank to get started with electric guitar playing.
ALSO READ: Best Practice Amp: Top 7 Picks to Play Anywhere!
#3. Volume control
Practice amps are designed with volume control in mind. This means that you can play your guitar without disturbing others around you. This is especially important for those who live in apartments or have neighbors close by. With a practice amp, you can practice for hours without worrying about bothering others.
#4. Impressive sound quality
While practice amps are smaller than their larger counterparts, they still produce quality sound. Many practice amps come with built-in effects such as distortion or reverb, allowing you to experiment with different sounds and tones. This can help you to develop your playing style and create your unique sound.
#5. A great practice tool
Some practice amps come with built-in practice tools such as a metronome or a tuner. This can be incredibly helpful for beginners who are still learning the basics. Having these tools built into your practice amp means that you don't have to purchase costly studio amps for your practice sessions.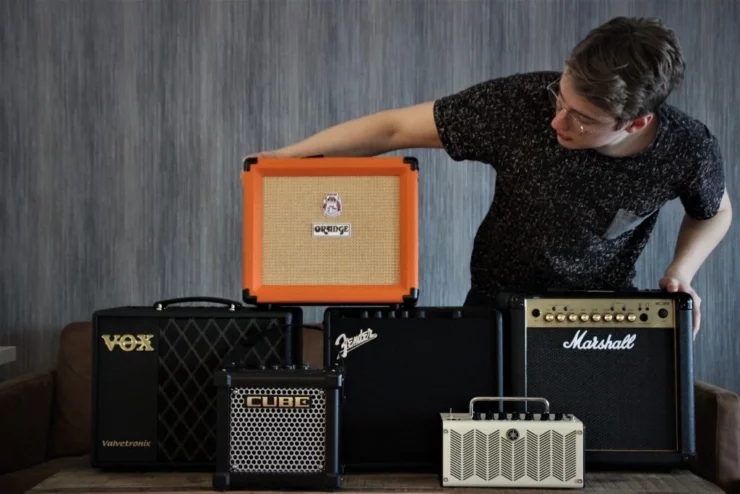 What size practice amp should I buy?
Size is often an important factor when it comes to choosing the practice amp you should go for. Depending on the need for buying the amp, you can decide what size practice amp should I buy.
Home practice
For using an amp at home for practicing, then a 10W to 30W solid-state amp or a 5W to 10W tube amp would be the best size. The dimensions of the combo amps in this category should ideally be around 40 x 30 x 25 cm and will weigh approx. 5 to 10 kg.
Gigging with friends
For gigging with friends or practicing with band mates, a 50 to 100W solid-state amp or a 30 to 50W tube amp would be a perfect size. This will likely weigh almost 15 to 25 kg and the dimensions would be around 50 x 40 x 25 cm.
Recording
For recording, a solid-state amp that is around 50W or a tube amp that is around 20 to 30W is a good size. The amp shouldn't have an exceedingly high-power rating, or the volume needed might be too high to get a good tone. Meanwhile, the weight should be approximately 10 to 15 kg and the dimensions should be around 40 x 30 x 25 cm.
Other factors to consider when choosing a practice amp
A practice amp is an important tool for any guitarist, especially for beginners who are in need of a reliable and affordable option to hone their skills. However, with so many options available in the market, it can be somewhat overwhelming to decide which option to go for. Aside from the size of the practice amp, here are some other factors that you should consider when choosing a practice amp.
#1. Power rating
The power rating of a practice amp refers to how loud the amp can get. For a practice amp, you probably will not need anything excessively powerful. In fact, a practice amp with a lower wattage might be better suited to your demands. A 10-20W practice amp will typically suffice for practicing at home, whereas a 30-50W amp will be better if you wish to play with bandmates and other musicians.
#2. Speaker size
The size of the speaker in your practice amp will affect how the amp sounds. Larger speakers will typically produce more low-end and have a fuller sound, whereas smaller amps will be much more articulate and focused. For a practice amp, an 8 to 10-inch speaker will usually be sufficient.
#3. Tone controls
Tone controls will allow you to easily shape the sound of the amp. If you're in the market for a new amp, look for one with bass, treble, and mid-controls so that you can adjust the EQ to your liking. Some amps will also include presence controls, which can add more clarity and definition to your sound.
#4. Effects
Many practice amps come with built-in effects like chorus, reverb, and distortion. While they can be quite fun to play around with, they might not be essential for your practice needs. You should consider whether you need these effects, or if you'll be better off saving money and avoiding overspending on effects that you don't need.
#5. Connectivity
Lastly, you should think of what sort of connectivity options you need in your practice amp. Most amps come with a standard ¼ inch input for the guitar. However, you may also want to use an aux input such that you can play along with backing tracks or music from your phone. Some amps include headphone jacks as well, which is a great feature if you have to practice quietly regularly.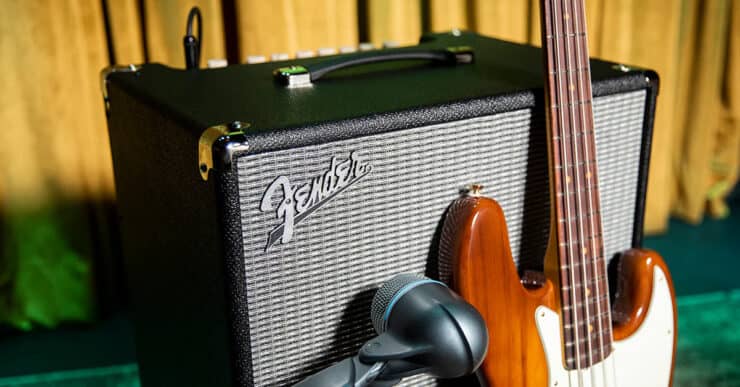 Different types of practice amps
For guitarists who have to practice at home regularly, there is a wide variety of different types of practice amps available in the market. Each type of practice amp comes with its own strengths and weaknesses. This is why it'll be important to know about the different types of practice amps available so that you can make a smarter decision.
#1. Solid-state amps
Solid-state amps use transistors for amplifying the signals from the guitar. They're typically smaller and much lighter than other types of amps, which makes them a great choice for practicing at home. They're also less expensive than other types of amps, which makes them a viable choice for beginners. Solid-state amps are known for their clear, clean sound, but they might not have the same warmth and character as other types of amps.
#2. Tube amps
Tube amps utilize vacuum tubes for amplifying the signals from the guitar. They are known for their warm, natural tone and are often preferred by professional musicians. They're typically more on the costlier side and heavier compared to solid-state amps, but many guitarists prefer the sound that they produce. Tube amps also need more maintenance than solid-state amps, as the tubes will have to be replaced periodically.
#3. Digital-modeling amps
Digital-modeling amps make use of digital technology for simulating the sound of other types of amps. These types of amps come with built-in effects and presets that allow guitarists to experiment with different sounds and styles. Digital-modeling amps can be an optimal choice for guitarists who wish to explore different sounds without needing to invest in multiple amps.
#4. Hybrid amps
A hybrid amp is a type of amp that combines the best features of tube amps and solid-state amps. They use both vacuum tubes and transistors for amplifying the signal, which results in a unique, hybrid sound. Hybrid amps are generally more expensive compared to solid-state amps but less expensive compared to tube amps.
#5. Portable amps
Portable amps are lightweight and designed to be easy to transport. They're typically battery-powered or feature a rechargeable battery, which makes them a wonderful choice for guitarists who prefer practicing on the go. Portable amps might not have the same power or sound quality compared to other types of amps, but they're still a convenient option for practicing in different locations.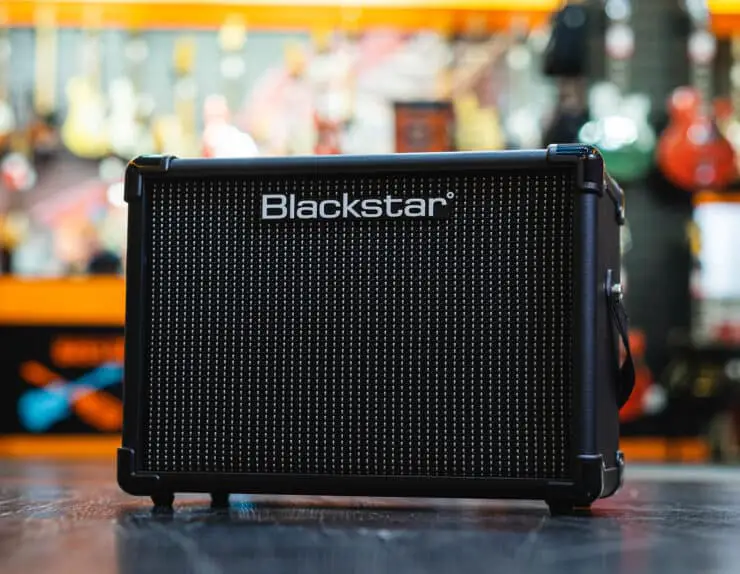 How to test a practice amp?
When you're in the market for a new practice amp, testing will be an important part of the process. Whether you are a beginner or an experienced guitarist, there are a few things to keep in mind to ensure that you are getting the best possible sound.
One of the best ways of testing a practice guitar amp will be to listen to different sound samples online or on apps. Most music stores have websites where they post sound clips of their amps and how they sound. This will give you a great idea of the sound quality of the amp, and you'll be able to listen to multiple amps for comparing side by side. It is important to consider the sound quality you hear on your laptop or phone might not be the same as what you'll hear in person, but it'll be a great starting point.
It will be preferable to test a practice amp in person. This will give you a great chance to hear the sound quality in real time and see how it feels to play through the amp. When you're testing an amp in person, you should try to bring your own guitar such that you can get a better sense of how the practice amp works with your guitar.
When you're testing the amp, you should pay close attention to the volume. You'll want to ensure that the amp could get loud enough for your needs, but it should also be quiet enough for practicing in small spaces. If you are playing at home, it'll be important to consider the volume levels that your neighbors can tolerate.
Experimenting with different sounds will be important when you're testing a practice guitar amp. Most practice amps come with tone controls that allow you to adjust the bass, midrange, and treble frequencies. Try to adjust these controls to see how the amp affects the sound of your guitar. Some amps also come with built-in effects like delay, reverb, and distortion. If you are looking to use these effects, ensure that you test them out and see how they sound.
Best practice amps to go for
Finding the perfect practice amp for your needs is a relatively simple process, especially if you know what you're looking for. Here are some of the best practice amp options around, full of amazing features, and equally good sounds. You can rely on these amps to provide a host of customization and simpler plug-and-play options.
Boss Katana
The Boss Katana is undoubtedly one of the best modern practice amp options. It has proven time and again that it's great for everyone. It is capable of delivering high-quality tones and amp voicings as it spans all genres for the needs of various guitarists. Furthermore, it is one of the first solid-state practice amps capable of giving you a genuinely high-quality high-gain crunch.
The latest MkII models come with four amp voicings – crunch, clean, lead, and brown. Moreover, there is also the FRFR style acoustic speaker mode. In the effects department, you'll get 15 independent sounds based on popular Boss pedals, five of which can be activated at once. You can save and recall the tone at any time, including effects, and get in deep customization options using the Tone Studio software.
Yamaha THR-II
The Yamaha THR-II is popular for being the world's fully wireless practice amp. You can charge up the amp battery pack and eliminate the requirement for a mains connection. Meanwhile, connect the guitar to the amp using compatible wireless receivers, which will be a saving grace for cleaning your home setup or taking the THR-II wherever you go.
Yamaha THR amps are known for being the go-to pro musicians in need of a practice amp. This is the case because they sound incredibly good. They are designed from the ground up to sound amazing at low volumes and look the part while doing so. You will get 5 savable onboard presets with clean, crunch, and high-gain settings. This combines the effects of the three old THR models. It will be easy to dial in a tone using the three-band EQ with delay, reverb, and modulation on tap.
Line 6 Spider
The Line 6 Spider has been around for a while and it has served many bedroom players. It may have taken some flack over the years, but the new Spider V MkII generation is the best practice amp Line 6 has put out. It brings the practice amp's quality to present-day expectations and is one of the most versatile amp options out there.
There are various features here that you won't get in other amps, such as a looper capable of recording music up to a minute of your playing. This is great for practice, allowing you to experiment with lead lines on top of your riffs. It is a handy tool in live situations when you are practicing solo. A built-in tuner and metronome will also come as standard across this lineup.
You'll also get the option to choose either a natural guitar cab or a Full-Range Flat Response speaker setting. This is what you would want when using guitar tab emulation so that you don't color your customized tone. It is also great when you are connected to your music device to use as a regular Hi-Fi speaker.
In terms of sound, you'll get an incredible 200 amps, cabs, and effects that you can get to experiment with an do as much tone tinkering as possible. Meanwhile, the Spider V remote app will come into the picture to help design and recall your favorite settings.
Silverline Series
The Silverline Series is Blackstar's most versatile and incredible amp range, featuring some of the most popular modeling that can offer numerous diverse tones. The Silvertone houses a response control that can emulate the dynamics of different power amps. With six options to choose from, the Silverline gives you both American and British valve-style tones in one amp.
You will also have the option to choose between six distinct voicings. This will allow you to control the amount of gain and unique character, from bright or warm cleans to light crunch and the heavy overdrive. Gain voicings are available to suit different styles at the flip of a switch.
Additionally, there are also built-in delay, reverb, and modulation effects so you don't have to invest in a pedalboard too. This makes them perfect for saving space. The Silverline series also contains a headphone out with speaker emulation if you have to practice silently. There is also an MP3/Line input so that you're able to play along to tracks. They even have a USB port for recording your playing directly to a computer.
FAQs
What factors should I consider when choosing the size of practice amp?
When choosing a practice amp, size is an important factor to consider. The size of the amp will determine the wattage, speaker size, and portability, so it's important to think about the size of amp that is best for your needs. The size you choose should be based on factors such as the type of guitar and playing style, available space for storage, the volume you need, and your portability needs.
What are the different sizes of practice amps?
Practice amps come in a variety of sizes, ranging from mini amps to full-sized amps. Mini amps are the smallest and most portable type of practice amp, but they typically have lower wattage and speaker size. Full-sized amps are the largest and most powerful type of practice amp, but they may not be as portable as smaller amps.
What are the benefits of using a mini amp for practice?
Mini amps are the most portable type of practice amp and are great for practice on the go. They are also typically the most affordable type of practice amp and can produce a surprisingly good sound despite their small size. However, they may not be powerful enough for certain playing styles or louder volumes.