Are you an aspiring guitarist who looks up to the legendary Jimi Hendrix? If so, then chances are you'll want to know all about him and how he started playing guitar.
Jimi Hendrix started playing guitar by the time he turned 15, and he was a prodigy from the start. In the subsequent decades, he enjoyed tremendous success and became one of the most legendary guitarists of all time.
In this article, you'll get to know all about Jimi Hendrix's career, when did Jimi Hendrix start playing guitar, who taught him to play guitar, and all the other interesting trivia about him. Continue reading to know all the interesting tales about the greatest guitarist of all time.
When did Jimi Hendrix start playing guitar?
Jimi Hendrix learned how to play guitar at the age of 15. He would learn licks and chords from trained guitarists in the Seattle area. He used to listen to the radio at home and play songs as he learned them by ear. His journey started when his father bought him an acoustic guitar in 1957 that cost just $5. While his journey as a guitarist started here, his guitar career strictly started in 1966.
Those $5 can be stated to be the greatest investment a father made in his son's music career. While an acoustic guitar was his first true guitar, he previously owned a one-stringed ukulele. He would then get a Supro, which ended up getting stolen. After that, he got his prized possession – The Danelectro.
Perhaps the most fascinating thing about Jimi Hendrix is that he started learning guitar at the age of 15. But he only played until he passed away at the young age of 27. In the span of 12 years, he became arguably the greatest guitarist of all time.
How did Jimi Hendrix learn to play the guitar?
Jimi Hendrix got his musical start when he was able to get his hands on a one-stringed ukulele. He developed an intense fascination with the musical instrument. His natural talent was evident, and he started to present himself as he kept on playing.
On his ukulele, he began playing by ear as he followed songs on Elvis' albums. He would quickly learn that tuning his one-stringed ukulele while playing helps in achieving different pitches. It allowed him to expand the capabilities of his ukulele.
He used to listen to different songs and ended up developing a rhythmic tone behind them for playing alongside them. Through that process, he would learn rhythm and timing, even though he didn't even have 6 strings at his disposal.
After his one-stringed Ukulele, he was given an acoustic guitar by his dad before getting the Supro and the Danelectro. He used to call his guitar Betty Jean, naming it after his girlfriend at the time. The Danelectro was his biggest prized possession, as it allowed him to progress into a pantheon of greats. When he got his first guitar at the age of 15, he began playing with friends, learning various licks and rhythms. This is where he learned some basic guitar techniques.
Aged 17, he would eventually start playing with his first group, but got discouraged because he felt very shaky. Others around him seemed more confident and better at playing. He often stated that he thought of giving up at this point. However, he kept on going and thought that continuing with the guitar would be the best way forward.
When he began playing behind Little Richard, he learned how to dress and how to perform. Through watching Little Richard perform in front of a crowd, he started seeing how to truly entertain them with actions apart from his music. These key lessons from Little Richard helped Jimi become the best guitarist and performer of the 60s. The rest as they say is history. After getting a lot of knowledge, he started incorporating and mixing the styles of his favorite musicians. He even developed his own style, transforming the sound and possibilities of the electric guitar.
READ MORE: The Best Online Guitar Courses – Review
How often did Jimi Hendrix use to practice guitar?
Jimi Hendrix used to play guitar for about 8 to 12 hours per day when he was learning. In fact, he would spend the entirety of his free time with his guitar. When talking about how Jimi Hendrix learned to play guitar, it's important to consider how much time he spent playing. Jimi Hendrix, during his learning stages, did not actually put his guitar down.
There was barely a time that Jimi Hendrix wasn't playing. Growing up, he started bringing his guitar wherever he went. His guitar became an extension of himself. He felt far more comfortable with his guitar than without it. When Jimi Hendrix joined the 101st Airborne, he brought along his guitar with him. Every last second of his free time, he would practice his craft. This is where he ended up befriending long-time friend and bassist Billy Cox. Jimi Hendrix and Billy Cox would form a rag-tag band, play together, and hone their craft.
It is unfortunate that Jimi Hendrix passed away at a very young age. Shortly before he died at the age of 27, he had mentioned that he wished to take 6 months off. During those 6 months, he wanted to go to a music school and learn to read and write music. He also had aspirations to start a new band and create something magical through his new learning.
Jimi Hendrix – The master innovator of playing guitar
When Jimi Hendrix started playing in London, he used to pull out different tricks and routines he had learned. This included playing the guitar in between his legs, playing it on his back on the ground, and playing with his teeth. His outrageous performances helped launch him and become popular on the British scene in the 60s. Later, once his songwriting talents came through and his tracks became more complex, he wanted to minimize his stage tricks. However, the audiences started having expectations, and they would come to his shows to see him do tricks.
In fact, in Chris Welch's "Hendrix" in 1972, it was mentioned that the audiences took the tricks as something they must see, or they didn't enjoy his shows. At the start, Jimi Hendrix didn't concern himself with these things. In fact, he was a big fan of flashy stage routines – the flashier, the better.
He started playing with his teeth to add a flashy aspect to his Nashville act. In late 1962, fresh from his brief stint in the airborne division in the army, he reunited with Billy Cox. Cox was an army buddy with whom he used to play in the service. The two ended up forming a band called the King Kasuals and got a gig at one of Nashville's top Black clubs as a house band. Jimi Hendrix also got his big break as a performer here.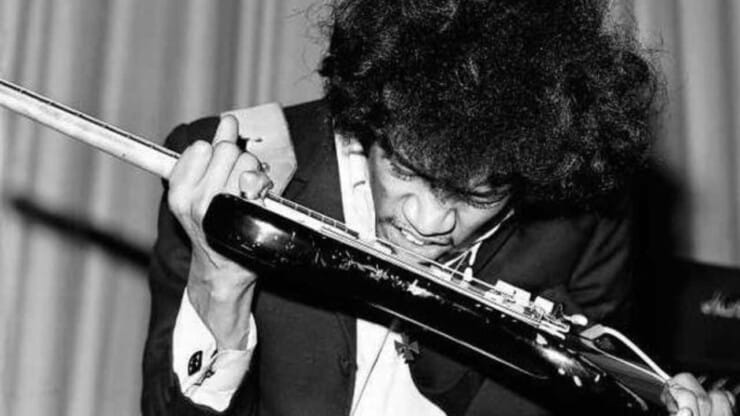 In Becoming Jimi Hendrix, popular guitarist Alphonso Young recalled the day that Hendrix caught Alphonso's stage antics. Jimi's eyes lit up when he saw Alphonso play the guitar with his teeth and behind his back. As an up-and-coming R&B guitarist who liked the attention of women, Jimi Hendrix knew that he needed to add some sort of flair to his act. However, Hendrix had initial trouble getting recognition on the Nashville scene in the early 20s. Apparently, he did not focus enough on playing his music straight.
Interestingly, his stage antics once got him fired from the Isley Brothers. When he used to play shows in New York and other places in the North, his tricks and stage antics didn't please the crowd as much. In 1964, the Isley Brothers ended up firing him because he would often upstage them. Later, Jimi Hendrix actually admitted that he had gotten bored by playing for the Isley Brothers. After all this time, of course, he was also cultivating his musical flash. His use of feedback and other techniques would help him move forward in his career. After arriving in London, he would add the destructive stage antics that The Who's Pete Townshend had been famous for.
Once he started composing his own original music, Jimi Hendrix became an unstoppable force and a prodigy bound for legendary status. He already had the talent and ability to play better than anyone else. Songwriting would be the final piece of the puzzle.
Did Hendrix used to string his guitar backward?
Yes, Jimi Hendrix used to string his guitar backward. Despite being a left-hander, he made use of a right-handed guitar. However, used to reverse the order of the strings such that he was able to play them left-handedly. Jimi Hendrix is commonly associated with playing the Fender Stratocaster guitar.
It was on this majestic guitar that he'd reverse the strings such that he was able to strum with his left hand. It led to his guitar producing a very different unique sound from even left-handed guitars.
By reversing the strings on the right-handed Stratocaster, Hendrix was able to make something new. The rear pickup on the Stratocaster was at an angle such that it captures the higher strings closer to the base. For Jimi Hendrix, the reversal of the strings resulted in the higher strings getting captured further up along the guitar.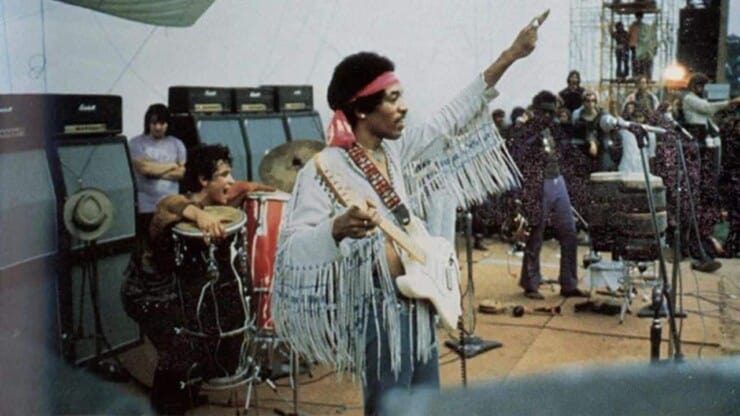 This unique nature of playing changed the traditional sound of his guitar. The higher strings featured a less piercing tone than they'd normally have when strumming on a traditionally strung guitar. Hendrix used to string his guitar backward, which changed the length of the strings.
The higher strings were also the longest on a traditional setup. When the strings were reversed, the higher strings ended up becoming the shortest. It means that when tuning the guitar, the higher strings can be loosened and still remain in tune. This gave Hendrix the freedom to strum more fluidly and quickly, which became essential to his style of play.
READ MORE: Learn to Play Guitar with Guitar Tricks [Review]
Who was the guitar teacher of Jimi Hendrix?
Although Jimi Hendrix was largely self-taught, he learned numerous invaluable skills from guitarist Billy Davis. Hendrix had met Davis when he was still 16 years old. Billy Davis was an extremely gifted and skilled guitarist with an energetic and quirky presence on stage. He would join and spin around the stage while playing, and became infamous for playing guitar with his teeth.
Hendrix met Billy Davis while Davis was touring with Hank Ballard. Davis used to allow Jimi Hendrix to play his guitar. It was also the first occasion that Hendrix had played an electric guitar, which would later be a staple of his style. Davis was thoroughly impressed with Hendrix's passion and talent. Whatever Billy showed him, Hendrix would keep on practicing it until he perfected it.
Hendrix also ended up adopting many of Davis' stage habits, including playing guitar behind his band and playing with his teeth. Hendrix owes a fair bit of his development, his movement, and signature style to Billy Davis.
Conclusion
Thank you for reading. Hopefully, now you know a lot more about the musical beginnings of the legendary guitarist and when did Jimi Hendrix start playing guitar. Jimi Hendrix wasn't just a genius with a guitar, he was the greatest guitarist to have ever lived. Although his career was relatively short, it was incredibly influential. He was a prodigy born into adversity, but he channeled his hardship into his guitar playing ability.
Jimi Hendrix started playing guitar when he was still 15 years old. His left-handedness ultimately helped him be a better guitarist. By learning to play with both hands, he managed to develop a deeper understanding of the instrument. He owes a lot of his early education and signature style to Billy Davis. Davis taught Hendrix many tricks and techniques, while also giving him the chance to play an electric guitar.
---
Image Credit:
Images: Manchester Evening News, Consequence