Are you a Blueridge guitars fan looking to know where are Blueridge guitars made? If so, then you're definitely in the right place.
Blueridge guitars are made in a factory in China, where the guitars are mass-produced with precision machinery. Once they're manufactured, they get distributed to outlets around the world.
In this article, you'll get to know all about Blueridge guitars, where are Blueridge guitars made, why use these guitars, the best Blueridge guitars in the market, and more. Continue reading to get all the answers.
Where are Blueridge guitars made?
Blueridge guitars are manufactured and assembled in a factory in China. These excellent guitars are mass-produced with precision machinery using the highest quality materials. The machinery will help with guitar manufacturing to ensure quality control. However, many of the processes are still done manually.
Incredibly, China has become the hotspot for manufacturing guitars. In 2022, there is no shortage of guitars being manufactured in China. The country makes some of the most recognizable and best-selling names including Blueridge guitars, Yamaha, Washburn, Epiphone, Sigma, Alvarez, Fender, Sigma, Gibson, Guild, Eastman, and Recording King.
Who owns Blueridge guitars?
From the start of their production journey, Blueridge guitars have been owned by Saga Musical Instruments company. It is a brand that has pushed the guitar-manufacturing industry to perform better. Moreover, Blueridge prides itself on revolutionizing the music industry and released better models every single year. Furthermore, the company currently owns a total of 22 musical instrument brands. Blueridge guitars normally produce a great sound while having amazing finishes.
The Blueridge guitars are Chinese-built, and they've garnered praise from top publications like Total Guitar, Guitar Magazine, and Music Maker for their high-quality, reliability, and affordability. The brand specializes in historic and pre-war reproductions that can be used by folk and bluegrass players. Some of the names who have performed using Blueridge guitars are legendary names in the world of music. The list involves legends like Jimmy Capps, Brandi Hart, Charlie Sizemore, George Hamilton IV, George Hamilton, V, and Junior Blankenship.
Blueridge – Quality acoustic guitars with great sound and craftsmanship
There are few things that exemplify quality with craftsmanship, a Blueridge acoustic guitar is one of them. Although you might come across a lot of qualified guitarists that can make any guitar sound good, Blueridge guitars can be used even by beginners to sound good. If you're a perfectionist who craves greatness, then you'll definitely love Blueridge guitars. These guitars will help you excel, and they'll be the platform to elevate your guitar game.
Blueridge is all about excellence. It is a brand that dwells and thrives on manufacturing high-quality acoustic guitars that produce splendid sound. If you're looking for acoustic guitars that sound good and come with great craftsmanship, then these are perfect for you. Blueridge guitars apply a simplistic approach while conveying a traditional sound. These are also some of the most well-known guitars to be manufactured. Blueridge has been developing the same models for current-day guitars that it was making multiple decades back.
READ MORE: Review of the Best Online Guitar Courses
The brand has a proven philosophy. This has led the brand to manufacture some of the most incredible guitars of all time. The brand has asserted its worth in the music industry and served some of the most iconic blues musicians such as the likes of Jimmy Capps and John Jorgenson.
Moreover, the brand has also served different players who have been a part of the music industry. Blueridge guitars have been used in many musical genres and styles, and they've come out on top every time. While Blueridge manufactures many guitars, you can always find one that best suits you. Regardless of the features or budget you have, you can find a great Blueridge guitar for your situation.
Blueridge guitars have something for everyone
Are you looking for a dreadnought that you can play occasionally? You can go for the Blueridge BR-40 Dreadnought as it is perfect for newcomers. Are you looking for a classic look, exceptionally crafted guitar design that makes use of an Adirondack top? Then you should go for Blueridge BR-180CE. If you're looking for an acoustic-electric model that can be plugged in and played, then Blueridge 160CE will suit you. It'll be perfect for your needs and fulfill your demands. Although you can find their classic guitars that they specialize in manufacturing, the guitars and lineups are separated by eras.
For instance, if you want to explore guitar models that were used before war fashions with the X bracing construction, then check out the Blueridge BR-163. In case you want the modern touch, you should go for something like the Blueridge BG-180. Both of these series produce high-quality sound with a charming touch on the looks. This is barely the tip of the iceberg of guitar excellence named Blueridge Guitars.
Thanks to their wide variety, quality, and affordable price, Blueridge guitars can suit everyone's demands. You must analyze your playing style and then envision which Blueridge guitar will suit you. It must look great and satisfy your hearing senses. You can be assured that you'll find numerous amazing options from Blueridge that will hit home. The Blueridge guitars are owned by Musical Saga Instruments, which present the production of high-quality acoustic guitars. These acoustic guitars are absolutely fantastic, and they'll come at an exceptionally incredible price range.
Normally, you can classify some of the biggest guitar options from a brand, but not with Blueridge guitars. There are several exceptional names to even mention. Bear in mind that this is Blueridge that you'll be talking about. Blueridge offers some of the best, most striking, and most invitingly rated instruments. Among the Historic Series and Contemporary Series, you will have plenty of options.
READ MORE: Guitar Tricks Online Course – [Review]
Best Blueridge guitar options available in the market in 2022
Blueridge guitars offer a balanced sound, a luscious tone, a sturdy build, and an affordable price tag. Compare to other high-end guitars, Blueridge guitars have an Appalachian feel to them. Moreover, these guitars seem perfect for all levels of musicians. Blueridge guitars are always high in demand, and it can be challenging to find them. If you're able to get your hands on one, thank your stars because you're one lucky person. You can simply never go wrong with Blueridge guitars as there are so many tremendous options to choose from. Here are some of the best options available from different categories and price ranges.
Best Overall – Blueridge BR-180
The Blueridge BR-180 is truly a tone powerhouse that comes with a beauty aspect second to none. No expenses were spared in developing this guitar, as can be evidenced by the authentic pew-war D-45 style specifications. Each individual piece is masterfully crafted to be light and resonant. There has been meticulous attention to detail. The quality of craftsmanship can be seen in the traditional, forward-position, and hand-carved parabolic X-bracing.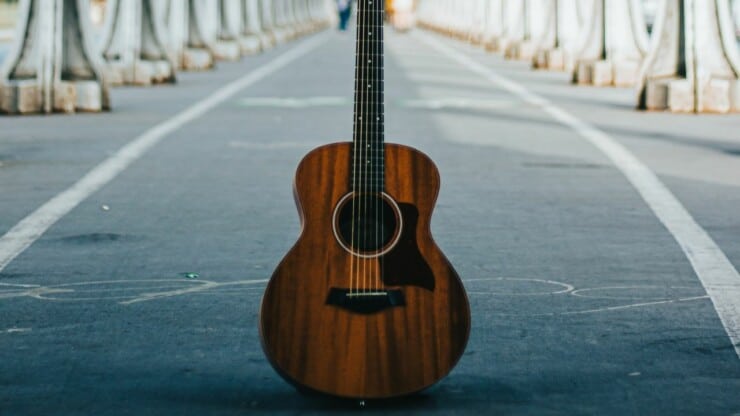 Blueridge guitars come with a traditional dovetail neck joint, adjustable truss rod, slim mahogany neck, and a butterbean button. Meanwhile, the Kluson-style tuning machines feature the updated mechanism for a modern feel and extreme precision. Some of the best features of Blueridge Guitar's BR-180 include –
Solid Sikta spruce top comes with scalloped braces, giving you clean articulation and a crisp tone
Solid Santos rosewood back and sides will guarantee deep bass and strong cutting power
Abalone purfling and diamond volute behind the headstock and snowflake position markers will give it the perfect vintage touch
Slim mahogany neck will offer quick, easy action, and long-lasting stability
Every single guitar comes with an extremely sturdy, well-padded Blueridge logo bag
Best Parlor Style Guitar – Blueridge Guitars BR-361
Created with the sensitivities of professional musicians and vintage collectors in mind, the BR-361 is a masterpiece. It's an exceptional Parlor style guitar that comes with delicately inlaid Herringbone top purfling that doesn't just look fantastic, but also sounds amazing.
The comparatively smaller body design will provide the perfect playability and balance of comfort without actually sacrificing the volume or tone. The body will also offer the perfect tone for folk, fingerstyle, or any other style of inspired music that you may choose to play. To create this guitar, only the finest materials have been used. This will help ensure that the BR-361 represents the Historic Series and offers a lifetime of great performances. Some of the best features of Blueridge BR-361 include –
Solid Sitka spruce top with scalloped braces will give you a crisp tone and a clean articulation
The solid Indian rosewood backs and sides will offer deep bass with strong cutting power
The slim mahogany neck will offer fast, easy action, and long-lasting stability with the guitar
It has distinctive snowflake position markers and herringbone marquetry that evoke the beauty of the vintage 30s
Every Historic Series Parlor guitar comes with a neat, sturdy, padded Parlor Guitar Gig Bag
Best Budget Option – Blueridge BR-73CE
The Blueridge BR-73 is essentially the flagship model of the 000-sized Contemporary Series of acoustic guitars. The guitar comes with hand-carved braces, a solid spruce for tops, and Santos rosewood for the sides and back. Moreover, it features a traditional dovetail neck joint on solid mahogany. This is the ultimate guitar when it comes to amazing looks and great tone on a budget.
The abalone inlay work and intricate pearl on the fingerboard, headstock, body, and delicate center strip are fine art. The comfortable 000-sized body and slim mahogany neck will make it incredibly easy to play. Contemporary Series Blueridge guitar will offer a pre-war performance with a clean yet modern look. Some of the best features of Blueridge BR-73CE include –
Solid Sitka spruce top alongside scalloped braces will give you a crisp tone and clean articulation
Slim mahogany neck will offer super quick and easy action as well as long-lasting stability
The Santos rosewood back and sides offer rich and well-balanced sound
Fishman Presys Plus Pickup system comes with onboard tuner, and it sounds amazing in any environment
Choice Santos rosewood fingerboard will ensure silky smooth playability
Best Option Under $1000 – Blueridge BR-70
With exceptional Santos rosewood back and sides alongside a full D-41 style abalone trim, this one hits right at home. The Blueridge BR-70 dreadnought sounds great not just in your living room, but also on the stage. It will deliver a solid pre-war tone while also featuring a sharp, modern look. This beauty expertly applies white binding that adorns the neck, body, and headstock. The pearl inlay work on the headstock and a center stripe of intricate wood is amazing. The aged-tone finish truly completes the gorgeous look. Moreover, the slim mahogany neck and traditional dreadnought body will make it an extremely enjoyable guitar to play. Some of the best features of Blueridge BR-70 include –
The Solid Sitka spruce top comes with scalloped braces, giving you extremely clean articulation and a crisp tone
The Santos rosewood back and sides will offer a rich, well-balanced sound
The fingerboard on the guitar will ensure smooth and silky playability
The mahogany neck on this guitar will offer easy action with long-lasting stability
Like every Blueridge guitar, the BR-70 will come with a sturdy, padded Blueridge logo bag
Best Alternative Option – Blueridge BR-240A
The exquisite Blueridge BR-240A will offer guitarists of any skill level an extremely versatile option. It comes with an aficionado authentic style, and it adheres to pre-war instrument specifications. Each guitar is carefully crafted with hand-carved X-bracing, solid Adirondack top, ebony fingerboard, mahogany back and sides, ebony bridge, and a traditional dovetail neck joint.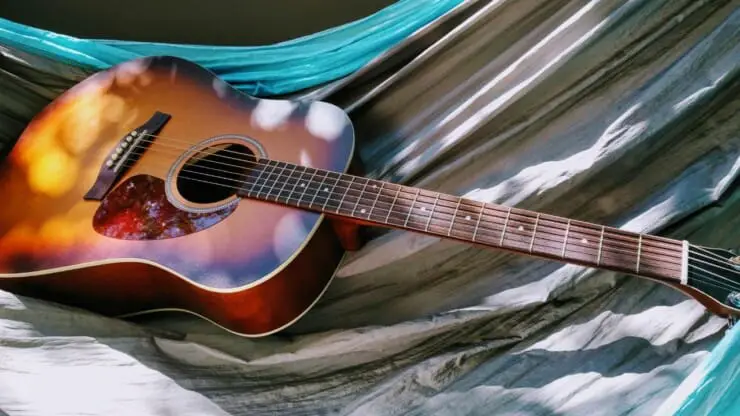 The comfortable mahogany neck will feature a nut width of 1¾" and when combined with a traditional dreadnought body, it'll make the BR-240A an extremely enjoyable guitar to play. Some of the best features of Blueridge BR-240A include –
The solid Adirondack spruce top will give you superior note clarity and ample volume to spare
The premium mahogany sides and back will give a warm, rich tone
BR-240A's mahogany neck will offer easy action with long-lasting stability
Every Blueridge BR-240A piece comes with a sturdy, well-padded Blueridge logo bag
The ebony fingerboard will offer striking good looks with added durability
Conclusion
Thank you for reading. Hopefully, now you know a lot more about Blueridge guitars, where are Blueridge guitars made, who owns the Blueridge brand, and the best Blueridge guitar options among others. Blueridge guitars are manufactured in China using high-quality materials and premium precision machinery. Blueridge is an exquisite brand that has something to offer to every guitarist out there. The premium quality sound coupled with dashing looks and affordable prices makes it an ideal brand. Additionally, the brand prides itself on pushing the boundaries of guitar manufacturing and tries to improve itself every year.