Are you an up-and-coming guitarist looking to try out Guitar Tricks, but first want to know about its price and other things? If yes, then you have definitely landed on the right blog.
The cost of Guitar Tricks will depend on the type of membership you're choosing. There are three options to choose from. The Basic Membership is free, although the content will be limited. Other than that, you can also get a Monthly Membership at $19.95 per month or a Yearly Membership of $179 per year (which makes it around $14.91 per month). Other than that, Guitar Tricks will also offer a 14-day free trial, after which you'll be able to funnel into a paid membership or cancel from the account's dashboard without getting charged.
In this article, you will get to know all about Guitar Tricks, what is the cost of Guitar Tricks, the best features of Guitar Tricks, the return policy of Guitar Tricks, does Guitar Tricks offer a free trial, and more. Continue reading to get all the answers that you are looking for, or click here to read our in-depth review of Guitar Tricks.
Guitar Tricks – Product Overview
Learning to play the guitar or any new instrument is a major decision, and getting started can be quite overwhelming. From private instructors to online lessons, there are many options that you can choose from. If you're serious about learning to play the guitar, there are lesson options for every budget, but not all of them are created equal. Guitar Tricks is an exceptional resource for learning to play the guitar.
Guitar Tricks has been around for over two decades in the industry, which makes it an incredibly popular guitar lesson platform. The website offers a structured core learning system consisting of step-by-step video lessons that begin from the beginner level to the advanced level.
The platform also adds new song lessons every week. What makes Guitar Tricks so unique is that they only feature officially licensed song lessons, something that you will not find in other programs. The learners will be able to search for songs based on genre, artist, date, popularity, and difficulty. Moreover, the large selection of easy-to-play guitar songs is impressive as well.
Guitar Tricks is a wonderful platform for beginners and intermediate guitar players alike. However, if you are after more in-depth content as an advanced guitar player, you should look for alternatives like Fender Play or JamPlay.
What is the price of Guitar Tricks?
Since its inception in 1998, Guitar Tricks has been sitting at the top of the guitar lesson video programs genre. It has been one of the most robust, well-put-together options in the market, especially for beginner guitarists.
The pricing system of Guitar Tricks has largely remained unchanged over this time span. The pricing system is broken down into monthly and annual options, which are interspersed with promotional offers, often during the holiday months.
Here is a breakdown of the current cost of monthly and yearly memberships for Guitar Tricks –
Basic membership (accessibility to limited content) – Free
Monthly membership – $19.95 per month
Yearly membership – $179 per year (almost $14.91 per month)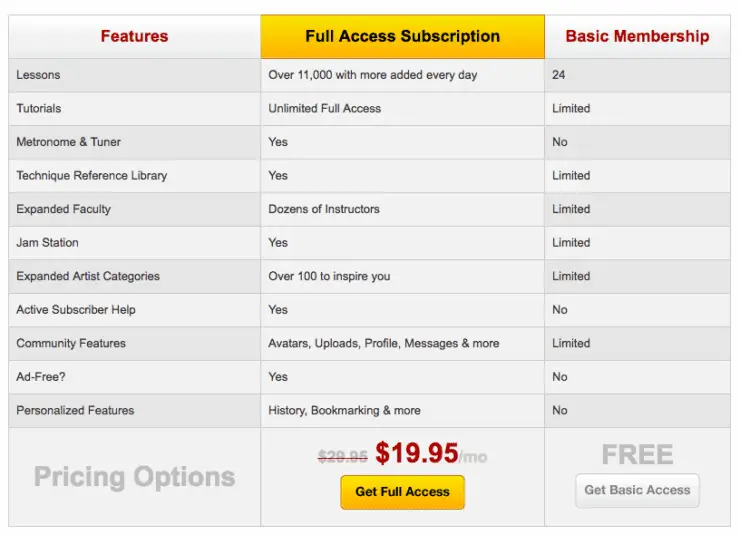 Return policy of Guitar Tricks
For all paid memberships, Guitar Tricks will offer a 60-day money-back guarantee. This is among the longest grace period in the music industry. In comparison, for a JamPlay membership, you will only get 30 days for the same thing.
Guitar Tricks' promotional pricing
Guitar Tricks runs promotional offers for their memberships from time to time. This is usually included in their yearly plans. Generally, the best deals run during November and December, during the Black Friday and Christmas season.
The Annual Membership pricing is usually $179. Meanwhile, the Annual Membership plus a free Huntington acoustic guitar will be available at the price of $179 plus the value of the guitar.
If you're signing up for their mailing list (when you sign up for the free basic account, you will receive emails if and when they offer promotions. Alternatively, you can also keep tabs on the Guitar Tricks promo page to see if there are any new offers.
Does Guitar Tricks offer a free trial?
Guitar Tricks comes with a 14-day free trial, after which you will be able to funnel into a paid membership or cancel the membership from your account's dashboard without getting charged.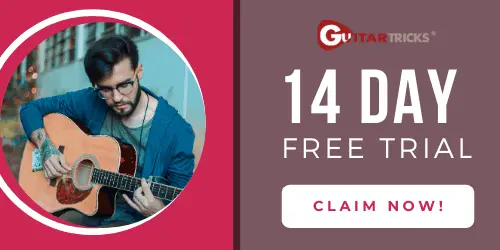 Additionally, you will also have the option to fall back on the 60-day money-back guarantee and get a refund if you feel that it isn't the ideal option for you.
Best features and benefits of Guitar Tricks
A structured core learning system
Guitar Tricks is one of the best platforms for learning guitar as it boasts a structured core learning structure. It is a well-defined learning curve, which will allow you to see the steps that you've accomplished alongside your progression.
The beginners start at the Guitar Fundamentals Level 1 course. The lessons will give you an introduction to guitars while also teaching you how to play super-easy songs. The instructor will guide you on how you can tune the strings, focus on learning beginner guitar chords, and how to play simple melodies. After that, you'll be able to proceed to a higher level 2.
On level 2, you'll be learning how to play and use power chords, barre chords, and different scales. Moreover, you will get to know how to read music. The platform will also encourage you to master the basics, such as when you are reaching intermediate lessons, you will approach the steps that you didn't skip. What's more impressive is that Guitar Tricks will allow you to customize your progression, although it'll depend on your guitar knowledge.
A wide variety of genres
Guitar Tricks offers a ton of exciting genres that you will be able to explore. Whether you intend to play a 7-string or a 6-string, the platform will cover genres like rock, jazz, acoustic, country, blues, bluegrass, metal, rockabilly, and more.
Some genres also have their sub-genres. A few subcategories also go into popular hits, beginner songs, and similar destinations. The beginner-friendly songs have a red guitar on the song, while the advanced one has three guitars. The latter signals that you will require some time to perfect your craft.
Video production value
A lot goes into the production of an instructional video aside from having high-resolution video and audio. Remember, you need to coordinate your hands, switch pickups, listen to the beat, and more.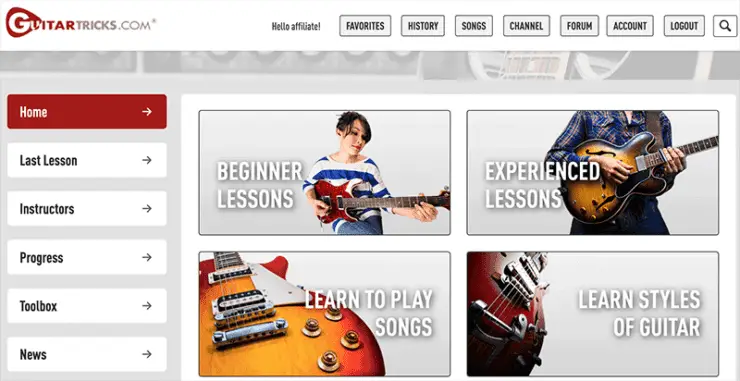 Guitar Tricks will offer excellent video production value as it'll show different camera angles to see the right and left-hand movements. The player has 4K quality, but some lessons feature lower bandwidth options. It works if you've got a poor internet connection or a slow system.
One-on-one/Individual coaching lessons
Guitar Tricks recently introduced a new one-on-one feature to its platform. Even though the platform has instructors who offer in-depth feedback, users have often requested individual coaching sessions for getting personalized feedback.
The platform has gone away with group sessions where you had to share time with other people. Guitar Tricks now offers individual coaching, which takes half an hour to an hour, depending on the cost you prefer. The time will also depend on how challenging the questions are, as they will require detailed feedback.
Officially licensed songs list
Even though the industry now has more websites that offer guitar lessons, Guitar Tricks is the only platform available that offers a vast collection of officially licensed songs. With over 700 songs in its list, the tutorial site has every genre included in its collection, from Blink 182 to The Beatles to Nirvana and more.
What's more, the platform covers almost every style of guitar music like classical guitar pieces with Beethoven, Pachelbel, Back, and Tarrega. You will find that some popular artists might not feature, whereas some lesser-known artists feature quite highly on the site.
Smartphone app integration
Guitar Tricks has started offering its services as an app on both iOS and Android for free. The users will be able to take their guitar lessons on the go, something that makes learning much more convenient. With the free version, you'll have a variety of free lessons on rotation, even though you might be limited in some aspects.
Upgrading to the paid app will give you full access to the content. You will find the app basic to navigate, while it also features a fantastic design. The dashboard sits the lessons, songs, and styles easily whereas the videos are of high resolution, such as the ones you will find on the website.
Bonus tools and blog
Guitar Tricks will also offer bonus tools like Chord and Scale finders that slot the notes onto the guitar neck's representation. You will also get a reference tuner, jam station software, a fretboard trainer, and a metronome. There are three new additions – a glossary, chord charts, and a tab guide.
All these tools in the package differ based on their degree of usefulness. For instance, the fretboard trainer will allow you to find your way around the fretboard. The game will highlight a note on the digital fretboard while providing a wide variety of multiple-choice answers and a timer.
While you might have to tell the system what the note is, you will find the game to be fun and addictive when learning your notes. It is convenient to have all the tools in one location when you're learning the songs. The tools are simple to use, and they operate well.
Guitar Tricks vs. Fender Play
Both of these programs attempt to cater mostly to beginner guitarists. However, Guitar Tricks does a much better job compared to Fender Play while also featuring a spectrum of lessons and courses that are broad enough that they can cover intermediate and advanced material.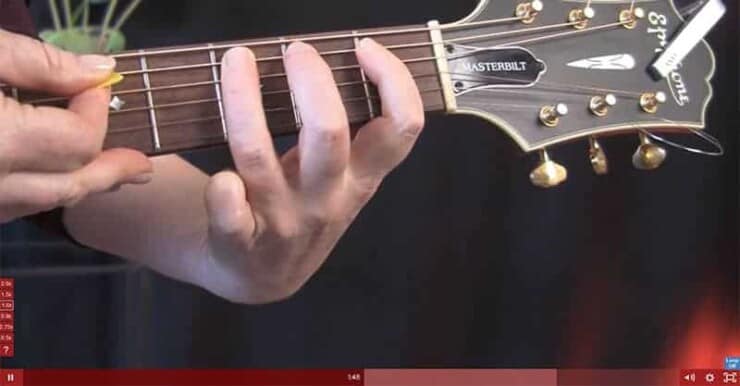 The quality of content that Fender Play offers simply doesn't meet the standard or scope that Guitar Tricks has set. However, Fender Play has a modern website design and focuses largely on application, although it feels slightly gimmicky and less organized than the Guitar Tricks program.
FAQs
What are the different price packages for Guitar Tricks?
The price packages at Guitar Tricks are available on a monthly and annual basis. The monthly membership is available at $19.95 per month, whereas the yearly membership is available at $179 per year (almost $14.91 per month).
Is Guitar Tricks free?
Yes, Guitar Tricks offers a free membership package, but you'll only be able to access limited content. Remember, this is not the same thing as a free trial. Instead, it is an additional portal by which you'll be able to log in to your membership.
Is Guitar Tricks worth your money?
Of course, the Guitar Tricks is definitely well worth it. Whether you're a beginner or an intermediate guitar learner, Guitar Tricks must be your #1 pick for the best guitar program online. It is a comprehensive set of lessons with a guided approach for beginners. They also have many additional features that make them a significantly better option than other options out there.
Is the guitar harder to learn than the piano?
Overall, the guitar is much easier to learn than the piano. If you consider the layout, the ability to self-teach, the ability to learn songs, and a few other things, it'll be an easier instrument. However, it'll be the easier thing to learn for everyone, i.e. people of all ages.