We've seen fire and we've seen rain, but we're yet to see anyone come close to James Taylor's unique interpretation of folk-rock music. Albums like Sweet Baby James, New Moon Shine, and Gorilla, just to name a few, will forever have a special place in the hearts and souls of many.
James Taylor can play both the harmonica and keyboards, but his unique sound consists of two integral components: his soothing vocals and his joyful guitar playing. Now, since we don't have Taylor's vocal cords, we'll just focus on how he's able to get that mirthful guitar tone of his.
ALSO READ: Is Guitar Tricks Worth It? [Complete Review]
Gibson J-50
James Vernon Taylor has been seen playing a wide variety of acoustic guitars from a bunch of different brands. The one thing that's in common with most of these guitars is that they feature steel strings. Even so, there's one guitar that's associated with Taylor's earlier body of work.
The guitar we're alluding to is the Gibson J-50, which happens to be Taylor's very first guitar. It was used on records like Sweet Baby James, Mud Slide Slim and the Blue Horizon, and Gorilla. Taylor has also utilized guitars from brands such as Martin, Olson, Yamaha, and Epiphone.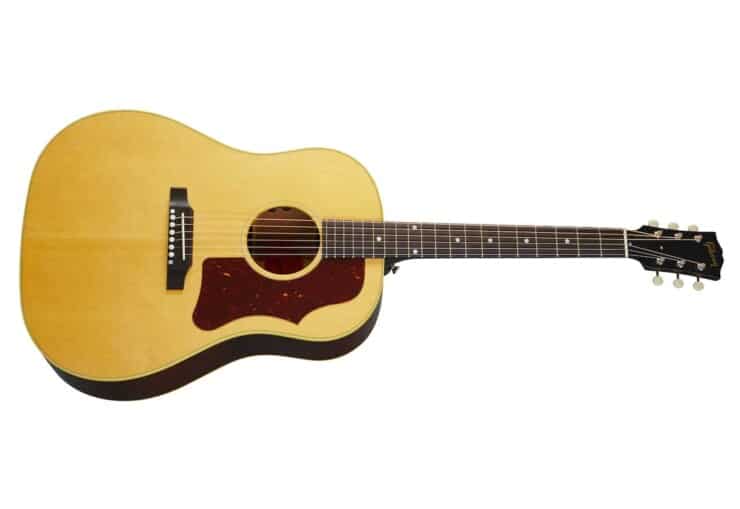 Both the J-50 and J-45 were built to be budget-friendly guitars for intermediate players. Shortly after their release, word got out about their exceptional quality and tone, which has led a broad range of musicians to pick them up. Color is the main difference between the two models.
Some of the most prominent names that have held the Gibson J-45 include Elvis Presley, John Lennon, Bob Dylan, and Bruce Springsteen. Both the J-45 and J-50 are no longer as affordable as when they were first released, having been held by various big-name rock and roll legends.
The J-50, which is essentially a J-45 with a natural finish rather than a sunburst finish, produces a clear and very pleasant tone that just brings joy to the listener. The guitar is also quite easy to play because, once again, it was released as a guitar for intermediate players back in 1947.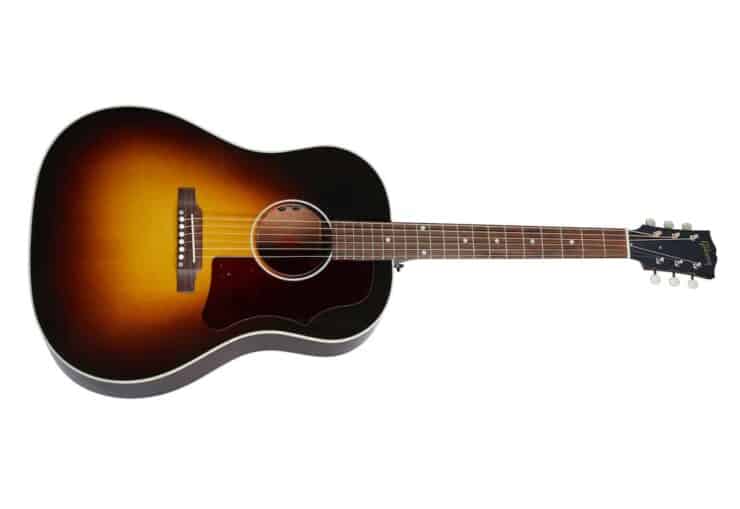 Construction-wise, the Gibson J-50 features three layers of wood. The front layer of the guitar is pure spruce, whereas the back and sides are pure mahogany. This combination of hardwood for the back and softwood for the front is what gives the Gibson J-50 its distinctive bright tone.
RELATED: What kind of guitar does John Mayer play?
The neck is constructed out of solid mahogany, which helps give the brighter tones produced by the strings on the rosewood fretboard a bit of a twang. The shape of the neck allows for intricate chord fingering, which is one of Taylor's most distinguishable guitar skills.
Epiphone Sorrento
With the inception of the British rock invasion, guitar manufacturers started creating guitars that are befitting to movement, such as Epiphone's Sorrento. Nothing about the Sorrento goes in line with what Taylor is known to use, but the man was able to integrate it perfectly into his music.
The Sorrento features a maple body and mahogany neck. It produces a very velvety tone that's perfect for bluesy rock. Thanks to its simplistic design and fairly broad construction, the guitar is held in high regard when it comes to its ability to accommodate smooth, warm guitar solos.
RELATED: What guitar did B.B. King play?
One thing to note about the Epiphone Sorrento is that its fingering is on the stiffer side, which is to be expected from a hollow body. The guitar is very pretty, with its smooth, natural finish. Just as a side note, only 3,000 Epiphone Sorrentos were sold since its release in the late 1960s.
Martin D-28
Another guitar that James Vernon Taylor is known to have used is the Martin D-28. Now, Taylor isn't the only admired musician that was known to play the Martin D-28. Paul McCartney, Hank Williams, Jimmy Page, and John Lennon were all known to play this illustrious acoustic guitar.

The front portion of the Martin D-18 is constructed from spruce, whereas the back and sides are made of Indian Rosewood. The guitar has a pretty distinct twang, which seems to be a common theme amongst all of the acoustic guitars James Vernon Taylor has chosen to play.
Further, the Martin D-18 flaunts a fairly thin mahogany neck that's very reminiscent of the J-50, meaning that the guitar is excellent for intricate fingering, which is right up Taylor's alley. This is an iconic guitar that's absolutely worth paying for, as it'll last a lifetime, and then some.
Olson Guitars
Olson guitars have been played by an astounding host of rock and roll legends, from Lou Reed to Paul McCartney. James Vernon Taylor has been known to play more than just one Olson, so it was hard for us to highlight a single model. They're all premium handcrafted guitars, anyway.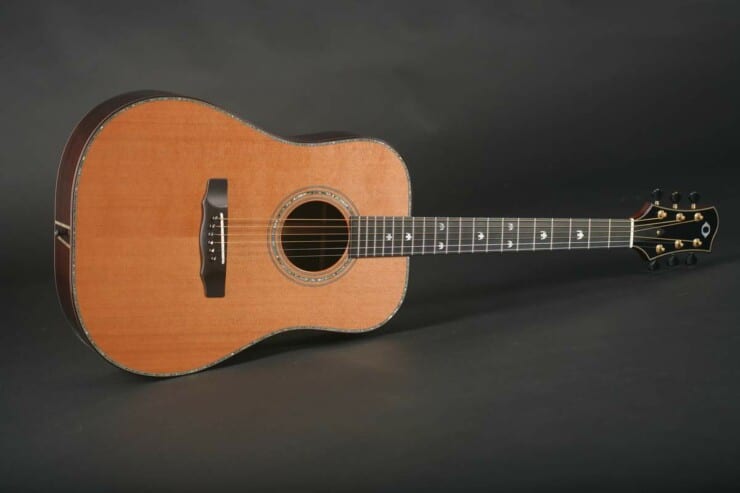 The thing about Olson guitars is that they're handcrafted to order by James Olson himself, and they don't really come for cheap, with most of them valued at up to $15,000. Olson guitars were initially very obscure, but ever since Taylor got his hand on one, they've left quite the impact.
Final Thoughts
James Taylor played different kinds of guitars in his musical career. Among others, he played a Gibson J-50, an Epiphone Sorrento, a Martin D-28, and different types of Olson guitars.
If you don't have the budget to purchase any of the above-mentioned guitars, we'd suggest you check out budget-friendly alternatives like the Epiphone AJ 220S (check price on Amazon), Epiphone ES-339 (check price on Amazon), and Taylor 114e (check price on Guitar Center). Any of these guitars will offer you the same warm acoustic tone at half the price.
If you're interested in learning how to play the guitar like James Taylor, we recommend checking out the Guitar Tricks online learning program – they have some excellent guitar lessons to offer.
---
Frequently Asked Questions
What Kind of Guitar Strings Does James Taylor Use?
James Taylor is known to use John Pearse Strings with a light .011 gauge. He also used Kaman Adams phosphor bronze strings back in the 90s.
Is James Taylor a Good Guitar Player?
Definitely! Taylor's inventive use of various techniques has helped him establish his very distinct and soothing sound. Sweet Baby James is an excellent example of his guitar playing. 
How Does James Taylor Tune His Guitar?
We can write for days about the ACU Sweetener and the way James Taylor tunes his guitar, but we think it's better that you hear everything from the man himself. Check out Taylor's free tuning tutorial on YouTube. 
---
Image Credits:
Featured Image: Paul Keleher / CC BY
Images: Gibson, 12fret, Martin Guitar, Olson Guitars