Every music enthusiast has considered picking up an instrument at some point in time and, judging by the fact that you're here, it looks like you have, too!
So, your choice of instrument is the guitar, an excellent choice! Guitars are the most versatile and widely loved instrument out there.
Looks like you've got a guitar, you've got a pick…now all you need are some lessons, and you'll be on your way to becoming the guitarist of your dreams.
But you might be facing some problems, too; perhaps you can't afford expensive private guitar lessons or don't have the time to attend evening music school.
Well, you're in luck, because I've got just the thing for you.
The product I am about to review is affordable (as low as 50 cents a day for lessons!) and easy to access. It's the best, really.
But first, a short introduction:
Breaking the Ice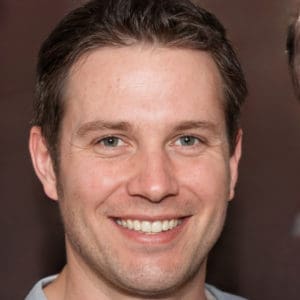 Hey! My name is Rick, and I'm going to be reviewing Guitar Tricks Online Lessons.
Saying that I am a huge guitar enthusiast would be an understatement; I own a nice set of guitars, including timeless gems from Gibson, Takamine, and Epiphone.
I enjoy experimenting with different styles, including country, blues, and even rock and roll – I've got the whole spectrum going!
I'm much older than the average guitar newbie, so I've had my chance to learn from many different sources. I took a few classes as a teenager and then went on to teach myself from books because my parents wouldn't pay for my tuition.
I know a lot of kids and even adults who can't spare much for classes, which is one of the reasons why I chose to review this product. Guitar Tricks is by far the most affordable learning platform you'll find; more on this later.
Soon after, YouTube started gaining popularity, and I found myself trying to learn from all the free tutorials on there. While this did help me with a few things, it couldn't help me achieve the level of expertise I wanted to acquire.
YouTube is free, and the lessons you get on it don't cost a cent. Sometimes, free stuff can be great-other times, not so much.
Searching for the "right" YouTube video teacher is a real hassle; the struggle is real, and it never ends. But that's the deal; if you want free lessons, you're going to have to be willing to waste a little time searching for a YouTube teacher worth following.
Another thing I didn't like about YouTube was the ads; sure, you can use an ad blocker, but is that ethical? To stop myself from feeling guilty, I watched every ad that came my way. But, as you can probably tell, this took up a whole lot of my time, and I began to get impatient.
I won't lie and say YouTube didn't help me when I was starting out; it definitely did. But there's just something so much better about learning from a channel that has real, qualified professionals teaching. You can't compare it to a bunch of amateurs who are still learning to play themselves but decided to make a bunch of videos so they could use YouTube as a side hustle for pocket money.
Nothing beats quality teaching – not even a good tutorial book.
While there are a couple of popular guitar training websites, I'd say that Guitar Tricks is by far the best one.
Why? Let's dive right into it:
My Review of Guitar Tricks: Thoughts and Opinions on Guitar Tricks Video Lessons
Before starting with a full-on review of the product, you should know a few of the fundamentals about it.
Firstly, Guitar Tricks has been around since 1998 – that's right, this platform is older than most of the readers on here! Naturally, with over two decades worth of experience in their pockets, the creators behind Guitar Tricks have successfully learned from their past mistakes and created a near-perfect platform for newbies as well as seasoned learners.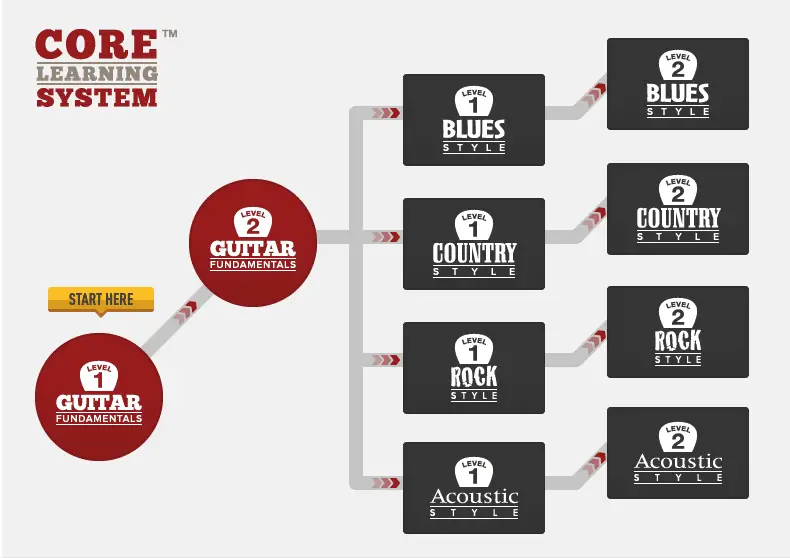 There are over 2.8 million registered users who regularly use Guitar Tricks; this large user-base is proof of their success, which is a result of the high-quality videos the platform offers.
For me, there is no competition; I'd choose Guitar Tricks over any other platform in a heartbeat. This is because I have used it and learned plenty from the tutorials on there. I feel like it's the perfect platform for learners from all backgrounds.
The videos on GuitarTricks cover every genre imaginable, including, but not limited to, blues, folk, country, rock, indie, metal, surf, and soul. There are also some amazing acoustic guitar and classical music lessons; I found these ones to be the best.
Guitar Tricks can teach you how to work any kind of guitar, including electric guitars. I am a huge fan of rock and metal as a result of growing up in a household with elder siblings who were very much into bands like AC/DC, Queen, and Metallica. So, when I found out that Guitar Tricks had videos that could help me improve my rocking skills, I was over the moon!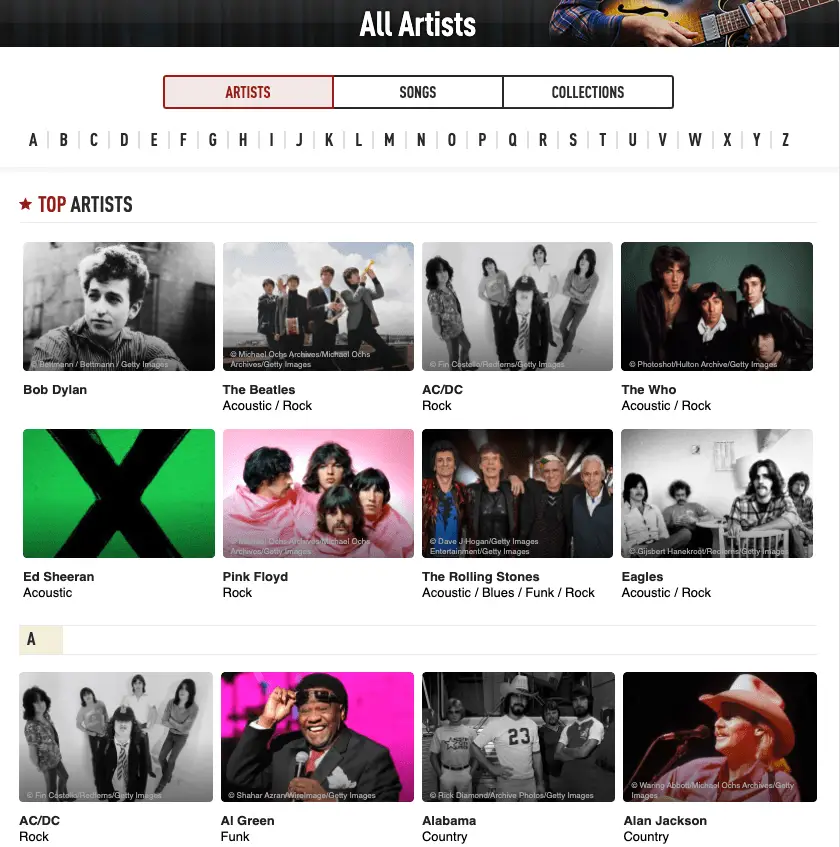 I take my work seriously, and only review products that I truly believe in. The reason why Guitar Tricks is on here is that I have used it myself and seen its pros and cons for real.
I am a well-seasoned guitarist, so I know what I'm talking about. I have also taken a few private, one-on-one music lessons, and used free YouTube video tutorials to teach myself guitar. Moreover, I have also read through multiple guitar handbooks when learning; these were helpful but not as great as watching a real person demonstrate how to play the guitar through video lectures.
So, let's begin!
This might come as a surprise to you, but Guitar Tricks offers free lessons; all you need to do is enter your email ID on the website's homepage, and it'll take you to the free lesson page.
You don't even need to create an account; no username, full name, password, or verification is required! Just enter your email address, and you're good to go.
What's Included: Here's All That Guitar Tricks Has to Offer (Free and Paid Versions)
Like any professional platform, Guitartricks is going to offer you some options so you can choose to what extent you'd like to commit to their program. The first choice is "Basic Access," which helps you get a taste of what the website has to offer. The second option is "Full Access," which gives you an unlimited supply of lessons, tutorials, songs, and much, much more.
If you want to become a seasoned guitarist who is well-versed in your instrument, I suggest going for the full version, but be sure to take advantage of their free trial first!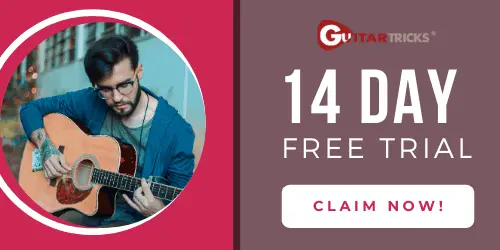 Basic Access
The 100% free version is known as "Basic Access" and has the following:
12 instructors
24 sample lessons
This may not seem like much, but it's enough to get you started.
I can personally guarantee that even these free lessons are well worth your time. You will learn the guitar basics, like power chords, simple melodies, barre chords, and different scales. If you're a newbie and don't know where to get started, log onto www.guitartricks.com and start learning!
These 24 lessons are also a great way for you to learn more about the platform; Guitar Tricks has an excellent reputation, but you may still want to make sure you're getting your money's worth.
Apart from these Basic Access lessons, you can avail of a fantastic 14-day free trial. Don't like what you see? That's okay; you can get your investment back with Guitar Tricks' 60-day money-back guarantee.
Full Access (Includes Free Trial)
If you're not keen on working with the introductory Basic Access plan, it's time for you to level-up and buy a full membership. This is known as "Full Access" and has the following features to ramp up your guitar skills:
Lessons taught by 45 instructors; all of the teachers found on Guitar Tricks are experts with professional degrees in music. Remember, a student is a direct reflection of their teacher, so you better get a good one! Luckily, all of these instructors are excellent mentors and will teach you everything you need to know.
A library of over 11'000 guitar lessons; that's the equivalent of buying a few hundred guitar handbooks, or spending thousands of hours with a one-on-one, in-person tutor. The lessons are condensed to reduce talk-time and help the teachers deliver only the important details, so you won't have to waste time listening to your teacher ramble on about unimportant things.
A beginner course that's perfect for those who are just starting out, or old players who want to revisit the basics.
A set of videos dedicated solely to teaching advanced techniques to those who know all the fundamentals of guitar playing. These video lessons are conducted by professionals who have mastered the art of guitar and have produced many incredible, talented students.
Looking to learn how to play a specific song? Well, look no further! Guitar Tricks has over 1000 song lessons so you can learn how to play all the classics; whether it's a 70s country song of Johnny Cash, or a legendary rock anthem from the 80s, or a pop rendition from the 90s, or even a newly released song, let the professionals at Guitar Tricks teach you how to do it! I've learned many songs from them, myself; it's one of my favorite features that comes with the program.
Another great thing about learning from GuitarTricks is that all their lessons are shot through a 4K video recorder; this provides cutting-edge video resolution, so you can easily see all the details. A guitar lesson video needs to be able to capture all the small things, like the subtle shift in the player's fingers, or the way they pick the strings. Thankfully, GuitarTricks is aware of all of these things, so you have nothing to worry about.
You'll also see the videos being shot from multiple angles, with some shots zooming in on the fretboard, and others providing a zoomed-out view of the teacher and their guitar.
If you're still skeptical, though, remember that the 14-day free trial is waiting for you, no strings attached.
Using Guitar Tricks Video Lessons: Pros and Cons
Guitar Tricks is a man-made platform, so, naturally, it comes with its own set of pros and cons. To give you a clearer picture of the product, I'm going to go over all the important pros and cons of signing up at guitartricks.com.
Pros
Instant access: You can use Guitar Tricks anywhere. It is an online learning platform, and you can take your learning on the go. Just log in using the Guitar Tricks website or app from your smartphone, tablet, or PC, and go wild!
Massive library: With a single Guitar Tricks subscription, you gain instant access to over 11'000 videos. More than 1000 of these are songs you can learn from a professional teacher. The library is regularly updated, and new videos are added every week, including popular new songs to help you learn how to rock those chart-topping blockbusters!
Guided step-by-step lessons: These are perfect for beginners who know nothing, not even how to hold a guitar. Yes, Guitar Tricks can teach you that, too; from the little things to the larger details, you can count on these video lessons to teach you everything.
Advances skill learning: For those of us who are well-versed with guitar playing but still haven't mastered all there is to know, Guitar Tricks offers many helpful videos that can teach you how to take your playing skills to the next level. From riffs to solo performances, there's a video to teach you all of it, and then some.
Fun extras: Guitar Tricks knows how important having fun is; all work and no play makes you a dull player and will compromise your ability to deliver an energized performance. So, join Guitar Tricks as it connects you to a community of like-minded people through community forums, and gives you access to music-themed games you can play when you're in the mood to unwind. You'll also gain access to some wonderful jam tracks; these will help you expand your musical knowledge and learn more about different playing styles and genres.
Cons
You need to pay extra for one-on-one lessons, which is a bummer. However, most platforms have the same policy, so I can't argue about this much.
Despite having 1000+ songs in their tutorial library, you may not find what you're looking for, especially if it's a very niche song that not many people have heard.
These cons aren't deal-breakers; they're not too bad, and I'd even say that they're much less daunting than the cons some other platforms have, which is why Guitar Tricks is my personal choice and recommendation.
If you do want a one-on-one session, I'd say go for it. I haven't had any personal experience with them, but after seeing just how great the videos are, I wouldn't hesitate to sign up for a one-on-one.
One-on-ones almost always require an extra sum, but I'm certain it will be well worth it. These sessions are carried out over live video call and taught by the same experts in the videos. Now, when I say "experts," I really mean "experts." They're some of the best teachers I've seen or had…and as I told you before, I've seen it all.
My Results After Using Guitar Tricks
This is the part we've all been waiting for; now that we know how great Guitar Tricks is as a platform, how well did it manage to teach me?
I'll give it to you straight; before joining Guitar Tricks, I knew all the basics that came with guitar playing. However, I did look into the basic lessons before writing this review, and I can safely say that they are fully equipped with everything you need to know when playing the guitar. There were even a few tips and tricks I didn't know from before, which was surprising for me because I've always considered myself a well-versed guitar player.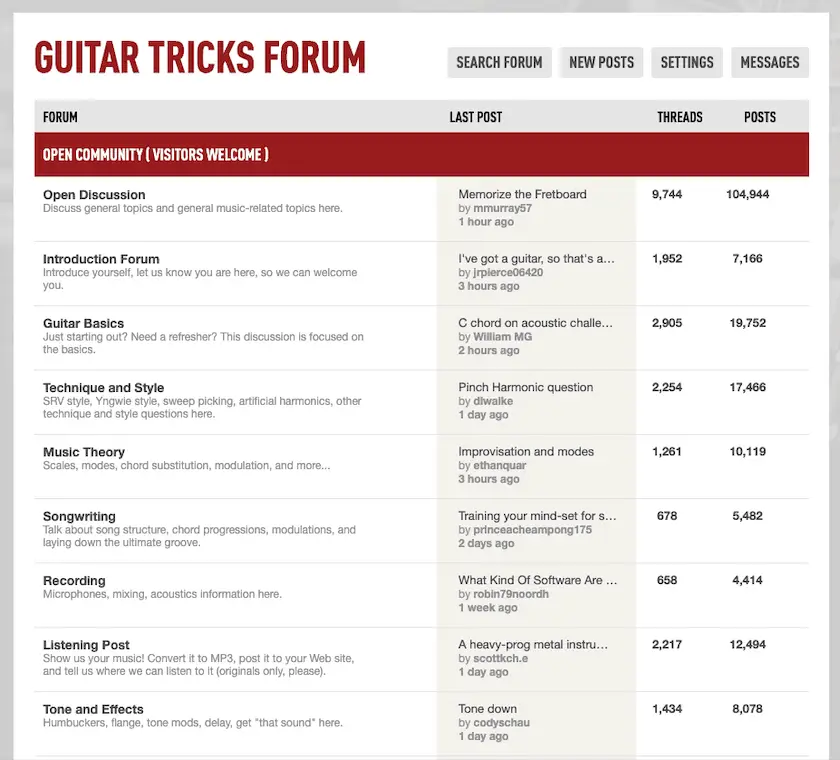 GuitarTricks had an excellent variety of videos for advanced learners like me. As I said, it's hard to teach me new things because of how long I've been playing for, but this platform managed to do exactly that, which is one of the main reasons why I agreed to review it.
All in all, I picked up a few new techniques and was most delighted with the 1000+ song tutorials. They had all my favorites, including the legendary song Jumpin' Jack Flash, that I've been struggling with for a while. I did manage to master it, though, and it's all thanks to Guitar Tricks.
Guitar Tricks Price: Unlimited Lessons at a Bargain Price (PLUS FREE TRIAL)
The pricing options for Guitar Tricks are pretty straightforward; you can either opt to pay $19.95 per month or pay annually and get 25% off.
An annual subscription comes with four bonus gifts, which would otherwise cost you $196. These include the following lessons:
Song Builder's Toolbox
Chord Theory Magic – Just For Guitar
Blues Jam Tracks (90 minutes' worth of blues music)
Rock Jam Tracks (90 minutes' worth of rock music)
You can easily cancel your subscription at any time without losing your money; Guitar Tricks promises that you'll love their product, but on the off-chance that you don't, you can safely request a refund.
Get your first subscription at 20% off using the code: SAVE20 at checkout. That's a pretty neat little gesture on their part if you ask me. It really shows that Guitar Tricks cares about its customers and treats all clients like royalty. You'll understand this better once you create an account and start learning with them.
In all honesty, if you're genuinely interested in improving and a guitarist, you're going to want to keep your subscription going. It's much better than spending the same amount on an inanimate textbook, or hundreds of dollars on in-person lessons.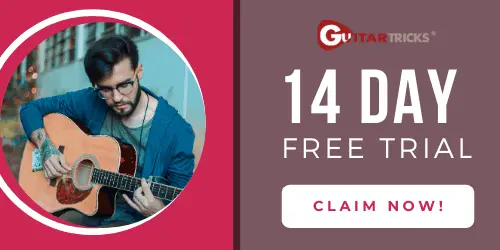 Conclusion
Honestly, I was really impressed with all that Guitar Tricks had to offer. I loved everything about it, except for the cons I've listed above.
You can really see all the effort and hard work that's gone into making the videos; every little element is covered with maximum attention to detail. If I could go back in time and relive my learning days, I'd start and end them with Guitar Tricks.
In short,
If you're someone who doesn't know anything about guitars, including knowing how to hold one, I'd suggest you sign up for Guitar Tricks right now!
If you're a student or even an adult who can't spare the dollars needed to get private tutoring, sign up for Guitar Tricks instead!
And if you're a seasoned artist who wants to take their game to the next level, sign up for Guitar Tricks!
I guarantee you'll learn more than you expected to, the same way I did. There's also that appealing library of over 1000 song tutorials that's worth checking out. Maybe you'll finally master that song you've been stuck on for ages.
I realize I've said much more than I thought I would like about this product; that just proves how much I enjoyed learning from it!
Don't forget to check out their 14-day free trial over here, and take advantage of this coupon to save 20% off your first month's subscription: use the code "SAVE20" at checkout.
Thanks for reading my Guitar Tricks review. I hope this article helped you understand the product better, and that you'll give it a shot as I did. It's a great deal – I promise!
If you have any questions and queries, go ahead and drop a comment below; I'll get back to you ASAP.
---
FAQ
Does Guitar Tricks really work?
Yes, Guitar Tricks really works! It is not a perfect program, and it doesn't work for everyone. But for most people, it will work. And to be honest: If you do not put enough time in practice the guitar, no online program will work.
How much does Guitar Tricks cost?
Guitar Tricks costs just $19.95 per month or $179.00 for an annual subscription (25% off). If you use the coupon code SAVE20, the first subscription year is only $143.20.
Is Guitar Tricks good?
Guitar Tricks is good, but it is not for everybody. Read our full review of Guitar Tricks to see if it's the right online learning program for you.
How much is Guitar Tricks a month?
Guitar Tricks is $19.95 a month after the trial ends. If you buy a yearly subscription, you get 25% off.
Is Guitar Tricks good for beginners?
Guitar Tricks is not only good for beginners but also for intermediate players. There are many techniques to learn, songs to play, and different music styles to discover.
Is Guitar Tricks worth the money?
Yes, Guitar Tricks is absolutely worth the money and the time you put in learning the guitar. Not sure yet? No problem, there is a 14 days FREE trial.
---