Are you looking to connect the guitar amp to a computer and play the guitar, but don't know how to? If yes, then do not worry because by the time you're done reading this article, you'll know all about it.
Connecting guitar amp to computer is actually easy. The easiest way of connecting the guitar amp to a computer is by linking the two of them with an audio interface. Some amps also come with USB outputs to connect them to laptops and PCs.
In this article, you'll get to know all about guitar amps, the reasons to connect guitar amps to a computer, how to connect guitar amp to computer, and more. Stick around to know the different methods of how to connect guitar amp to PC and record music.
Can you connect a guitar amp to a PC/Laptop?
Many guitarists and electric guitar players probably have a PC in addition to the guitars, pedals, and amps. Most guitarists use their PC/laptops for music-related activities while using an audio interface and running a Digital Audio Workstation (DAW). So, it should be possible to connect your guitar amp to the computer, right?
Yes, it is possible. You can connect the guitar amp to your PC/laptop if the amp has a headphone socket or line-out socket. You should connect the amp's line-out or headphone to an input on the computer's audio interface. Certain amps feature a USB connection, which outputs the audio directly into the PC via a USB cable.
There are different ways you can connect the guitar amp to the PC/laptop. Not all of them are possible with every amp. Moreover, they'll depend on what reason you're connecting the amp to the computer. Before finding out about those different methods, you'll first need to know why you should connect a guitar amp to the computer.
Reasons to connect the guitar amp to the computer
There are many reasons musicians prefer connecting their guitar amp to the computer. Here are some of the most common reasons.
For recording the sound of the guitar amp.
For hearing the amp through the computer speakers/headphones. You'll be able to play along to songs or the backing tracks playing on your PC/laptop. Maybe you might be recording late at night, so you'll want the sound in your headphones. This way, other people will not get disturbed.
To use the Data connection like USB on a digital amp. It'll allow you to edit the sounds in your amp, create patches, download new sounds, apply built-in effects, and more.
For heading, the sound of your PC playing through the amp. You'll be able to hear the song, backing track, etc. as the sound of the guitar and the backing track will come through the amp.
There's also an alternative to using guitar amps for recording electric guitar and playing the guitar through the computer. You'll have the option of using software amp sims, which are essentially software simulations of guitar amps. This way, you will not need to use the amp at all. You can simply have your PC/laptop running the amp sim software.
How to connect guitar amp to computer?
Now comes the time to learn how to connect a guitar to a computer. There are many methods to connect the amp to your PC/laptop and record music. Here are some of the most popular ones.
Using an audio interface
If you're looking to find out how to connect a guitar amp to a computer to record yourself playing, there are many ways of doing this. The first one will involve acquiring a device that links the PC/laptop to the amp. Audio interfaces are the easiest and most common devices for this method. They're the staples of every recording studio. The variety and availability of interfaces have made recording and music production more accessible to guitarists.
Connecting the guitar amp to a laptop using an audio interface is easy, assuming the amp features an auxiliary output. If it does, all you'll have to do is connect the output to the preamp audio on the audio interface. You'll be doing this using a jack cable and the interface will start receiving the audio signal from the amp. In case the amp doesn't feature an auxiliary output, you shouldn't worry. There are alternative methods to connect it to an audio interface and to the laptop as well.
Most amps come with a line-level headphone output. It can be used for taking signals from the amp and transmitting them to the input on the audio interface. The method will be the same, and you'll just be using a suitable cable. You'll then be sending the signal from the output and into the input on the interface.
In certain cases, the headphone output might be a 3.5mm jack connector instead of a conventional guitar jack size. This means you'll have to use a cable with a smaller connector. You could even use an adaptor for making it fit the 6.35mm input on the interface.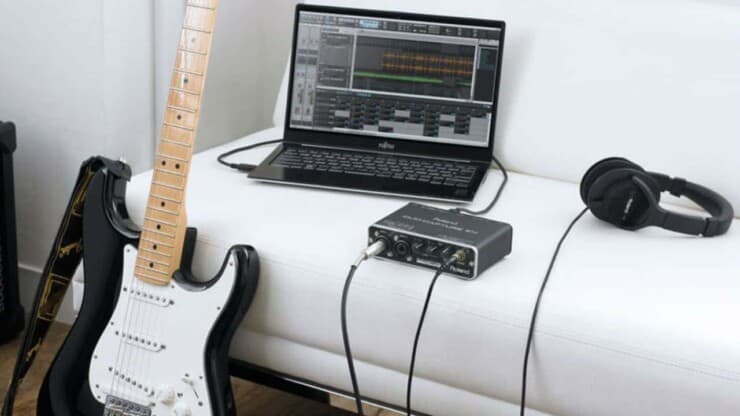 Once the amp has been connected to the audio interface, you can easily record directly into the DAW. The amp settings that you've chosen will influence the sound and tone of the recording. Moreover, it'll also influence the gain settings of the interface. The only potential issue with this method is that there might be an electrical hum or buzzing sound in the recordings. This happens due to a sub-par cable being used or using low-quality adaptors.
Using the headphone output will likely give you noise issues. It'll be more problematic than using a dedicated AUX designed specifically to record the amp's sound. Another option is to use a noise gate pedal with the amp or EQ the noises in the post-production stage.
Digital amps and software
If the reason you're connecting the guitar amp to the computer is to link it to the software or for editing the digital aspects, you'll require an amp that facilitates this. There are many solid-state amps that come with USB connectivity installed. This will make it incredibly easy to hook the amp to a PC/laptop. However, you'll have to download specific software designed by the amp manufacturer. These programs will feature downloadable presets, settings, sounds, and effects that can be added to the amp's memory leak.
The USB port is generally located on the back panel of the amp. If you aren't certain whether the amp is USB compatible or not, examine the connection ports. You'll have to observe and check whether you can find a USB output or not. Then, you should use a USB 2.0 cable and form the connection between the amp and the PC/laptop. You won't require an audio interface, as the USB cable will carry the information between the devices. Moreover, it'll allow you to change the amp's characteristics in the specific software.
BOSS, one of the most popular and reputed manufacturers of solid-state amps, features extensive software. This software will allow you to download effects, presets, and amp modelers from a huge collection. The Katana MkII is a prime example of this. Meanwhile, other manufacturers also offer amps and products with similar features. Recording the amp when it's connected via USB is possible in most cases, too. The software you're using might facilitate this. However, if not, then you need to be able to choose the amp as an input device in the DAW. Then, you should arm the track to record and play your guitar through it.
USB connectivity is fairly reliable when it comes to connecting audio-related devices. A great example of this would be USB condenser microphones. These mics plug directly into the PC/laptop and record without the need for an interface or external device. There is also a chance that the USB connection might lag when hooking the amp to the laptop. This can be easily rectified by using high-speed USB cables and tweaking the sample rate and buffer settings in the software.
Amp modeling is a common feature found on most solid-state guitar amps. This will allow you to access the settings of other amps, largely classic devices, and reproduce them. By connecting the amp to the PC, you'll be able to access a huge selection of amp models. Then, you'll be able to download them to the device for later use.
Using an amp software
If none of these methods seem practical to you, there is another easy option that you can go for. This involves using a VST plugin instead of using a physical guitar amp. Plugins have evolved so much recently that it can be hard to tell them apart from genuine amp tones. Guitar Rig is one of the best examples of this, but there are other capable options out there as well.
The advantage of using a guitar amp software instead of connecting an actual amp to your laptop is that it'll be more convenient. You'll then be able to access the amp sounds from anywhere, as long as you have your laptop in hand. In these guitar amp VST plugins, you'll find thousands of amazing presets. You'll be able to pair the cabinets with amp heads for creating unique blends and choose from the best amps to have been created. VSTs will allow you to create different fascinating combinations within seconds.
The only potential danger of relying heavily on VSTs instead of using a real guitar amp is that it can be easy to be consumed by the sheer volume of options available at your disposal. While guitar amps might only come with a handful of presets, the software will offer unlimited possibilities. It can often lead to your creativity getting stifled if you aren't careful.
With that said, if you have a clear idea of the amp sound you're trying to create before you start using the software would be a great way of staying on track. Certainly, you should experiment with different presets and settings for finding the desired tones. But you shouldn't let it get in the way of your creative process.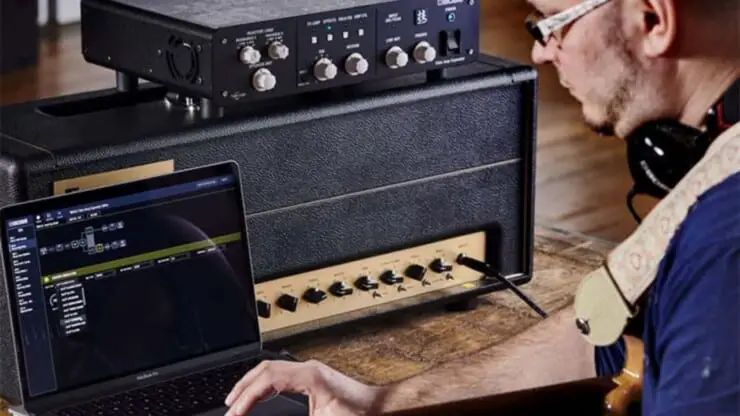 Plug the guitar amp into the mic jack
This is probably the cheapest way of connecting your guitar amp to the PC/laptop. Assuming that you own a guitar cable, you'll just require a 1/8" male to 1/4" female adaptor. This will cost you around $5, and you'll be able to play your guitar after connecting it via the mic jack. You'll be able to use a dedicated 1/8" male to 1/4" male cable.
However, there's a drawback as it cannot be used to connect to amps without 1/4″ inch to 1/8" female connectors. Even though these cables are manufactured by well-known brands, it isn't actually made by a guitar company. Therefore, these cables aren't that well suited for a guitar.
Another way would be to use a 1/8" male to 1/8" male cable, also referred to as an AUX cable. Use it with the addition of a 1/4″ male to 1/8" female adaptor. However, this isn't recommended as you might experience major delays while playing.
Once you've got everything that you need to connect your guitar amp to the computer, head over to the sound settings. There, you'll have to enable the recording device in the input section. You should then ensure that the output section of your sound has the speakers selected. Moreover, you shouldn't forget to turn the volume all the way up on the guitar.
Best software and amp simulator programs for guitarists
It's effortless to connect your guitar and the guitar amp to your PC/laptop. However, what exactly do you need to do to make it sound good? That's the tricky question. When you're plugging your guitar amp through the USB cable or an audio interface, you can only get a clean, bland sound. You will not have the option of adding any FX or distortions. That is, unless you're using an amp simulator.
An amp simulator is basically a sort of software that has been designed for mimicking the tone that you'd get when using a real amp. An amp simulator is like having a guitar amp like Fender or Marshall Amplifier on your PC/laptop. Such software programs will also give you plenty of options for adding compression, using different distortions, and FX. Using these effects, you'll be able to shape the sound in more ways than you can imagine.
Essentially, this is what multi-effect pedals in the guitar rig do. There are many amp simulators out there. Some of them are available for free, while others will cost a lot of money to buy and download. For beginners, using free, standalone software would be the best way to start.
Guitar Rig 5 Pro
Native Instruments is arguably the leading software creator in the music market. Whether it's piano, drums, synths, or bass simulators, their quality is at another level. Guitar Rig 5 Pro is an amp simulator that includes 17 vintage amp models, 54 FX, and 27 amp cabinets.
Meanwhile, there are 16 microphones to be positioned within the studio, giving you plenty of options to modify the sound. It'll come with over 400 presets, giving you a head start for creating wonderful tunes. You can even purchase different packages for expanding the sound. There is also a free version, Guitar Rig Player, with fewer options available. However, it'll be enough to help you get started.
AmpliTube
IK Multimedia is easily one of the best music software designers in the market. It's even more popular when concerning beginner packages for guitarists just getting used to the digital world. AmpliTube is a wonderful amp simulator that'll allow all guitarists to easily achieve a high-quality tone. AmpliTube will give you many amp models, effects, cabinets, and settings to work with. It'll be like having a studio's worth of equipment on your PC/laptop. There isn't any limit to the sounds that you can make with it. You can even download and share different effects and tones with the AmpliTube community.
The great thing about it is that IK Multimedia is often generous with its free software. The AmpliTube model dubbed "AmpliTube Custom Shop" is an outstanding free version option. It has more than enough amp options to help you start experimenting. Beginners will also get to have a feel for the software and how it works. It is strongly recommended that you should give AmpliTube Custom Shop a go and see if you like what you're seeing. If you enjoy it, you can purchase the full version and enjoy even more features. You can then add different packages to your arsenal of AmpliTube pedals and amplifiers.
Line 6 POD Farm
Line 6 creates amazing amp modeling software and simulators. The Line 6 POD Farm is almost on par with AmpliTube. You can use it with any guitar interface you have, as it'll pair particularly well with Line 6 Guitar interfaces. It features 16 guitar amps, 20 stompboxes, 24 effects, and 6 microphones. You'll have the option to expand the program with plugins like amp farm to get even more map models and choices. There will be a mobile version as well that works with the iOS device.
The standard version isn't that expensive and can be a decent option for beginners. Line 6 features an extensive online community for trading their own tones or for downloading tones from others. You can use this community for getting tones for the popular songs that you want to play. This will save a lot of time and hassle, as you would have otherwise had to create your own tones.
Conclusion
Thank you for reading. Hopefully, now you know a lot more guitar amps, reasons to connect guitar amps to a computer, how to connect guitar amp to computer, and more. Connecting your guitar amp to your PC/laptop is incredibly simple and can be done in multiple ways. The easiest way is by linking the two through an audio interface. There is also the option of using a digital amp or using amp simulators. With multiple options to choose from, try them all and settle for the one that best suits your comfort level.
---
Image Credit:
Featured Image: Sweetwater
Images: Roland, Spinditty