Back in 1996, Garth Brooks was readying up for his most sought-after world tour in Atlanta. The country legend was overhyped to throw his virtuosic albums "Fresh Horses" and "Sevens" to the masses.
He used to rock a Takamine EN15C for his records, including my all-time favorite "The Change" that still arouses the sentiments of American patriotism to this day. But, back then, the preparation for the tour gave rise to an urge within him to appear with something new for the tour of his life — a guitar?
Yes! Now that's something to aspire for, especially after he proudly refused to receive his AMA Award in January 1996 accompanied by goosebumps and rounds of applause.
Takamine had a hard time re-engineering the old EN15C for a custom-made guitar that would suit Brooks since the model had been discontinued, and the professionals at Takamine didn't inform the country star. Luckily, Takamine did it! On the last day of his rehearsal, two of his custom-made GB7C lay before his eyes, and we remember how mesmerized he stood.
ALSO READ: Guitar Tricks Coupon – How To Save 20% On This Amazing Online Guitar Course!
Initial Thoughts: Takamine GB7C
It's really mind-boggling that a country king like Garth Brooks had been using a standard Takamine EN15C up to some point in 1996. You won't find any clues that trace back to this model, and the nearest modern-day counterpart to it is the Takamine P3DC.

Don't get me wrong — the GB7C and the EN15C are pretty similar. Garth Brooks used his standard '86s EN15C to record and perform his greatest hits, like "The Change" and "Standing Outside the Fire." However, it's the norm in the music industry that every artist should have his own custom gear. Amplifiers and rigs may be an exception, but guitars? Definitely not.
What Makes the Takamine GB7C Unique
Acoustic? Electric? How About Electro-Acoustic!
Garth Brooks refused the widespread notion of using either a condenser mic or piezo and soundhole pickups to amplify his ear-filling arpeggiated chords. Instead, he asked Takamine to craft him an electro-acoustic guitar with an inbuilt Takamine CT-4B II preamp, factory-calibrated to deliver that country sound we all reminisce about.
The state-of-the-art preamp is effortless to use. It has a simple layout of 4 faders for bass, mid, treble, and volume. The faders offer a free movement with no springs in the way, meaning you can customize the tone for each frequency from -5 dB to 5 dB and mess with what's lying in between.
RELATED: What kind of guitar did Johnny Cash play?
As a guitarist, I really appreciate that the preamp's built-in tuner works as a chromatic tuner even when the Garth Brooks signature guitar isn't plugged. It has lights for every natural note from C to B and two up and down arrows to denote the pitch quality (flat or sharp). A middle indicator sandwiches these two arrows and lights up in green to show that the note's natural.
Precise Split-Saddle: Accurate Intonation
Takamine incorporates a split-saddle in the Garth Brooks GB7C, and the result is faultless intonation. You can determine the intonation by striking a string open, then striking the note at the 12th fret, which marks the middle point of the 25.4-inch scale length. If they match perfectly in terms of pitch accuracy, you've got a calibrated intonation.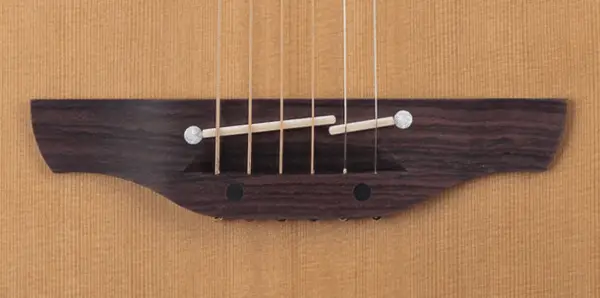 The Garth Brooks GB7C's tilted split-saddle adds slight inches, customizing every string's scale length to complement the nuances in intonation. In contrast, normal saddles offer the same scale length for all strings, resulting in intonation alterations in the long run.
In the long run, normal saddles drop the intonation, and the notes tend to sound flat as you move down the fretboard.
Soundhole Design: A Guitar Within a Guitar?
The soundhole is what should've caught your eyes at first glance. Actually, it's what delayed the Garth Brooks GB7C's release. Instead of a circular soundhole, Takamine employs a guitar silhouette one in the GB7C.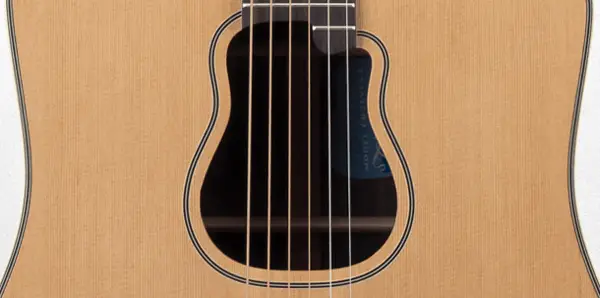 This guitar-shaped soundhole has a wider circumference than the generic, circular one we're used to. I expected that I'd lose the deep low end when I tried the Garth Brooks GB7C out since the larger the hole, the higher the pitch. However, I discovered that the intent of molding the hole to this shape serves the aggressive strumming that Garth Brooks accustomed us to.
Design: The Good Ol' Dreadnought
The Garth Brooks Signature model adopts the classic Dreadnought with its enormous soundboard. One square shoulder is molten into a cutaway to enhance the ability to reach the higher register after the 12th fret.
The Garth Brooks GB7C features a solid cedar top with a satin finish. I believe that the solid cedar is a great call from Takamine since steel-string guitars like this one require less dense wood for the notes to vibrate as desired, and the cedar is a tonewood that serves this purpose, especially when it comes to strumming or finger-picking.
RELATED: What guitar does Lindsey Buckingham play?
Takamine also nailed it by unifying the back and the sides with the same tonewood: rosewood. Rosewood wasn't incorporated in this guitar's top since it's denser than cedar. Since rosewood offers a wider dynamic range than cedar, it contributes to a better resonation of natural or artificial harmonics.
Combine these tonewoods with the giant form factor of the Dreadnought shape. The result you get is a deep bass range, bright country-style highs, and, most importantly, a very complex mid-range that's often disregarded in the realm of acoustic guitars.
Conclusion
Now that we've quenched your thirst for answering the "what kind of guitar does Garth Brooks play?" question, we hope you've drawn a picture of how phenomenal the form factor of this Garth Brooks GB7C is.
If you want to strum some groovy acoustic country jams like Garth Brook, check out Guitar Tricks here — they have some great lessons.
---
Frequently Asked Questions
Does Garth Brooks Use a Guitar Pick?
Garth Brooks uses the thinnest pick (0.50mm) in Dunlop's lineup of Tortex picks. The 0.50mm thickness is on-point for strumming since picks with thicker gauges are painful to strum or finger-pick with.
How Many Guitars Does Garth Brooks Have?
Garth Brooks has been sticking to his signature model since its release. Prior to the Garth Brooks GB7C, he used to pluck his strings on a now-discontinued Takamine EN15C.
What Kind of Strings Does Garth Brooks Use?
Garth Brooks rocks an acoustic guitar. So, he uses steel strings, whose brands remain unknown.
---
Image Credits:
Featured Image: Mattwj2002 / CC BY-SA
Images: Takamine