Could you imagine that a Mickey Mouse guitar has sparked Lindsey Buckingham's first venture into the guitar world? I mean, how could such a guitar make Buckingham so picky with his guitars, and so versatile too? What kind of guitar does Lindsey Buckingham play exactly?
His unique fingerprint embodied in the merger of spontaneous fingerpicking and soloing even transcends his musical style to his guitar rig, which came across as exotic when I caught a glimpse of it as a guitarist — most of the guitars have no soundhole! Let's embark on a journey through the rig that made Buckingham's repertoire come to prominence.
ALSO READ: Guitartricks Review – Can You Really Learn To Play Guitar With This Online Course?
Buckingham's Rig: A Myriad of Guitars for a Myriad of Songs
What I really like about Buckingham's mindset of having a versatile rig is that he counts specific models as exclusive for a certain set of tracks. When I explored his rig, I discovered that this guitar-track correlation wasn't a myth after all. If you want to delve into Lindsey Buckingham's technique, check out Guitar Tricks — they have some great lessons.
Rick Turner Model 1: The First Buckingham Signature Guitar
The 1979 Rick Turner Model 1 is the first and last electric-acoustic Lindsey Buckingham signature model presented to him by Rick Turner himself. The guitar's top and back is one uniform chunk of mahogany, whereas the sit-through neck is made from maple.

Buckingham has 6 of these, 3 of which serve as a backup. To play "Come," he uses the original one tuned a step and a half up with a capo on the 3rd fret. The other variations are tuned in D standard to play "Go Your Own Way" and "I'm So Afraid."
The mahogany tonewood is relatively dense compared to cedar, for example. Since the Model 1 adopts a mahogany construction, it excels at providing a warm tone with longlasting sustain and enhancing the treble and bass ranges.

To help produce a bright upper mid and complex mid notes, the Model 1 overcomes the distributed bodyweight that usually traps the frequencies or makes them fade out.
Alternatively, the Model 1 complements the mid-range through having a heavy central mass around the pickup area. Turner put that into action by ingeniously arching the top and the back to make a "two-sided bulge" that aids the notes in vibrating more resonantly.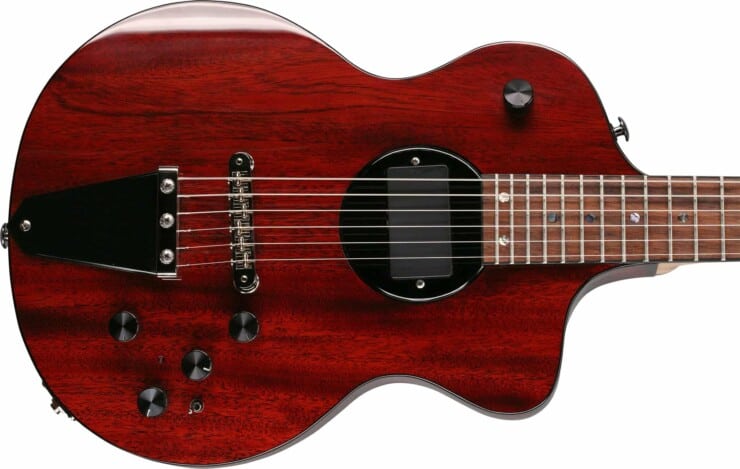 The Model 1 has a semi-parametric EQ for the under-saddle piezo pickup, but Buckingham often ditches it and sticks to the volume and tone knobs to blend the humbucker with the piezo pickup's output. Speaking of tones, this guitar has a screw carved into the middle of the arched back, with which Buckingham can tilt the humbucker to acquire a warmer or a brighter tone.
Taylor 814CE: With or Without a Soundhole?
This is a paramount guitar in Buckingham's rig since he used it to perform "Never Going Back Again," where he plays some ear-inducing fingerstyle accompaniment patterns. The Taylor 814CE is downright an acoustic guitar — with a soundhole cover.
RELATED: What guitar does Garth Brooks play?
Buckingham has 2 Taylor 814CE guitars: one tuned to an open Gb chord with a capo on the 2nd fret and the other tweaked to the standard Drop D with a capo on the 3rd fret to play the previously mentioned track.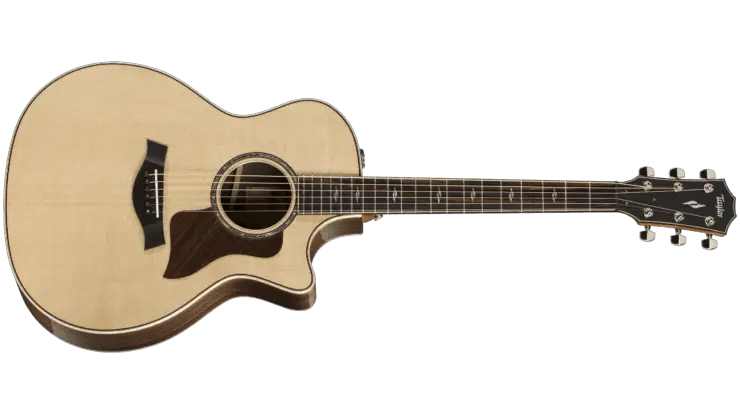 It's thoughtful of Buckingham to clog the soundhole since he installs the Fishman Prefix Plus-T preamp system to convert the guitar into an electro-acoustic one. An open soundhole would probably result in redundant feedback when he cranks up the amp.
This preamp even features a notch knob to cut the feedback to the bare minimum. Another control that caught my attention is the Brilliance fader, a fancy term for the Presence control that Buckingham uses to fine-tune the treble range so that it doesn't become too bright or hissy.
The guitar top is crafted from Stika spruce. For the untrained eye, this tonewood is renowned for providing a "flat" tone. However, Buckingham is aware that spruce tops shine when you apply the slight dynamics that render every fingerstyle piece alive. That's how you can benefit from a spruce top combined with the tropical mahogany neck that fills the mid-range.
Renaissance Steel String: Another Holeless Axe from Rick Turner
This Rick Turner Renaissance Baritone guitar has the broadest dynamic range out of all Buckingham's guitars because of the coaxial piezo pickups that adopt an under-saddle position and the arch-free soundboard. Buckingham uses this guitar, tuned to an open seventh chord, to play "Seeds We Sow" with no capo.

We call this the D-TAR preamp system. It offers 360-degree coverage of every string vibration underneath the saddle to produce an accurate tone and a one that the tonewood genuinely generates. The saddle is also tilted at an acute angle to provide a custom intonation that suits every string.
RELATED: What guitar does John Mayer play?
The Renaissance uses a fine blend of tonewoods: cedar for the slim soundboard top, maple for the back and sides, maple for the fretboard, and a well-chosen mahogany tonewood for the neck. It has knobs for volume, tone warmth, and synth. Buckingham controls the synth knob through an additional Roland bridge pickup.
Gibson Chet Atkins CE: Buckingham's Nylon Gem
Buckingham plucks his way with this guitar to play "Go Insane" or "Big Love" in standard E tuning with the latter being performed with a capo on the 3rd fret.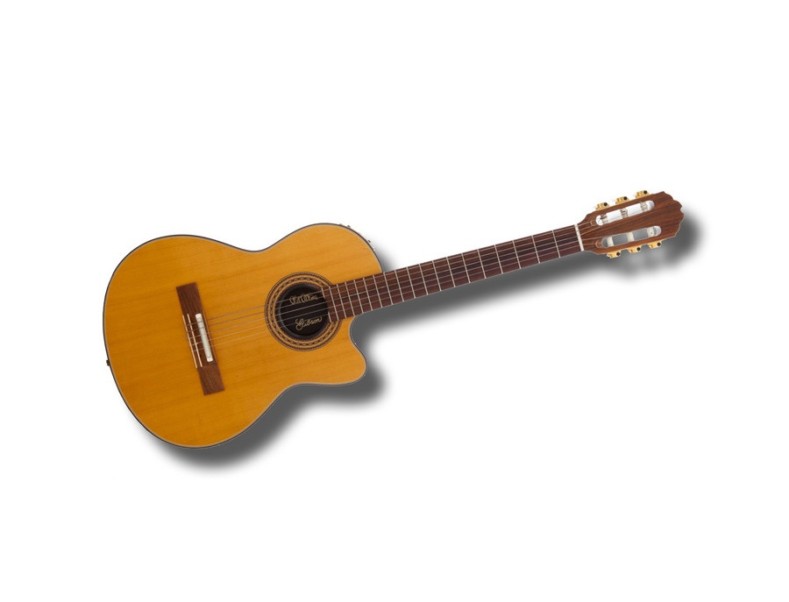 The nylon-string Chet Atkins CE rolled out to the market with an under-saddle piezo pickup, yet Buckingham replaced it with stereo pickups for every individual string. Back in the day, this guitar gave rise to feedback-free classical performance since the soundhole is blocked with a proprietary Gibson cover.
The Chet Atkins CE is almost an all-mahogany guitar; the soundboard is entirely crafted from a solid block of mahogany. Similarly, the neck is made from mahogany paired with a rosewood fretboard.
Conclusion
Before joining Fleetwood Mac, Lindsey Buckingham had used a Fender Telecaster since he admired how smoothly he could fingerpick. Arising from the need to get a "fuller" sound after joining the band, he switched to a white Gibson Les Paul Custom, whose sound was appealing to Buckingham, but not its fingerstyle tone.
That's why I deem the Model 1 to be the protagonist of Lindsey Buckingham's musical forays. Since the dawn of the seventies, Buckingham has rocked his Rick Turner Model 1, and still rocks it to this day!
---
Frequently Asked Questions
What Strings Does Lindsey Buckingham Use?
He strings up his Model 1 with the D'Addario EXL110 Nickel Wound 10-46 string set. However, he has one Model 1 guitar that uses EXL145 12-54 for the lower E, A, D and G strings, whereas the higher E and B strings use the normal 10-46 gauge.
Who Did Lindsey Buckingham Marry?
He married Kristen Messner in 2000. Buckingham now lives with his wife and three children in Los Angeles, California.
Is Lindsey Buckingham Still in Love With Stevie Nicks?
Buckingham and Stevie broke up during the recording of their album "Rumours." Still, the split couple managed to work together on tours and records, and they still hold a strong relationship to this day. Buckingham even invited Stevie on stage when performing "Never Going Back Again" in 2017.
---
Image Credits:
Featured Image: Sarah McKagen / CC BY-SA
Images: Rick Turner Guitars, Taylor Guitars